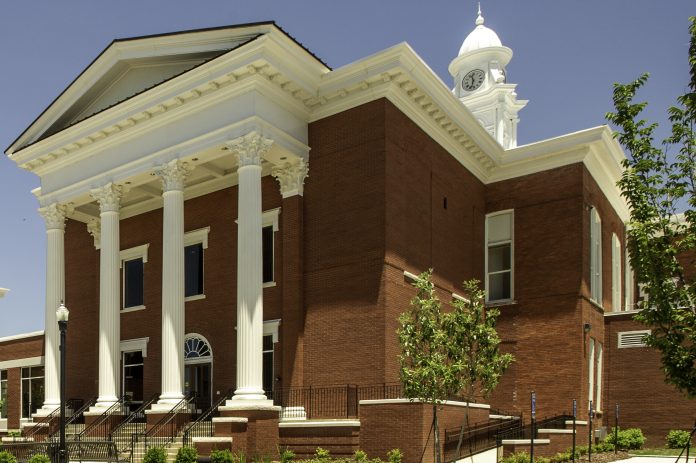 BY HANNAH LESTER
HLESTER@OPELIKAOBSERVER.COM
At Monday's Lee County Commission meeting, the commission voted to approve a resolution by Lee County Sheriff Jay Jones that will enforce the continuation of purchasing concealed carry pistol permits.
Jones brought the resolution before the commission following the Alabama Legislature's efforts to remove the necessitation of purchase of concealed carry pistol permits.
"I fully support the second amendment," Jones said. "It's not that. It's just, it's nothing negative about that at all. It's about pro-community safety … The current law that's in place [requires] a person to obtain, by a fee, a pistol permit, to carry a handgun, concealed on about their person or even more importantly, in their vehicle, as they go about their business. And it's the business of some that I would like to address."
Jones said that the law has been in place over 50 years and allows his office and his deputies to do their jobs safely and protect the residents of Lee County.
"The tool allows us when we encounter people, who, are generally up to no good quite frankly, in possession of a weapon because they're not going to get a permit," Jones said. " … Criminals aren't going to go to the trouble of getting a permit. And we depend on that. Because as a result of that, we can confront them when we encounter them without one in a vehicle and are able, in many cases, to relieve them of those weapons, which many times, are stolen."
Jones said that one of his deputies pulled over a vehicle full of young men carrying pistols without a permit, relieved them of their weapons, arrested them and later learned they were on their way to a drive-by shooting.
"That one fact alone, to me, seems to be an issue that I would be derelict in my duty if I didn't support a law that has been in place for many years, that allowed us to, in my opinion, save the lives of some individuals that night," Jones said.
There were three citizens who spoke against the second-amendment resolution during citizens' communications.
"Constitutional carry laws recognize the right of every law-abiding citizen to carry a firearm, openly or concealed in their vehicle or on their person, without the state or local officials charging them for this right," said one citizen, Micah Messer. "These laws affirm the nature of our individual, God-given rights to be armed as codified in the second amendment of the U.S. Constitution and in the Alabama Constitution. The right of the people to keep and bear arms shall not be infringed."
Messer quoted different areas of the resolution and argued that one: criminals will act whether there is a law requiring permits or not; two: that states allowing constitutional carry have lower crime rates than those that don't; and thirdly: he said that as a former police officer in Columbus, Georgia, he never once used the law to investigate.
"It was incredibly surprising to see a resolution supposedly in support of the second amendment but then promptly did all it could to eviscerate the second amendment that many folks hold dear," said another citizen, John Sophocleus. "It's an important civil right."
Sophocleus asked the commission if they had discussed the resolution with any second-amendment civil rights groups.
"Stop using us, the citizens, as a piggy bank and charging us for a right we have both under the U.S. and the Alabama State Constitutions," Messer said. "You want more money for your local law enforcement, and I love Sheriff Jay Jones, you want more money for him? Allocate the money, or ask the state to allocate the money. Stop charging us for a God-given right guaranteed by our constitution. You swore an oath to uphold this constitution and I expect you to do that tonight."
Jones thanked all that spoke for their words, opinions and passion.
"Not just the sheriff's office, but the police department, and police chiefs, and law enforcement officers and district attorneys are also in favor of keeping this law in place as it exists today because it is effective and gives us a tool that we can use to remove the criminal element from the streets and keep our community safer," Jones said.
Opelika Police Chief Shane Healey was in attendance, in support of the resolution, Jones said.
Jones also addressed the fees that the pistol permits generate, which was a point of contention among some.
"The majority of those fees we generate go to training of our deputy sheriffs, to purchase equipment, ballistic vests, automobiles, things to keep them safer, but training, primarily, training and education," he said. "Which in this day and time, I think everyone agrees is a critical component of law enforcement. We've got to have training, we need the training, we demand, you should demand, all of you should demand it, and you're right to do it."
The resolution passed 3 to 0 to 1. District 5 Commissioner Richard LaGrand decided to abstain from the vote since he said he did not understand the first or second amendment well enough.
"Listening to the people, and some of the calls that I've gotten today and hearing from the Sheriff, I think there's some valid few points on both sides," he said. "… I'll [tell] everyone, I'm not personally aware of the first amendment, second amendment, like the way that I should be."
The rest of the commissioners, District 1 Doug Cannon, District 3 Gary Long and District 4 Robert Ham were all in favor of the resolution.
"Well Jay, you certainly do have a professional department and we appreciate the effort you make to make sure that department is very professional and we don't have incidents like they have in other places," Ham said. "… You know, Jay, if this is something that helps you and the three gentlemen back there with you in law enforcement, if it helps y'all do your job, I would encourage the commission to support this. And I think what I just heard is that it did."
TRASH PICKUP IN THE COUNTY:
The bid for trash pickup in the county was awarded to Arrow Disposal Service, Inc. in June after the commission voted to begin trash collection in Lee County.
"As ya'll can imagine it has been a roller coaster on this issue, I believe it's time for us to move forward," said Probate Judge Bill English.
Following the bid award, however, local contractors who had been providing services in the county spoke out against the contract.
Originally, the county expressed that curbside collection would not change private companies' ability to continue collecting trash. However, the commission voted to enter into an exclusive contract with Arrow, meaning local vendors can no longer provide curbside services, despite having already obtained clients.
Willie Philpot, owner of Virotech Services, said in a meeting in September that the requirements the county laid out automatically excluded smaller companies, like his own.
During Monday night's meeting English suggested the county move forward with the contract with Arrow, given the bid was awarded in June.
Following the outrage from citizens and frustration of private companies, the commission had decided to allow private companies to continue collection.
LaGrand asked Monday night if they would be allowed to continue under this new contract.
"For now they keep doing what they're doing but I don't think there's anything in this that is a commitment for a length of time or anything like that," English said. "We've got to figure out what the law does and doesn't offer on [this]."
LaGrand asked English to confirm how long that could be for the private contractors — a week, a month — but English said he doesn't know.
In response, LaGrand voted against the contract.
OTHER BUSINESS:
– The commission announced an opening on the Beulah Utilities Board.
– The commission heard a second reading on the zoning review board members and voted to approve Joel Hubbard, Justin Hardee, Lisa Sandt, Daniel Wyatt and Bill Hutto to the board.
– The commission discussed next steps for the county administrator replacement. The commissioners agreed to provide their top three candidates to English.
– The commission held a public hearing on redistricting in the county.
– The commission voted on an alcohol beverage license.