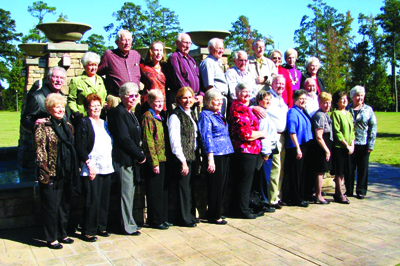 Around 27 members of the 1956 graduating class of Opelika High School met in Opelika for their 55th year reunion on Oct. 21 and 22. Some dozen spouses were also present. The classmates came from all over the United States to visit, reminisce and catch up with all that has been happening since 1956.
The festivities began with a luncheon at the Irish Bred Pub in historic downtown Opelika on Oct. 21. Following that evening, a nostalgic dinner was held at the Opelika Adult Activities Center, which was known as Southside Elementary School in the 1950's. Most of the high school dances were held in this building at the time the 1956 class were students. Even more nostalgia was present with the music they danced to from that era playing in the background.
After dinner, the class attended the Opelika-Auburn football game and were given special recognition at the start of the game. On Oct. 22, the class met at the Marriott Grand National Hotel for a luncheon. Jane Worthington was the special guest and represented the OHS Alumni Association. Another highlight of the luncheon was a speaker via the phone, Bill Melton, in Washington State, who could not be present due to illness.
This 1956 class has been a close class throughout their school days and into the present. Every reunion has been well attended and thoroughly enjoyed. They love to be together and share their lives with one another.
Promises of the next reunion are already in the works.