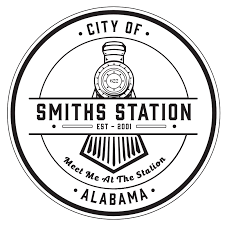 By Morgan Bryce
Editor
The Smiths Station City Council approved a resolution during last week's meeting that will allow Mayor Bubba Copeland to enter into an agreement with ESG Engineering.
Through the agreement, the city of Smiths Station will have its own full-fledged city engineer and access to other engineering services that the company provides its clients. This will eliminate the total costs involved of hiring their own engineer, a "win-win situation" according to Copeland.
"When we went forward with implementing the millage (ad valorem) tax, one of our agreements was to hire our own engineer so that we could be more reliant on ourselves and less on the county. This is the first step in that process toward being more independent," Copeland said. "They will handle all of our subdivision regulations, zoning regulations and other future endeavors pertaining to engineering."
Chris Lammons, association executive with the Phenix City Board of Realtors, informed the council that his organization will be renamed the "East Alabama Board of Realtors" to more accurately reflect the location of homes for sale in that respective market area. He said he recently returned from a trip to Boston where he successfully plead his case for the name change, his being the only one of 12 organizations nationwide that received that permission.
"For a while now, we've been trying to change our name – the reason for that is that even though we're the Phenix City Board of Realtors, we as a group service the Smiths Station area, most of Lee County and a lot of Russell County – communities outside of Phenix City," Lammons said. "I wanted to come here tonight to tell you formally about this name change."
Lammons added that the name-changing process is expected to take a full month to go into effect.
"This is huge on behalf of the city of Smiths Station because we're not a little country town anymore – we are a growing city," Copeland said.
In other business, the council:
– announced the launch of a "Business of the Month" initiative to promote businesses within the Smiths Station city limits
– announced that the city will hold a tree-lighting ceremony Dec. 4 at 6 p.m. E.S.T. at the Smiths Station Government Center
– approved a rescheduling of their next meeting from Dec. 25 to Dec. 27 in observance of the Christmas holiday.
The Smiths Station City Council meet on the second and fourth Tuesday of each month at the Smiths Station Government Center, with their work session beginning at 5:30 p.m. EST and their regular meeting at 6 p.m.
For more information, visit www.smithsstational.gov or call 334-297-8771. The Smiths Station Government Center is located at 2336 Lee Road 430.