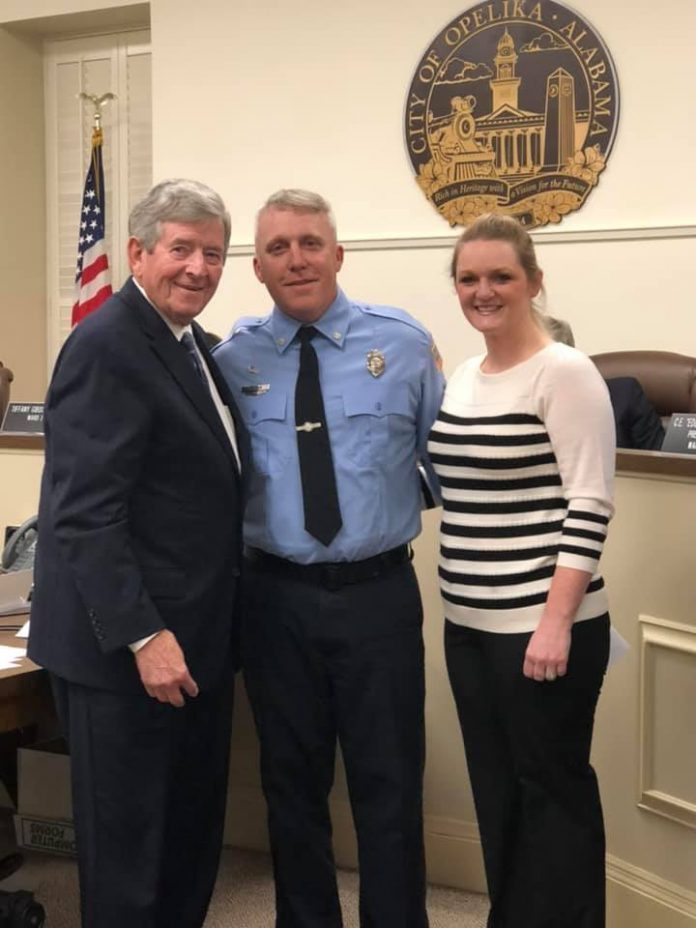 By Morgan Bryce
Editor
Chuck Riddle was recognized as the Opelika Exchange Club's "Firefighter of the Year" at last Tuesday's city council meeting.
Riddle was one of three up for the recognition, and was followed up by Phillip Bell and Stephanie Durbin.
According to a recommendation letter from OFD Capt. Tracey Johnson to the Opelika Exchange Club, Riddle is "driven by a strong sense of community and helping others. He is always ready to assist his fellow firefighters, law enforcement, first responders, and others in need. He is a dependable employee who always reports for duty early and ready for work."
"The thing I'm most proud of is the work we do in the community and the people we get to help. It's always a team effort at OFD and I credit B Shift for any accomplishments or awards that I (receive)," Riddle said.
Riddle's path to becoming a first responder has been a long, winding journey.
Originally from Brewton, Riddle joined the Air Force in 1996 and served for four years. He arrived in the Auburn-Opelika area afterward, enrolling at Opelika's Southern Union State Community College campus.
After finishing his associate's degree, he transferred to Auburn University, where he majored in early childhood education.
Riddle taught at schools in Atmore and his hometown before accepting a game warden position back in Lee County in 2006, an area that he said "felt like home."
In December 2010, Riddle experienced the devastating loss of his sister Mia, who was abducted and ultimately killed. It was during the search for her body that he said he found his calling to become a first responder.
"After that happened I had a hard time with my job and everything. Utilizing my mapping and tracking skills as a (game) warden, I helped with the search … and worked alongside fire inspectors from both Alabama and Florida because where it happened was close to the state line," Riddle said. "During the trials, I remember telling my wife that I wanted to work in the fire service one day. In my mind, I wanted to do it because I didn't want someone to go through what I'd been through."
Stepping away from his game warden role in 2012, he worked at UPS before applying for an open position at OFD. Accepted for the job in August 2014, he trained for the next four months and became a certified basic firefighter/EMT.
Five years later, Riddle has become an intrical part of the department.
Later in Johnson's letter, it notes some of Riddles' most notable actions. Last fall, he worked with paramedics to save a victim who had been in cardiac arrest for 30 minutes.
In March, Riddle came to assist in tornado recovery efforts in Beauregard when he was off-duty, and earlier this fall, he crawled into a drain to rescue six kittens who were at risk of drowning from an impending storm.
"(Riddle) is a great morale booster and is always challenging other to better themselves. He has coordinated several fundraisers during his tenor at the fire department and is always willing to help others in need," said OFD Chief Byron Prather. "We are proud of Firefighter Riddle as being selected as the Opelika Exchange Club's 'Firefighter of the Year.'"
Riddle and his wife Kelli have been married since August 2010 and have an 8-year-old daughter named Charlee. He is also an active member of the Opelika Firefighter's Association, a 501(c)(3) comprised of career and retired firefighters with the OFD.