By ANN CIPPERLY
Yummy cakes, cookies and candy, along with hearty soups and casseroles by the United Women in Faith, will be available at the Christmas Market Saturday, Dec. 3, from 8:30 a.m. until 1 p.m. at the Auburn United Methodist Church (AUMC) Mathison Building and Epworth Center. Thirty-six other vendors will be selling handmade jewelry, birdhouses, Christmas wreaths and ornaments, paintings, pottery, candles, quilts, handmade soaps, jellies and jams, among other items that make wonderful Christmas gifts.
For over 50 years, the United Women in Faith at AUMC have been baking and cooking for the Christmas Market, originally called a bazaar. Proceeds from the bake sale have gone to local children's afterschool programs, women's shelter, Methodist Children's Home, Wesley Foundation and many others, including families in need.
During the busy Christmas season, a casserole or soup in the freezer is great to have on hand on a hectic day to place in the oven and reheat. Cakes and baked goods are also wonderful to have tucked away in the freezer. The cakes are freshly baked and can be frozen. They also take orders for cakes.
Jeanette Parker began baking for the bake sale after she retired in 2009 from Southern Union. Jeanette and her husband Frazier have been married for 57 years, and she cooks every day. Frazier retired from the engineering department at Auburn University.
The Parkers have three sons and three grandchildren. Their granddaughter Carly died in 2017 after a 10-year battle with cancer. Their son Marcus and his wife Paige live in Birmingham. Marcus is currently working at Ft. Benning. Scott and his daughter Ava live in Opelika. Scott is engaged to Lisa Ditchkoff. Brett and his wife Sarah live in Nashville, Tennessee, and they have two children.
All three of the sons enjoy cooking. Jeanette has a large kitchen, and all her sons and other family members helped prepare Thanksgiving dinner this year.
While Jeanette didn't know how to cook when she got married, her mother and mother-in-law helped her learn.
"When I married Frazier in 1965," said Jeanette, "his mother (Bom Bom) taught me to make Peanut Brittle. My husband says he cannot remember his mother not making this delicious brittle every Christmas. She did not follow a recipe, but I watched her and estimated the amount of each ingredient.
"If she did not have enough raw peanuts, she would substitute raw pecans from the farm, and that made delicious candy as well. Bom Bom told me that she could tell when the candy was ready for the baking soda because of the way it looked and the smell of the peanuts being parched. After a while, I bought a candy thermometer for myself and for her. I am not sure she used hers, but she kept making peanut brittle until she died in 1989. I still make this candy for the bake sale and give it as gifts at Christmas."
Jeanette also makes her mother's recipe for Divinity Fudge for the bake sale. When she was growing up, her mother made the candy every year at Christmas, and Jeanette would help her mother by dropping spoonfuls onto wax paper.
Julia Norton has been cooking for the bake sale since she moved to Auburn in 1976. One of Julia's recipes is for her Grandmother Haggard's Boiled Custard, which has been a Christmas tradition in her family since the late 1800s. For her 100th birthday, her grandmother shared the recipe with a granddaughter. She had never shared the recipe before then.
"She was a wonderful cook," said Julia, "and famous for her custard. My grandmother grew up on a farm and had a plentiful supply of eggs and milk for making the custard, which she always served at family get-togethers and catered at weddings and other events in her community.
"The custard was so good because of the love she put into it," she added. "Other people could make it, and it didn't taste the same, but my son Daniel has figured out his great-grandmother's recipe. He now makes the recipe every Christmas."
Julia grew up in a small town near Gadsden. She didn't cook much as a teenager. About once a month her mother, who was a master cook like her grandmother, would tell Julia how to prepare a dish.
After Julia and her husband Earl were married, they lived in different places in Alabama. "I had access to lots of good recipes from many friends," she said. Earl's company transferred him to Auburn in 1976, where he had graduated at API, now Auburn University.
The Nortons have two sons and four grandchildren. Daniel, who is the athletic director at East Alabama Health, and his wife Susan have two children. Tony, who is an EMT, and his wife Lisa, a nurse at East Alabama Health, have two children.
For the bake sale, Julia generally makes vegetable soup. She creates her own soup mix in the summer when vegetables are fresh and freezes the mix with tomatoes, okra and corn.
"Being part of a UMW group has helped me move from place to place," said Julia, "as I always knew I would have a group of women who would take care of me every place I have been."
The Christmas Market will be held at the Epworth Center in back of the Auburn United Methodist Church at 137 S. Gay St. in Auburn. Checks or credit cards are accepted. Parking is available on Gay Street and East Magnolia Avenue. For additional information, contact Mary Richburg, chairman of the market, at aumcwomenchristmas@outlook.com.
Members of the United Women in Faith are sharing a sampling of recipes for desserts, casseroles and soups that will be offered, as well as favorites over the years, at the bake sale.
Grandmother Haggard's Boiled Custard
Julia Norton
Boiled Custard has been a Christmas tradition in our family since the late 1800s. Grandmother's recipe was given to her granddaughter Nancy on the occasion of her 100th birthday. We thought she would never share, but I can now share this with you. Her great-great-grandson Daniel still serves this for our Christmas celebrations.
1 quart plus ½ cup whole milk
1 cup sugar
4 eggs
3 tsp. vanilla
Heat one quart milk and sugar in a double boiler until bubbles form on top. Beat 4 eggs and 1/2 cup milk until foamy. Add slowly to heated mixture. Stir over boiling water for one minute or until mixture coats spoon. Pour through a strainer into a pitcher. Cover and let stand until partially cooled. Then add vanilla. Chill well and serve in punch cups.
German Chocolate Bundt Cake
Julia Norton
This recipe was given to me by a friend in North Alabama and says this cake is always requested when her church has a dinner. She is a really good cook but does not mind short cuts, like using a purchased mix. Hope you enjoy!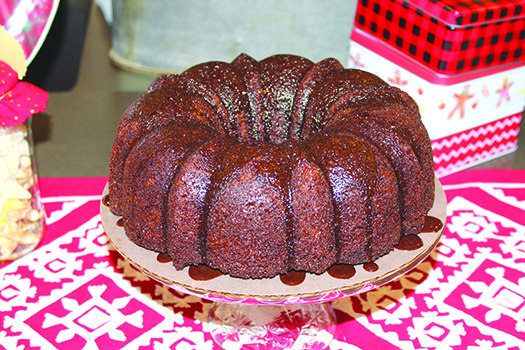 1 box German chocolate cake mix
4 eggs
1 cup water
2/3 cup vegetable oil
1 can coconut-pecan frosting
Extra pecans, chopped fine
1/4 can chocolate frosting
Mix cake mix, eggs, water and vegetable oil in large bowl. Then add in coconut- pecan frosting, stirring well to combine. then add in extra pecans if you wish.
Pour into a prepared Bundt pan or a 9-by-12-inch dish and bake in preheated oven at 350 degrees for 1 hour or until cake tester comes out clean. Let cake cool 15 minutes in pan. Heat the chocolate frosting until slightly melted and pour over cake.
Gluten Free Cake Mix Cookies
Mary Richburg
1 box gluten free cake mix, flavor of your choice (Chocolate cake mix with chocolate chips is a family favorite.)
2 eggs, plus 1 egg yolk
½ cup butter, melted
¾ chocolate chips, may add more if desired
Pecan halves
Whisk together cake mix, eggs and melted butter in a large bowl. Stir until combined. Fold in chocolate chips. Refrigerate dough for 1 hour. This lets the dough rest and allows the butter to solidify and cookies to hold their shape better.
Preheat oven to 350 degrees. Line cooled cookie sheets with parchment paper and set aside.
Use cookie scoop to equally scoop cookies onto baking sheet.
Press a pecan half into top of each cookie.
Bake at 350 degrees for 10 to 12 minutes. Do not overcook.
Note: Cookies may be stored for 1-3 days in an airtight container. Do not store in the refrigerator.
If you are in a hurry, refrigerate the scooped cookies on the baking sheet for 15 minutes instead of the hour in refrigerator.
Fresh Apple Cake
Lisa Steele
This is an old Southern Living recipe that was given to me by a former roommate in Atlanta. She and I were fans of Southern Living, and this recipe has been passed down forever and is very well known in my hometown of Moulton.
1 ¼ cups corn oil
2 cups sugar
3 cups all-purpose flour
1 tsp. salt
1 tsp. soda
2 tsp. vanilla
2 cups chopped apples
1 cup chopped nuts
1 can (3 ½ oz.) coconut, optional
Mix corn oil and sugar together with spoon until sugar is dissolved. Combine dry ingredients and add to sugar mixture, alternating with eggs, and beating after each.
Add vanilla, apples and coconut. Batter will be thick! Pour into greased and floured Bundt pan.
Bake in preheated oven at 350 degrees for 1 hour and 15-30 minutes. Cool in pan.
Chocolate Chip Pound Cake
Lisa Steele
This will be at the market!
1 box yellow cake mix with pudding or extra moist (You can use white, devils' food, or any flavor that you wish.)
1 box (3.9 oz.) instant vanilla pudding (I also use French vanilla, dark chocolate.)
1 heaping cup sour cream
4 eggs
½ cup water (I substitute this with French vanilla coffee creamer or whatever flavor I am going toward.)
½ cup oil (canola or vegetable)
8-16 oz. chocolate chips (or any flavor you wish)
Preheat oven to 350 degrees and grease and flour Bundt cake pan.
Mix all ingredients together, and chocolate chips are stirred in last.
Pour batter into prepared pan. Bake at 350 degrees for 45-55 minutes. Cool in pan for about 10 minutes.
Cream Cheese Frosting:
8 oz. cream cheese, softened
¼ cup butter, softened
2 cups powdered sugar
1 tsp. vanilla extract
A chocolate glaze is also delicious to add or just the pound cake itself is amazing. Kids love it too!
This is also good to put into small loaf pans and give as gifts throughout the year. This cake freezes well.
Oatmeal Cake
Carol Icenogle
At least three generations of my family have enjoyed this cake.
Mix and set aside:
1 ½ cups boiling water
1 cup oatmeal
Cream together:
½ cup butter or margarine
1 cup brown sugar
1 cup white sugar
Add:
2 eggs
1 tsp. baking soda
1 ½ cups all-purpose flour
1 tsp. cinnamon
½ tsp. nutmeg
½ tsp. salt
Add:
The oatmeal and mix well
Bake:
Bake in 8-by-12-inch pan, which has been greased well, until it tests done (about 30 minutes) in 350 degree oven.
Make a topping:
6 Tbsp. butter or margarine, melted
¼ cup evaporated milk
1 tsp. vanilla
½ cup brown sugar
1 cup coconut
½ cup chopped nuts
Spread this over the cake while it is still hot and return to oven to brown.
Divinity Fudge
Jeanette Parker
As long as I can remember, my mother made divinity fudge to give as gifts around Christmas and always brought it to my school parties. When I was old enough, I helped her drop spoonfuls of candy and always got to eat the small amount left over in the bowl. When I was young, my mother did not have a candy thermometer but dropped some of the syrup in a cup of cold water to test for the soft or hard ball.
2 ½ cups sugar
½ cup corn syrup
2/3 cup water
2 egg whites
1 Tbsp. vanilla
2 cups toasted pecans
Beat egg whites until stiff. Leave in small mixer bowl. Combine sugar, corn syrup and water in saucepan and cook to the temperature of a soft ball. Take out ½ cup and pour over egg whites mixing as you pour. Move egg white mixture to a larger mixing bowl. Continue cooking syrup mixture until the temperature reaches that of a hard ball.
Remove from heat and pour over egg white mixture beating as you pour. Add vanilla and pecans and mix by hand until mixture changes to a dull white, and it does not taste like syrup. Drop using two spoons on to waxed paper or buttered a buttered foil sheet.
Peanut Brittle Candy
Jeanette Parker
My mother-in-law's special recipe that she taught me how to make.
1½ cups sugar
½ cup Karo corn syrup
½ cup sugar
2 cups raw shelled peanuts
Combine all ingredients and cook on top of the stove until the peanuts pop and the crack setting is reached on a candy thermometer.
Stir in 2 tsp. of backing soda and pour onto a sheet of foil paper previously greased with butter. Spread as thin as possible. Once the candy cools, remove from the foil paper and break into small pieces.
Chicken Pie
Lyn Woodham
Meat from one whole boiled or plain rotisserie chicken, rough chopped to bite-size chunks of chicken (using just white meat works well, also)
1 can cream of chicken soup
1 can cream of celery soup
1 ½ soup cans chicken broth
1 ½ cups self-rising flour
1 ½ cups buttermilk
1 stick melted butter
Grease a large Pyrex dish and add chicken. Mix soups and chicken broth; pour over chicken. (Optional: slice 3 hard-boiled eggs over top of chicken mixture at this point).
Mix self-rising flour, buttermilk, and melted butter. Pour over the chicken, spreading to edge of Pyrex dish.
Bake 40 minutes at 400 degrees or until bubbly and golden brown. Serve hot with white rice.
Peas and carrots are good side dishes, but the chicken pie is better cooked without them.
Creamy Apple Butternut Squash Soup
Debra Rollins
1 Tbsp. olive oil
1 cup diced sweet onion
1 Tbsp. minced garlic
4 cups cubed butternut squash
2 Granny Smith apples, peeled, cored and chopped
4 cups chicken stock
1 tsp. cinnamon
½ tsp. nutmeg
½ tsp. ground ginger
½ tsp. kosher salt
½ tsp. ground black pepper
¼ cup half and half
Heat olive oil in a heavy bottom stock pot over medium heat. Add onion to the pot and cook until softened. Stir in garlic and cook for 1 minute.
Add the butternut squash and chopped apple to the pot. Cook for 4-5 minutes, stirring occasionally.
Stir the stock into the squash mixture and bring to a boil. Turn the heat to low and simmer for 15-20 minutes or until the butternut squash is fork tender.
Transfer the mixture to a blender and cover with a lid. (Hold the lid with a towel to prevent burns.) Puree the mixture until smooth. Pour the puree back into the pot and return to a simmer.
Stir cinnamon, nutmeg, ginger, salt and pepper into the puree. Simmer for an additional 5 minutes.
Add the half and half to the soup. Stir to combine.
Serve immediately with fresh grated nutmeg, diced apples and sour cream, if desired.
Soup can be made up to 48 hours in advance and refrigerated in an airtight container.
Recipe by Kellie by the suburbansoapbox.com
Humdingers
Ann Woodall's recipe provided by Mary Richburg
Ann's family Christmas Open House was not complete without these favorite treats.
½ cup butter
1 pkg. dates
1 cup chopped pecans
1 cup sugar
1 tsp. vanilla
1 ½ cup Rice Krispies
Powdered sugar for rolling
Mix first 4 ingredients and cook for about 8 minutes (until mixture is all melted down and mushy) over medium heat.
Remove from heat; add vanilla and Rice Krispies.
Let mixture cool for 15 to 20 minutes.
Shape into balls and roll in powdered sugar. Make sure hands are coated with powdered sugar.
The size of balls is a personal preference, such as 1 Tbsp. or slightly smaller. Small size balls usually make 98 balls.
Beef Noodle Bake
Katie Richburg Coale
Katie placed in the 1990 Lee County Junior Cattlemen Beef cook-off with this family favorite.
1 ½ lbs. ground beef
1 tsp. salt
Dash pepper
1 tsp. sugar
16 oz. tomato sauce
8 oz. medium noodles of choice, cooked
1 medium onion, chopped
8 oz. cream cheese, room temperature
1 cup sour cream
½ cup grated cheese
Brown chopped onion and ground beef, breaking into small pieces. Drain.
Add salt, pepper, sugar, and tomato sauce to the beef and onion mixture. Cover and cook slowly for 5-8 minutes.
In a medium bowl mix together cream cheese and sour cream.
Layer the ingredients in a 3-quart casserole dish in the following order: about half of the noodles, half of the cream cheese and sour cream mixture, and half of the meat.
Repeat layers, topping with a layer of cheese.
Bake at 350 degrees for 30 minutes.
Pepperkaka (Swedish ginger cookie)
Judy Melville
1/2 lb. butter, softened
1 1/2 cups sugar
2 eggs, beaten
2 Tbsp. light Karo syrup
Cream above ingredients together in order.
3 1/3 to 3 3/4 cups all-purpose flour
Start with smaller amount of flour. Then, add flour as you roll and reroll the dough. If it is too sticky, you may need to sprinkle a little flour on it as you start.
2 tsp. soda
1 tsp. cinnamon
1 tsp. cloves
1 tsp. ginger
Sift all together and add to butter mixture.
It is not necessary to chill dough. Roll as thin as possible; cut into shapes. Bake at 375 degrees for 5 to 6 minutes.
Note: Use a small (2-inch) gingerbread cookie cutter to make these. The gingerbread men taste crispy and good, but take a long time to cut out.