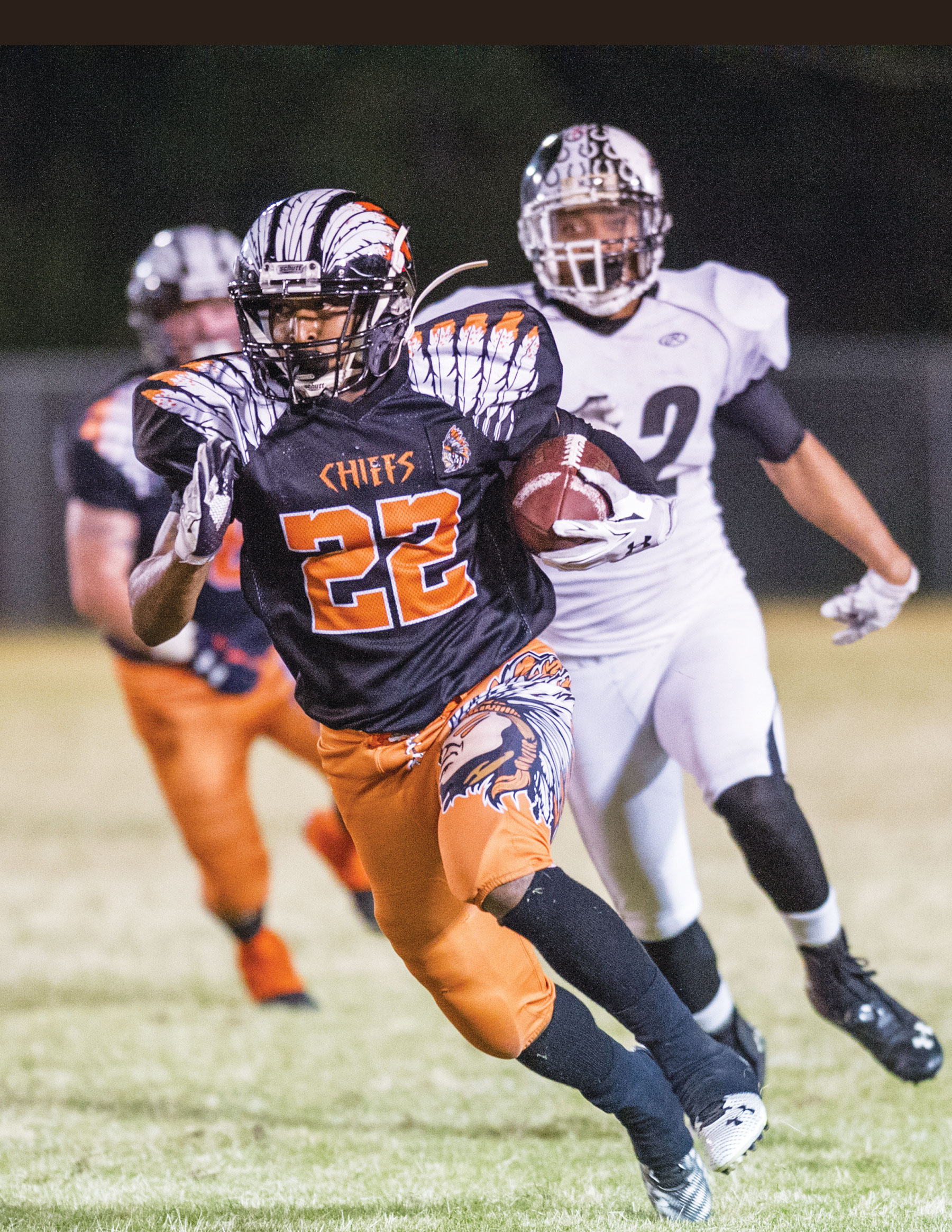 By Fred Woods
Editor
The Opelika Chiefs won a closer than expected game last Saturday night over the Emerald City Scorpions 18-12 in Pensacola, Fla. All scoring for both teams took place in the fourth quarter. Playing without several key players, the Chiefs relied on their ground game and their old reliable defense to win their second game of the young season to remain undefeated.
The Chiefs rolled up 285 rushing yards, with veteran running back Latrell Jenkins leading the way with 119 yards, both Chiefs' touchdowns and a two-point conversion. One of the two Reeltown Ramblers on the Chiefs roster, Ky-Shawn Powell, was close behind with 96 yards. TJ Griffin and Will McKenzie also contributed to the rushing attack,  adding the Chiefs other two-point conversion.
The entire defense, line, linebackers, ans secondary,  except for one lapse leading to a Scorpions score, had an outstanding game, keeping the Chiefs in the game until the offense could punch the ball in for the late scores. Despite the one breakdown, the secondary came up with five interceptions for the game. Newcomer Vashon Landers snatched two interceptions to go along with six tackles.
Linebacker Matthew Kelly recorded five tackles and shared a sack, while veteran defensive lineman Greg Moss added three tackles and a sack. Newcomer defensive lineman Tommy Benson scored a safety, tackling a Scorpions behind his goal line to round out the Chiefs' scoring.
Last year's champions, the Oklahoma City Bounty Hunters, lost 14-13 to the Greater New Orleans Jaguars in Western (APDFL) Conference action Saturday night. Although it is too early in the season to read much meaning into it, the Chiefs moved to 2-0 on the year and are now ranked  #1 in the APDFL power rankings this week.