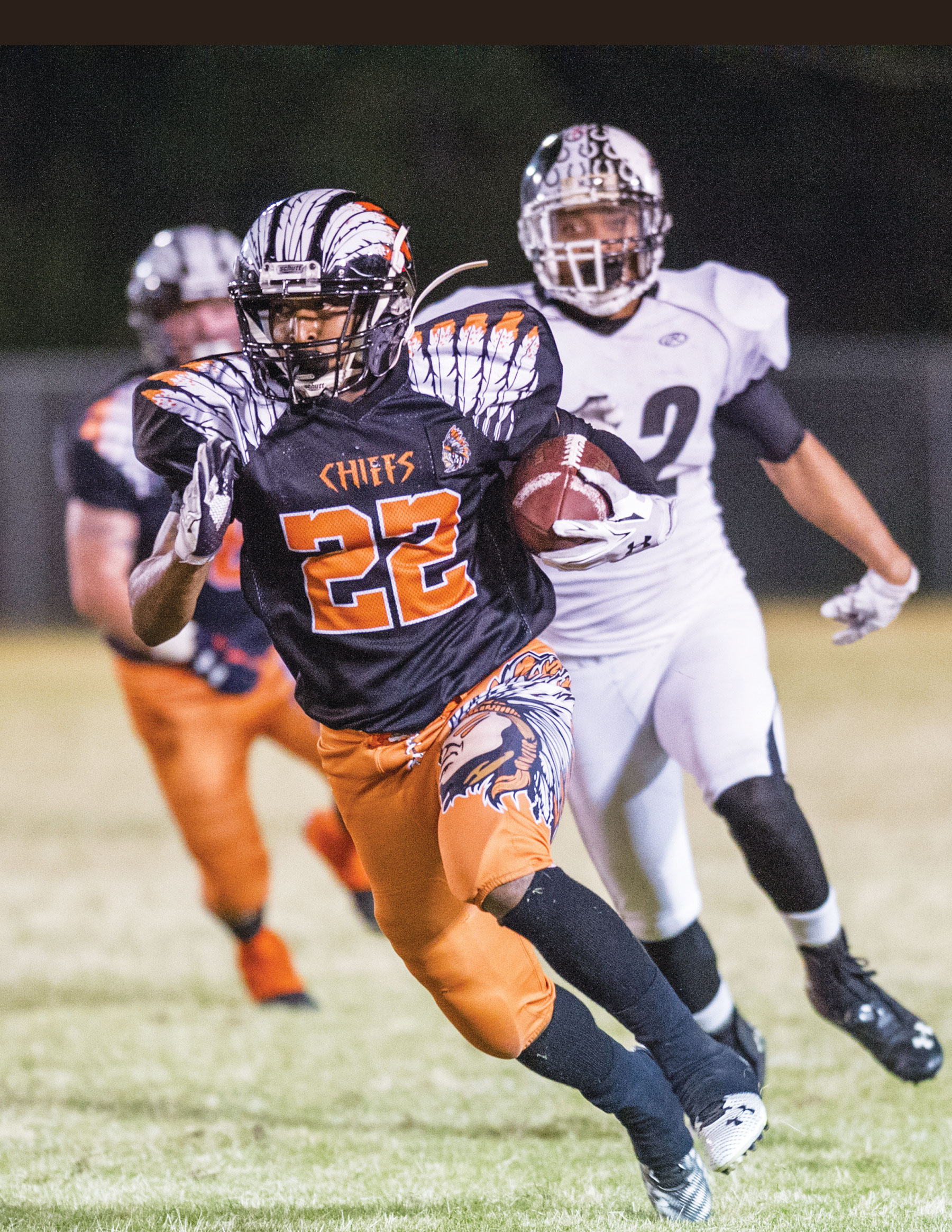 By Fred Woods
Editor
Our Opelika Chiefs extended their 2017 season's record to 3-0 with a 20-6 win over the Atlanta Tigers in their third consecutive road game last Saturday night. Once more the Chiefs were led by their league-leading ground game with old reliable Latrell Jenkins, the APDFL's leading rusher, picking up 112 yards on 16 carries and one TD. TJ Griffin added 21 yards on seven carries and two touchdowns. Will Mckenzie added 16 yards and a two-point conversion. Mike Eiland also added 21 yards in just four carries.
The defense played well, as usual, despite being pretty banged up. Safety/Linebacker LaJarvis Williams led the way with five tackles including a sack. Blackmon and Tay Griffin collected interceptions. Vashon Landers and Isaiah Persons also played well.
Once again, good fan support helped boost team morale. Most people don't realize that the three season's victory's have been accomplished with a patched-up line-up due to injuries, illness and inability to get off work in time to make road games. After all, these athletes aren't getting paid to play.
All this leads up to the home opener this week at Beulah Stadium with the powerful Prattville Patriots. The Patriots are clearly the strongest team the chiefs have faced thus far in 2017. The Patriots are ranked tenth in the APDFL's power rankings this week and handily defeated the Alabama Steel 50-0 last week.
Hopefully the Chiefs will be at close to full strength this week. They'll need to be against the Patriots. Come out to Beulah at 7 p.m. Saturday night and see the best team playing in this area, the Opelika Chiefs.