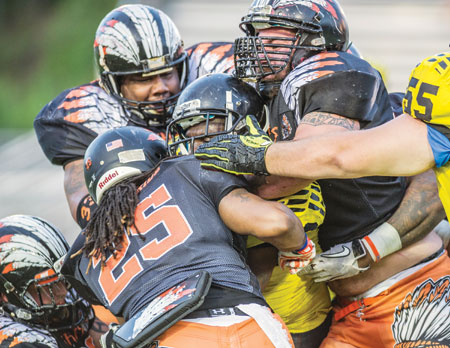 Photos by Robert Noles
The Opelika Chiefs defeated Tallahassee's Capital City Cobras last Saturday night 48-20. The 13-0 Chiefs will play for the national championship in Atlanta June 25.
By Fred Woods
Editor
The Opelika Chiefs wrapped up the APDFL American Conference championship with a 48 – 20 win over the Capital City Cobras of Tallahassee last Saturday night at Bobcat Stadium in Beulah. The win puts the 13 – 0 Chiefs in the President's Cup National Championship game against the Oklahoma City Bounty Hunters, also 13 – 0, this Saturday night, June 25. The game will be played at Strong Rock Christian School stadium in Locust  Grove, Georgia. Kickoff is set for 6 p.m. (CDT).
Coach Hunter Price thought his team played a more complete game this week. He loved the Chiefs' energy on both sides of the ball, especially in the first half. But, Price said, "We got a little complacent in the second half, giving up some deep balls late in the game for scores. We've got to do better this week, particularly up front, putting pressure on the QB to help out our DBs."
The Chiefs jumped out to their usual early lead and were ahead 16-0 by the end of the first quarter and 24-0 at the half. QB Kyle Caldwell completed 15 of 22 passes for 239 yards and four TDs, two to wide receiver Ralph Spry. Wide receiver Tracy Brooks caught five passes for 114 yards.
TJ Griffin and Latrell Jenkins led the rushing attack with Griffin gaining 75 yards in eight carries and workhorse Jenkins picking up 61 yards in 15 carries.
The defense contributed three timely interceptions even as they gave up the most points of any game this season. Linebacker Rod Marshall made seven tackles and linebacker Jake Welcher added six.
Price said the Bounty Hunters will have the best and fastest defensive front the Chiefs have faced all year. If that's not enough OKC also has the biggest offensive line the Chiefs have faced all year.
The Chiefs will first have to stop the run. The OKC running back, Reggie Arnold had three 1,000 yard seasons playing at Arkansas State. And, if they stop the run, OKC has a pretty good passing attack including a wide receiver who played college ball at Tennessee.
Price looks for a great match up. The coach says, "As long as we play to our ability, take pride in our performance and do what we are asked to do for four quarters, we should be fine."GO CHIEFS!
The Chiefs have chartered a Fan Bus for the game at a cost of $20 per seat. Fans can reserve a seat and find out details such as departure time and location by messaging the Opelika Chiefs facebook page or by calling Jason Dunson at (334) 319-3950.