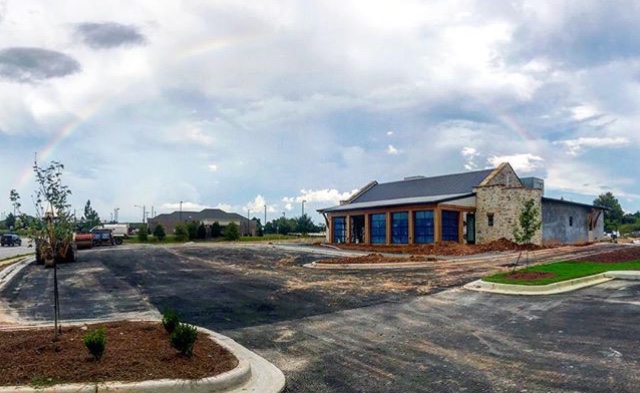 Special to the
Opelika Observer
"Bow & Arrow", David Bancroft's Texas-style barbecue restaurant, will open its doors Nov 5.
The new restaurant will be located at 1977 E. Samford Ave. across the street from Church of the Highlands in Auburn.
Bancroft, executive chef and owner of Acre Restaurant, is taking his childhood memories from his Texas upbringing and turning them into flavors with his latest venture. His background, paired with his time on "The Loveliest Village on the Plains led to the name "Bow & Arrow," boasting Texas-style barbecue with a Southern twist.
"I grew up in south Texas, so doing this kind of food isn't forced for me. This is how I trained myself, this is how I learned to cook," Bancroft said in an interview with Observer staff in March. "The number-one thing (on our minds) is the attention to quality and the technique."
Bow & Arrow will look much different than Acre. Guests will walk inside to see homemade tortillas being made and a large fire pit on display, and then will hop in line to be served cafeteria-style.
Quick and convenient, guests can order meat by the pound with various sides in containers ready to share with friends and family. A stocked condiment bar awaits customers at the end of the line featuring Tex-Mex goodies ranging from salsa verde to white sauce. Add a glass of sweet tea or a seasonal margarita, and you'll be hopping back in line before you know it.
Executive Chef Caleb Fischer has worked with Bancroft at Acre for years and also has deep roots in Texas. Known for this enchanting cakes and desserts, customers will be in for a treat with Fischer at the helm.
The casual atmosphere of Bow & Arrow will also include a "meat chandelier" over the fire pit, where the butcher will hang sausages and other meats. Taxidermy is to be expected, as is a local photo wall showcasing individuals and their biggest catches. Ample outdoor seating will be available, making this a great place for groups or teams.
Bancroft and Fischer are known for their victory on the Food Network's Iron Chef Showdown back in 2017 followed by Fischer's appearance on the Spring Baking Championship.
For more information about Bow & Arrow, follow them on Facebook or Instagram.