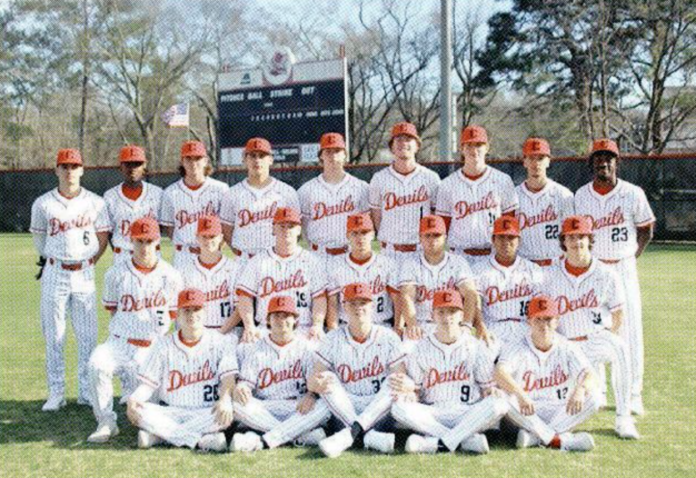 BY NOAH GRIFFITH
FOR THE OBSERVER
PHENIX CITY —
The Central High School baseball team returned to its facilities around 4 a.m. on Friday after battling two elimination games in the state championship versus Vestavia Hills, falling a game short of becoming repeat champions.
"Looking back on it, it was a successful year," said head coach A.J. Kehoe. "Obviously, it didn't end the way we wanted it to end, but that's baseball. That's life in general, you know, but our guys are very resilient and they're going to be just fine. They're on to bigger and better things."
Despite falling short of a championship, Central posted a 35-10 record and punched its ticket to the state championship for the second consecutive year. The Red Devils defeated Daphne, Enterprise and Smiths Station in the postseason to reach the state championship at Jacksonville State University.
Walking off as winners in game two of the state championship, Central forced a rubber match game three versus Vestavia Hills that began at 10 p.m. CST on Thursday. But having to inch out a late win in game two after letting a 4-0 slip away in the seventh inning, Central ran out of magic in game three and fell, 4-1, ending their season.
Despite the "small disappointment" of losing the state championship, Central is proud of what its seniors have been able to accomplish in the last three seasons, as well as what the future holds, Kehoe said. The eight seniors on this year's team went 103-29 over the past three seasons, won three area championships and made three semifinal appearances with two state championship runs.
"The grit, the competitive nature of these guys [is what made them so successful]," Kehoe said. "It started their sophomore year, they did a great job of developing, and their competitive nature put them over the top. They're just all big-time competitors."
Among the eight seniors, Central returned the 2022 Hitter of the Year and State Championship MVP in UAB commit Jaxon Yoxtheimer, who became a huge leader for the Red Devils, as well as catcher and Auburn University commit Colton Wombles. Montevallo commit Preston Bedford was another key contributor, Kehoe said.
Those three are all leaving Central better than it was before, and the underclassmen below them now have a greater understanding of what it means to be a championship team.
"Outside of talent, the most important thing a team can have is that internal leadership," Kehoe explained. "They provided that for us. Going into next year, that'll certainly be something that we have to address. The character and gritty competitiveness is something they've instilled in our underclassmen."
In its chase for its second state title in school history, Central will not be shorthanded going into the future. Along with invaluable senior leadership, Central got remarkable contributions from three sophomores as well as a freshman in the state championship.
The team is also returning junior third baseman Hunter Wippert, junior first baseman and UAB commit Landon Beaver, along with starting second baseman Cason Page. Sophomores Cameron Briggs and Emory Yohn are returning in the outfield, and Cam Norton, who pitched 2.1 relief innings in game one versus Vestavia, is a freshman pitcher returning next season.
The Red Devils kept their hot region play going in 2023, going 7-2 in region play and sweeping Opelika in addition to series win versus Auburn and Smiths Station while winning its third consecutive area title. They once again established their area dominance by sweeping a pair of games with the Panthers, 8-4 and 8-1, in the semifinal.
This team is leaving behind a legacy of hard-fought success, but there is no reason to think that will change going forward. Kehoe and his guys will take some time to reflect and adjust, and they will return to working toward their third straight state championship appearance.
"We're highly optimistic going forward," Kehoe said. "The coaching staff will probably meet next week to go ahead and determine some of those things that we need to focus on program-wise. We'll make sure that we give the guys a few weeks off to rest and get away from us, then we'll get back to work."