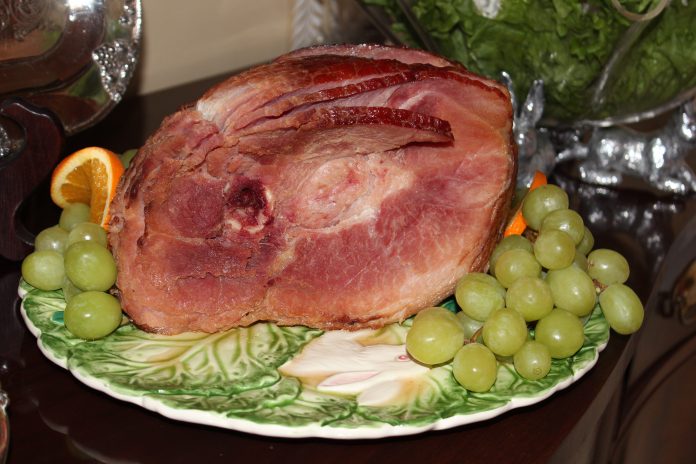 By Ann Cipperly
No matter what is happening today, the good news is that Jesus rose on Easter morning. While we have celebrated with various traditions over the years, this year on Easter we can focus on the meaning of that good news. Whether we are dining on a ham or egg salad sandwich instead of our usual feast with family, we can celebrate the risen Savior, as we pray for the world at this unsettling time.
This week's food column was a challenge to assemble. I looked over my recipes and ones shared by friends over the years, knowing that many of us will have a limited amount of food on hand for creating a meal. While we should celebrate Easter every day, on this set holiday, we can honor Christ and plan a special meal for later when we can be with family and friends.
During the time Don and I lived in Philadelphia and New Jersey, I missed my Opelika family at Easter. When I put on my spring coat to go grocery shopping for the Easter meal, I would remember that at my parents' home the azaleas would be in bloom in vibrant colors.
When I was growing up in Opelika, I never had a spring coat. It would have been much too warm in the middle of April. On that shopping day in Jersey, I looked at bare branches and thought of the trees bursting with new leaf growth and the grass turning green in my hometown.
As a Christian, I was going to celebrate Easter no matter where we were living. As I left home for the grocery store, I saw tulips blooming near the store. I decided to make an Easter meal with spring favorites. While Don would have preferred a leg of lamb, I selected a ham, new potatoes, fresh asparagus and baby carrots.
At my mother's table, there would be more southern vegetables and a lemon pie and coconut cake and maybe a chocolate cake too.
I decided to bake a chocolate cake and decorate it with candy eggs for our toddler children. I decorated the table before going to bed and was excited about my spring meal the next day to celebrate Easter.
The next morning I woke up feeling chilly, as I pulled the blankets up to my neck. I could tell it was a cloudy day from our window that was covered with tightly closed drapes.
I went into the living room to pull the drapes on the double glass doors to the patio. I was astonished to see a snow wonderland covering the hillside. I was not expecting eight inches of snow in the middle of April.
At least the kids thought it was exciting to see the snow and couldn't wait to go outside to build a snowman. Later, we ate the spring Easter meal.
When I called my parents to wish them a joyous Easter, they had returned from church and talked about how hot it was already.
Over the years, I have had many reasons to be thankful for Easter, and it didn't matter where I was living or what was on the dinner table. Sitting in a hospital bed hearing a doctor tell me I had stage four cancer that is very rare made me very thankful for Easter, as all I could say was "Jesus."
At those times, knowing Jesus rose on Easter and that He is still alive means everything. Since Jesus is alive and still heals, I have been able to celebrate other Easters with a miracle, which would not have been possible without the healing power of Christ.
On Easter this year, I am thankful for many things. Although my parents are now in Heaven, and my children and grandchildren live in other towns, some so far away, I am thankful Don and I will be together. It won't be a meal of wonderful spring dishes, but Easter has never been about the food or egg hunts.
Easter is about Jesus carrying a rugged cross to a hillside, suffering and rising in glory to provide a way for all who accept Him into eternal life. That is worth celebrating every day, not just one Sunday.
Cipperly can be contacted at recipes@cipperly.com.
Recipes:
Baked Pimento Cheese Dip
Edith SmithT Walker
8 oz. block extra sharp cheddar cheese, shredded
8 oz. block sharp cheddar cheese, shredded
1 Tbsp. cornstarch
1 cup light mayonnaise
4 oz. jar diced pimento, drained
1 tsp. Worcestershire
1 tsp. finely grated onion
1/3 tsp. red pepper
Combine cheeses; add cornstarch to coat. In a large bowl, add mayonnaise and next 4 ingredients. Add cheese to mixture. Spoon into a lightly greased 1 qt. baking dish. Bake at 300 degrees for 30 minutes. Serve with crackers.
Mint Tea Punch
June Cutchins
5 cups boiling water
5 regular-size tea bags
8 mint sprigs, crushed
1 cup sugar
12 oz. can frozen lemonade concentrate, thawed, undiluted
12 oz. can frozen orange juice concentrate, thawed, undiluted
6 3/4 cups water
Garnishes: fresh mint sprigs, lemon slices
Pour 5 cups boiling water over tea bags; add mint sprigs. Cover and steep 5 minutes. Stir in sugar; steep 5 more minutes.
Remove tea bags. Pour tea through a fine wire-mesh strainer into a large pitcher, discarding mint sprigs. Stir in concentrates and 6 3/4 cups water.
Chill. Serve over ice. Garnish, if desired. Makes 3 ½ quarts.
Center Cut Ham Slice
Margo Herndon
Buy a butt portion ham and cut a slice 1½ – 2 inches thick, and cut the rest in chunks. Brown ham slice on both sides on medium heat in a skillet, then turn heat down and let it cook slowly uncovered until really dark brown and tender. Or, after browning, you can place it in a heavy covered baking dish and bake at 300 for an hour. That way, you don't have to watch it!
After browning, you can add baby carrots, onion wedges and halved new potatoes to cook along with the ham. The ham juices give a delicious flavor to the vegetables.
Marinated Asparagus
Holly Muncie
1 lb. fresh asparagus
1/2 cup chopped walnuts or pecans (or your favorite nut)
1/4 cup cider vinegar
1/4 cup olive oil
1/4 cup soy sauce
2 Tbsp. sugar
Boil or steam asparagus for 5 minutes (slightly tender but still a little firm, as too tender will make it soggy in marinade).
Mix together all other ingredients, pour over asparagus and marinate overnight. I usually put it in a big Ziplock bag and flip it once while it is marinating.
Baked Ham with Maple Mustard Sauce
6 to 8 lb. fully cooked bone-in ham
Whole cloves, optional
1 cup whole-grain Dijon mustard
1/3 cup golden brown sugar
2 Tbsp. maple syrup
Maple mustard sauce, recipe follows
Preheat oven to 350 degrees.
Score top of ham into diamonds and stud center of each diamond with a clove, if desired. Bake on a rack in a roasting pan bake ham in middle of oven 1 1/2 hours.
In a bowl, combine mustard, brown sugar and maple syrup. Remove pan from oven. Spread mustard mixture over top and sides of ham. Return to oven and continue to bake until mustard coating is golden brown, about 35 minutes.
Transfer ham to a platter. Let sit for 15 minutes before serving. Serve with maple mustard sauce on the side.
Maple Mustard Sauce
1/2 cup Dijon mustard
1/4 cup pure maple syrup
Stir together mustard and syrup until combined well.
Sauce can be made 2 days ahead and chilled, covered. Bring to room temperature before serving.
Asparagus with Spring Onions and Goat Cheese
Peggy Dyar
1/4 cup olive oil
2 tsp. grated lemon zest
3 Tbsp. fresh lemon juice
1 3/4 tsp. salt
1/4 tsp. black pepper
Spring onions, white parts only, sliced
1 lb. fresh asparagus, ends trimmed
4 oz. goat cheese, crumbled
To prepare vinaigrette, whisk together olive oil, lemon zest, lemon juice, salt and pepper. Stir in sliced onions. Set aside for 30 minutes or chill for longer time.
In a skillet, bring about 2 inches of water to boil; add asparagus and cook about 3 minutes or until crisp tender. Remove asparagus to a bowl of water and ice to stop cooking; drain.
Arrange asparagus on individual plates or a platter. Spoon vinaigrette over top. Sprinkle goat cheese over asparagus.
Herb Roasted New Potatoes
Karen Anderson
12 new potatoes (about 2 lb.), cut into wedges
¼ cup olive oil
2 garlic cloves pressed
1 tsp. salt
1 tsp. ground cumin
½ tsp. paprika
¼ tsp. dried oregano
1/8 tsp. ground red pepper
Toss together all ingredients in a large bowl; spread mixture evenly into a lightly greased aluminum foil lined 9 x 13-inch baking dish.
Bake at 425 for 30 minutes or until tender and lightly browned. Makes 6 to 8 servings.
Roasted Turkey Breast
Margo Herndon
Frozen Butterball Turkey Breast (all white meat)
Olive oil
Spices
After defrosting turkey breast, rub with olive oil and coat generously with garlic powder, rosemary, thyme, Creole seasoning, Mrs. Dash, you name it!
Place uncovered in 375 oven for about 1½ hours. Check internal temperature with a meat thermometer to assure doneness. Let it cool, then slice for sandwiches. Really good!
Madison's Key Lime Cake or Cupcakes
Julia Moreman
1 pkg. yellow cake mix
1 pkg. instant lemon pudding
½ cup water
½ cup key lime juice
1 cup oil
4 eggs
Combine all ingredients and bake in greased 9 by 12-inch baking dish for a cake or in paper baking cups for cupcakes at 325 degrees. Cake may take 45 minutes, but cupcakes will bake in less time. Check for doneness with toothpick. Frost with glaze.
Glaze
2 cups powdered sugar
½ cup key lime juice
While cake or cupcakes are warm, mix ingredients for glaze. Using a toothpick or fork, prick holes in cake or cupcakes; pour glaze over top.
Mandarin Orange Congealed Salad
Ann Remfro Smith
3 oz. orange Jell-O
3 oz. lemon Jell-O
1 cup boiling water
2 cups mandarin oranges, do not drain
1 large can crushed pineapple
1 small pkg. miniature marshmallows
1 medium Cool Whip (12 oz.)
1 cup mayonnaise
1 to 1 ½ cups grated cheddar cheese
Mix cup of boiling water to both Jell-O packages in 9 X 13 Pyrex dish. Add oranges and pineapple. Chill 1 hour.
Mix Cool Whip and mayonnaise; add marshmallows. Spread this mixture over congealed salad. Top with grated cheddar cheese.

My Mama's Marinated Green Beans
We always have these beans at Easter, and they remind us of our sweet grandmother!
Edith SmithT Walker
2-3 cans whole green beans, rinsed and drained
1 cup red wine vinegar or raspberry vinegar
3/4 cup vegetable or canola oil
1 tsp. pepper
1 tsp. salt
1 tsp. garlic salt
1 cup sugar
Set beans aside. Heat other ingredients over medium low heat, stirring until dissolved. Pour marinade over beans and allow to sit overnight in refrigerator. Drain marinade before serving.
Vegetable Marinade with Baby Carrots, Mushrooms and Artichoke Hearts
Keep these canned items on hand for when you need a salad.
Laurie Gilbert
2 cans baby carrots, drained
2 onions, sliced
3 large cans mushroom buttons, drained
1/2 green pepper
1 can artichoke hearts, drained
Marinate above in the following overnight, up to several days.
1 can tomato soup
1/4 cup sugar
1 tsp. Worcestershire
1/2 cup salad oil
3/4 cup vinegar
4 whole peeled garlic buds
Salt, pepper, lemon juice to taste
Combine all marinade ingredients.
Serves 4 to 6.
New Potato Salad
Mary Hodson
5 lb. new red potatoes, diced and cooked quickly (do not overcook)
1 bunch green onions, finely diced
½ cup sour cream
¼ cup mayonnaise
Prepared horseradish to taste
1 small bunch fresh dill, finely chopped
4-5 slices bacon, cooked crisp and crumbled
Mix sour cream, mayonnaise and horseradish together until well blended. Add salt and pepper to taste. Add mixture to potatoes, onion and dill weed. Toss well and chill until ready to serve.
Just before serving, sprinkle bacon on top.
Glazed Baby Carrots
16 oz. pkg. baby carrots
1/2 cup butter
3 Tbsp. honey
1/2 cup brown sugar
Place carrots into a large pan and cover with salted water. Bring to a boil over high heat until tender, about 15 minutes. Drain and allow to steam dry for a minute or two.
Return pan to stove; reduce heat to medium-low. Melt butter; stir in honey and brown sugar. Add carrots and stir until evenly coated, cooking another few minutes.
Banana Pudding with Pecan Sandies
Carol Dillard 
8 oz. pkg. vanilla pudding mix
3 cups milk
8 oz. cream cheese, softened
14 oz. can sweetened condensed milk
8 oz. frozen whipped topping (Cool Whip), thawed
1 pkg. Keebler Pecan Sandies, broken into small pieces, almost crumbs
5 or 6 ripe bananas, sliced
Prepare pudding mix using package directions with 3 cups of milk. Beat the cream cheese and condensed milk in a bowl until blended. Stir in the whipped topping and fold in the pudding.
Alternate layers of the Pecan Sandies, bananas and pudding in your desired container, (I usually use a trifle bowl) ending with the pudding mixture. Chill, covered until serving time. Serves 8-10

Easy Rice Casserole
Ann Renfro Smith
1 stick butter
1 medium onion, chopped
2 stalks celery, chopped
1 pkg. fresh mushrooms, chopped, optional
1 ½ cups long grain white rice
2 cans chicken broth
Melt butter and sauté onions, celery, mushrooms and rice. Stir in broth. Pour into baking dish. Bake 1 hour at 350 degrees.
Stuffed Lime BLT Tomatoes
Deborah Jones
4 tomatoes 
1/2 cup mayonnaise 
1/2 grated Parmesan cheese
2 Tbsp. lime juice
4-5 slices bacon, cooked and crumbled 
2 tsp. dried or fresh parsley 
Cut tops off tomatoes and hull out center, discard pulp. 
Lightly salt inside tomatoes. 
Mix mayonnaise, cheese, lime juice and bacon; stuff mixture in tomatoes. Sprinkle parsley on top. Bake at 325 degrees for 12-15 minutes.