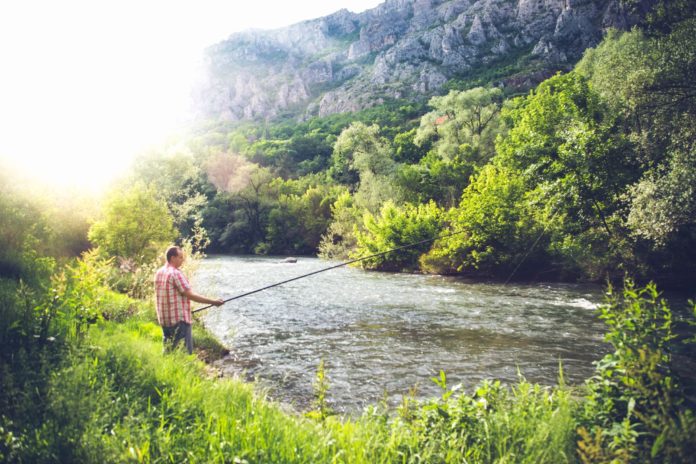 When I was a youngster, my father was district manager for an insurance company, which involved a good bit of travel. Before he was drafted to serve in the military, he would sometime take me on trips with him. One such trip was on U.S. Hwy. 64, which traversed much of southern Tennessee. Daddy loved to fish, and if he was unhurried and saw a place to try his luck, he might stop and give it a try. On one such occasion, when I was with him, he pulled off the road at the bridge over Hardin Creek and parked near a deep hole in the creek. He cased his lure into the creek and on the third, snagged a nice three-pound smallmouth bass.
Throughout my youth, that experience never left my mind. Hardin Creek is one of a number of clear, rock-bottomed streams in Wayne County, Tennessee. When I was 12, daddy was drafted to serve in the military, My mother could no longer afford to pay the rent on the house where she, I, and my sister lived, and we were required to move into a government-subsidized apartment. When I wasn't working, I spent quite a bit of time exploring, especially Timberlake Woods, a forested area within walking distance of our residence. One evening strong winds blew down some trees in the forest, and the following morning I discovered three baby screech owls lying on the ground next to a fallen tree containing the cavity in which they were being raised.
It was obvious that the little fellows couldn't make it on their own, and it is doubtful that their parents were still around. There wasn't a facility in town that could rehabilitate the babies, so I decided to take them home and care for them myself. I kept them until they could fly and was contemplating where and when they should be released when my mother was informed by the apartment management that the owls constituted "pets," which must be removed, because tenants in the apartments are forbidden from keeping pets
I thought to myself, John Edward, my closest friend, and I could hitchhike to Hardin Creek, and I could take the owls and release them there. We could camp out there for several days. I convinced John Edward that he would enjoy the trip, and he agreed. My mother was a bit skeptical about my hitchhiking 80 miles to camp out and John's mother was even more reluctant to agree that youthful teen-aged children should undertake such a venture. But finally we convinced them that we would be safe. And after all, those were the "good old days.' when kidnapping, robbing, murder, and other heinous crimes were virtually unknown in rural Tennessee.
We packed up our gear, food, utensils, etc. and the young owls and began hitchhiking. After about 15 minutes a kindly gentleman gave us a ride after being convinced we weren't runaways.
We arrived at our destination during mid-afternoon, and prepared our campsite. We then caught some fish for our supper. After dark, I released the owls, which flew into a nearby tree and perched. We cooked our fish and afterward turned in and were serenaded by frogs and hoot owls.
Early next morning, as we were preparing to cook breakfast, I stripped off a slice of bacon,   And guess what? Down flew the three young owls, begging for food. We fed them some raw fish, which seemed to satisfy them. This owl-human association lasted for about four days. I assume after that, the owls learned to catch their own food.
All things considered, the trip was a thoroughly enjoyable experience for two teen-aged nature loving boys.
Bob Mount is a Professor Emeritus with the Department of Zoology and Entomology at Auburn University. He is also chairman of the Opelika Order of Geezers, well-known local think tank and political clearing house. He writes about birds, snakes, turtles, bugs and assorted conservation topics.