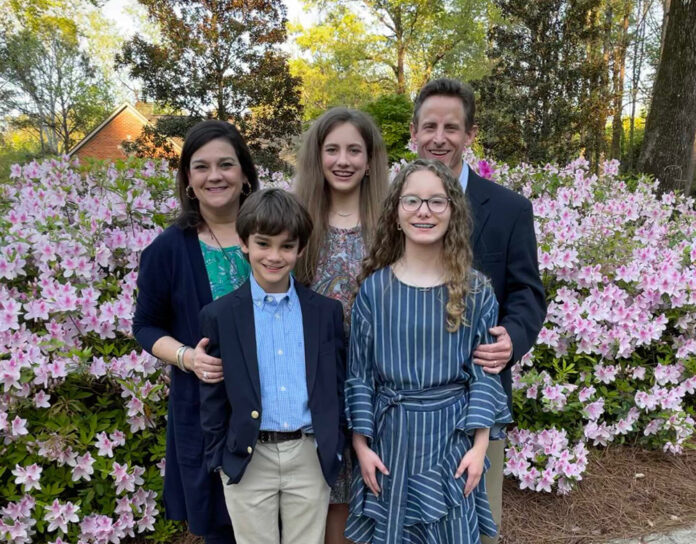 By Ann Cipperly
Following in his father's footsteps, Cal James Jr. does not spend much time on personal hobbies such as golf. Instead, instead he enjoys spending as much time as possible with his family. His father, Calvin E. "Cal" James Sr., set an excellent example by putting family first with his children being his hobby. With those memories and his mother Dora's influence, Cal puts his wife, Ashley, and their children,  Katherine Ashley, 15; Courtney, 15; and Cal III, 11; as the top priority in his  life.   
His parents moved to Opelika in 1964. Cal Sr. would become the president and CEO of Diversified Products Corporation, which at one time was the world's largest manufacturer of home sporting goods equipment.
Cal was born a few years later and said he remembers that growing up in Opelika in those days was like being in Mayberry. They didn't lock their doors. Cal and his friends played outside all day.
When Cal was 11 years old, his father, who had been an All-American halfback at Georgia Tech, thought he needed to gain weight to play football and began making him a milkshake every night to drink at bedtime. It is an amusing memory for Cal since his father did that for two or three years, and he didn't gain a pound.
Another enjoyable memory that Cal recalls with his dad is when he would come home from summer camp, his father would grill steaks and make him a big banana split. "Dad and I shared having a sweet tooth. He made me a banana split that would even cause Dairy Queen to be jealous. He put four bananas and four scoops of ice cream, and then topped it with chocolate syrup and cherries."
Cal also remembers fishing trips with his father. They would take a big bucket of KFC fried chicken, a dozen oatmeal cream pies and bag of candy. "Over three or four hours we would have eaten that fried chicken, oatmeal cream pies and candy," he said. "Sometimes we caught fish, and sometimes we didn't. The most important thing is that we had wonderful fellowship, created many lasting memories and ate well."
Among all the happy memories his father provided, Cal has never met anyone as mentally and physically tough as his dad. "I was blessed that he taught me a lot of discipline habits and a work ethic that I still use today and try to pass those on to my children.
"Dad was at every football game and track meet unless he was out of town," Cal remembered. "He taught me that if you work hard, you will see the results. We would go on a summer vacation, and he would get me up at six in the morning to go for a run and do football drills, watching the sun come up at the beach. I learned to love it. It was a lot of fun memories.
"His father was the same way," Cal added. "It was not so much about the football, track or workouts, it was about the life lessons. We would be running, and he would say, 'Son, do you know why you are doing this?' I would say it was killing me, but he would tie it to a life lesson.
"He tied everything from a fishing trip, camping or athletics to a life lesson. You realize eventually that you are going to need to know how to be mentally tough when life presents trials that you are going to deal with. It is not a matter of if you are going to face them but when. We have since found out when we had a daughter pass away."
His father always gave a lot of credit to God, and both his parents established Christian principles in their home. Cal recalls his father's lessons on humility and that he taught him to remember that everything they have comes from God. His father also enjoyed having a great time, cherishing the moments and not worrying about the next day.
"Dad was one of the most ethical and principle oriented persons I have ever known," Cal said. "He put God first, my mom and his children. He didn't have a hobby as we were his hobby. He wanted to make sure we were his priority. It made a big impact on my life growing up."
Cal has two sisters, Kathryn and Sidney, who also experienced their father's love and knew they were a priority.
Cal attended Opelika High School and then transferred his last two and a half years at Baylor High School in Chattanooga, Tennessee, where his father had attended when it was a military school. Cal was on the track team and president of the student body.
After graduation, he attended the University of Alabama, receiving scholarship funds, and was a cheerleader. His family was close friends with Coach Curry, whose parents lived in Opelika.
After graduating from Alabama in 1991, Cal went to work for Dr. Pepper / Seven Up in Los Angeles, California, for about a year. When his father retired from Diversified Products, he purchased Fuller Ford in 1992, which became James-Snell Motors. Cal came home to work with his dad at the car dealership.
His father became ill and passed away in 1996, at age 59. He was a great mentor and he was the best dad I could have ever asked for," Cal said.
In 1997, Cal went to work with an environmentally safe company where he met Ashley, who grew up in Alpharetta, Georgia. She attended Auburn University where she was a War Eagle Girl and a member of the Phi Mu sorority. A mutual friend introduced them. They were married in 2001.
They both worked at pharmaceutical companies in Atlanta. Cal was employed at Johnson and Johnson, while Ashley went to work for Merck. Those jobs became an answer to prayer, as they allowed Cal and Ashley to move back to the Opelika-Auburn area in 2003.
Ashley worked in pharmaceutical sales until 2006 when she gave birth to premature triplets, Courtney, Katherine and Grace. While two of the babies went home after three months, baby Grace remained and after two heart surgeries, she passed away at seven and a half months old.
A few years later, they had a son, Cal James III. "When you can wake up and have three amazing children, it is an honor," he said. I think being a dad is one of the biggest honors of a lifetime to see them grow.
In 2008, Cal went to work for medical device company and travels primarily in Alabama. He said he feels being able to see someone healed from a chronic wound that was previously not possible feels like working on a mission field to give someone hope.
"Both Mom and Dad said you are never going to be happier than when you can serve, to get out of the way and help other people," he added. "It is not based on the amount of money you make and all the things that you think will make you happy. It is about making a difference for somebody.
"As a family, we try to take advantage of as many serve opportunities in the community. At church we have a serve day that we participate in and make it a goal if there is a need in a family, maybe needing meals or something done, it is an ongoing thing to help throughout the year. That is the heart beat of our family to provide our time and resources in giving back."
As Father Day approaches, Cal reflected, "When God gives you children, it is a huge stewardship to pour your life into them. It is hard to describe the joy of being a father. It is a privilege to take the same life lessons Dad taught me and pass them on. You plant all the seeds, and you give them to God. You ask God for wisdom on how to take care of them because they are His."
On Father's Day, the children will make Protein Pancakes for their Dad's breakfast. Ashley and both their mothers are excellent cooks. The family enjoys turkey meatballs, Mexican dishes and making Mrs. Curry's healthy cookies she baked for the Alabama football team.
For as many nights as they can, Cal and Ashley sit at the dinner table with their three children. They have a desire to communicate and hear about school that day, show choir, soccer practice and art lessons along with other activities. While society is fast-paced, they know how important it is to share meals together at the table.
This Father's Day, Cal is thankful for Ashley and their three children. As he remembers his father with all the life lessons, he is also thankful for the blessing of those lessons, feeling his father would be proud to see him carrying them on to another generation.
Cipperly can be reached at recipes@cipperly.com.
Homemade Chicken Tenders
3 skinless, boneless chicken breasts ( I use 2 to 3 packs of chicken tenders)
1 cup Italian seasoned breadcrumbs
1/2 cup grated Parmesan cheese
1 tsp. salt
1 tsp. dried thyme
1 Tbsp. dried basil
1/2 cup butter, melted
Preheat oven to 400 degrees.
Cut chicken breasts into 1½ -inch sized pieces. In a medium bowl, mix breadcrumbs, cheese, salt, thyme and basil. Mix well. Put melted butter in a bowl or dish for dipping.
Dip chicken pieces into the melted butter first, then coat with the breadcrumb mixture.
Place the well-coated chicken pieces on a lightly greased cookie sheet in a single layer and bake in preheated oven for 20 minutes.
Chicken Enchiladas
1 tsp. canola or olive oil
1 cup chopped onion
2 large garlic cloves, minced
½ cup canned tomato sauce
1/3 cup reduced sodium chicken broth
9 oz. cooked, shredded chicken breast
¼ cup plus 1 Tbsp. chopped fresh cilantro
1 tsp. McCormick Mexican-style chili powder
1 tsp. ground cumin
½ tsp. dried oregano
¾ tsp. kosher salt
Cooking spray or oil
8 (7- or 8-inch) low-carb, whole wheat flour tortillas (such as La Tortilla Factory)
½ cups enchilada sauce
1 cup shredded reduced-fat Mexican cheese blend (such as Sargento)
2 Tbsp. chopped scallions, for garnish
4 Tbsp. light sour cream, for serving (optional)
Preheat the oven to 400 degrees.
In a medium nonstick skillet, heat oil over low heat. Add onion and garlic and cook, stirring, until soft, about 2 minutes.
Add tomato sauce, chicken broth, cooked chicken, ¼ cup of the cilantro, chili powder, cumin, oregano and salt. Simmer until the flavors blend and sauce reduces, 4 to 5 minutes. Remove pan from heat.
Spray a 13 x 9-inch glass baking dish with oil. Put 1/3 cup chicken mixture into each tortilla, roll them up, and place seam side down in the baking dish. Top with the enchilada sauce, then sprinkle the top with the cheese.
Cover the dish with foil, being careful it does not touch the cheese. Bake until hot and the cheese is melted, 20 to 25 minutes.
To serve, put an enchilada on each of 8 serving plates. Sprinkle scallions and remaining 1 tablespoon cilantro over top. Serve with light sour cream on the side, if desired. Serves 8.
SLOW COOKER PORK CARNITAS
1 boneless pork shoulder roast
1 Tbsp. minced garlic
½ tsp. salt
½ tsp. pepper
1 tsp. chili powder
1 tsp. cumin
Two 4-oz. cans diced green chiles
1 cup chicken broth or water
Taco-sized corn or flour tortillas
Cilantro, additional salsa
Place pork roast in a greased slow cooker. Sprinkle garlic, salt, pepper, chili powder and cumin on top. Add diced green chiles and chicken broth. Cover and cook on low for 6-8 hours.
Uncover slow cooker, shred meat with two forks and stir to combine all ingredients. Serve meat in soft tortillas and top with cilantro and salsa, if desired. Serves 8.
Serve in tacos, quesadillas, on salads, over rice or in enchiladas.
Protein Pancakes
1 scoop Vanilla Protein Powder (your brand of choice)
½ banana, smashed
½ Tbsp. unsweetened almond milk
¼ cup egg whites
½ tsp. cinnamon
Coconut oil, cooking spray
Maple syrup or honey (optional)
Completely mash banana with almond milk.
Gradually stir in remaining ingredients.
Spray skillet with cooking spray and turn to medium low heat. Slowly and evenly pour batter into pan. Cook for 3 to 5 minutes on one side.
Using a spatula, carefully lift the edge and take a peek. If the underside of your pancake is golden brown, it is ready to flip. Carefully flip your pancake and cook for another 3 minutes on the other side until both sides are golden brown and the pancake is cooked through.
Remove from heat and top with additional ingredients, if desired. Drizzle with real maple syrup or honey and serve!
Easy Chicken Thighs
6 or 8 chicken thighs
Salt and pepper
Sauce:
1 Tbsp. rice wine vinegar
1/2 cup Dijon mustard
1/4 cup maple syrup
Coat baking pan with nonstick spray. Place chicken thighs in baking pan; sprinkle salt and pepper on chicken. Combine sauce ingredients; pour sauce over top.
Bake at 400 degrees for 40 minutes or until chicken reaches 155 degrees on thermometer. Easy and delicious.
Mrs. Curry's Healthy Cookies
1/3 cup butter melted
1/2 cup honey
Mix two above ingredients together.
Add to butter and honey:
1 egg
1 tsp. vanilla
Sift together:
1 1/4 cups whole wheat flour
1/2 tsp. soda
1 tsp. cinnamon
1 tsp. grated lemon peel
Combine sifted ingredients with butter and honey mixture.
Add:
1 cup carob chips
1 cup coconut
1 cup chopped nuts
1 cup raisins
1 cup granola or oatmeal
Drop spoonful of cookie dough on baking sheet. Bake for 10 minutes at 350 degrees.
Easy Mexican Vegetable Soup
1 can Bush's Best Chili Hot Beans
1 can diced tomatoes
1 can whole kernel corn
3 cans boiling water with 4 beef bouillon cubes or beef broth
4 green onions, chopped
½ green pepper, chopped
½ pkg. taco seasonings
1 tsp. honey
½ cup uncooked rice
1 cup grated cheddar or mild cheese
Sour cream
Corn or tortilla chips
Combine all cans in a large pot with beef broth. Bring to a boil; add onions, pepper, seasonings, honey and rice. Simmer one hour. Serve with grated cheese, sour cream and corn or tortilla chips.
Optional Addition: Can add 1 lb. ground beef sauteed with a little garlic and 1 Tbsp. flour.
Turkey Meatballs
1 lb. ground turkey
¼ cup Parmesan cheese
1 egg
Small handful of fresh basil or 1 tsp. dried (I use basil from refrigerated section at grocery store that comes in a tube)
¼ cup Panko breadcrumbs
Small handful of fresh parsley or 1 tsp. dried
½ tsp. oregano
Italian seasonings, optional
Combine all ingredients and shape into balls. Place on baking sheet. Bake at 350 for about 12 minutes or until fully cooked.
Serve with marina sauce.
Chicken Casserole
2 cups chopped cooked chicken
1 small box Uncle Ben's long grain and wild rice, cooked according to pkg. directions
1 can cream of mushroom soup
1 can French style green beans
½ cup mayonnaise
2 Tbsp. chopped onion
Combine all ingredients. Pour into a casserole dish that has been coated with nonstick spray.
Bake at 350 degrees until bubbly, about 45 minutes.
Mandarin Orange Salad
3 green onions, chopped
¼ cup chopped pecans
Small handful of fresh parsley
Boston lettuce
2 cups mandarin oranges
1 cup purple grapes, halved
Dressing:
3 Tbsp rice vinegar or red wine vinegar
¼ tsp. salt
¼ tsp. white pepper
1 Tbsp. dried tarragon
½ cup grapeseed or vegetable oil
For salad, mix all ingredients together in a bowl.
Mix dressing ingredients in food processor or blender. Adding oil slowly and pulsing until all oil is absorbed.
Pour ¼ cup dressing over salad. Place in refrigerator for at least 30 minutes. When ready to serve, pour remaining dressing on salad and toss.
Noonie's Pound Cake
2 sticks butter, room temperature
2 cups sugar
6 eggs
2 cups all-purpose flour
1/2 tsp. vanilla
Cream butter and sugar well, beating on high speed. Add eggs one at a time beating well after each egg. Add 2 cups sifted flour a little at one time. Beat on slow speed until well mixed. Add vanilla.
Pour into a greased Bundt pan. Bake at 350 degrees for 1 hour and 10 minutes or until test done when toothpick is inserted near the center.