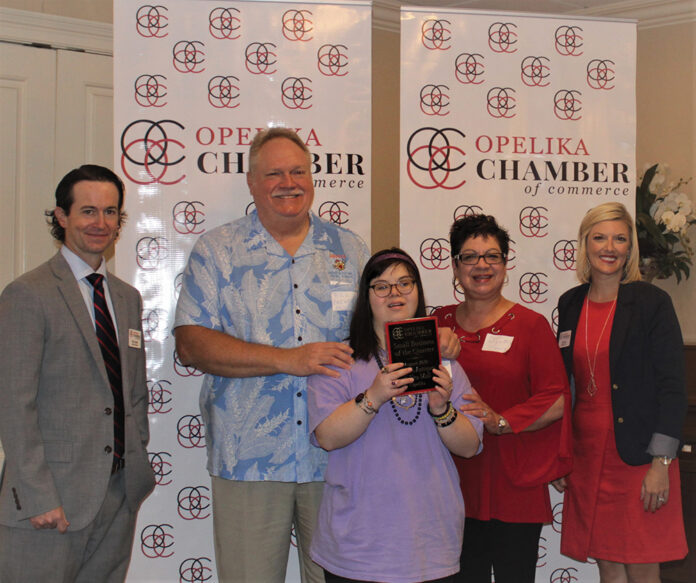 By Hannah Lester
hlester@opelikaobserver.com
The Opelika Chamber of Commerce held its quarterly Business over Breakfast meeting Tuesday morning to discuss small businesses and how they handle everything from the census to the coronavirus pandemic.
Kathie Boyd Britt, Business Council of Alabama, and Jeremy Arthur, Chamber of Commerce Association of Alabama, were the two invited guest speakers for the Business over Breakfast event.
Glynn Smith, Chevrolet Buick-GMC was the presenting sponsor for the event, along with Baxter International, First South Farm Credit, Max, The Opelika-Auburn News and S&S Termite Pest Control, LLC as gold sponsors.
The Census:
Britt echoed what many have said in Alabama – it is important that citizens take the census and businesses encourage their employees to do so.
"What we really need each of you in this room is just talk to the people that you work with," she said.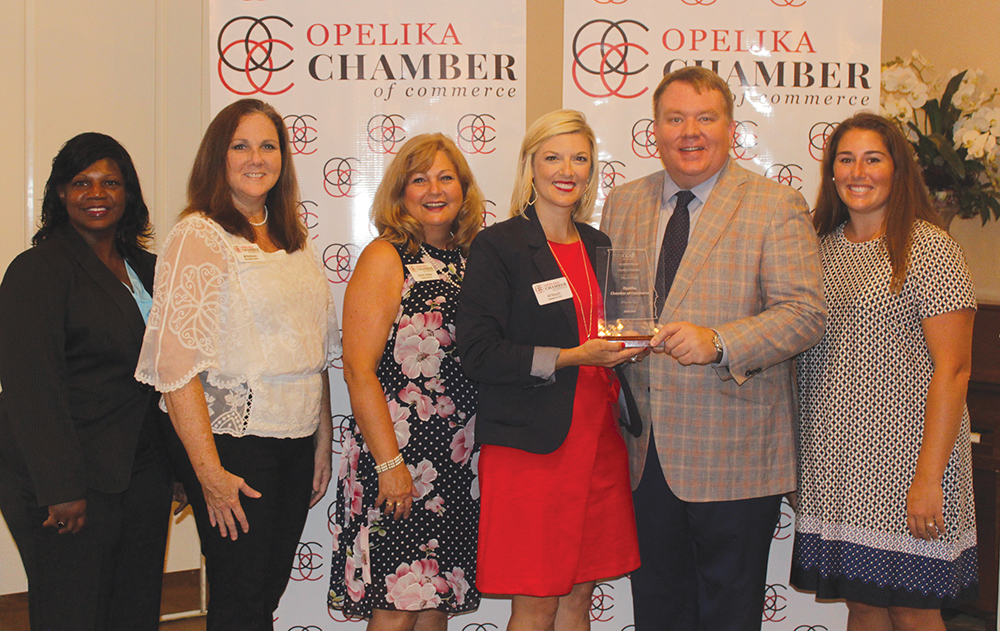 A member of the audience asked why it is so difficult for so many to take the census.
Britt explained that many citizens have a fear and distrust of sharing their information, or they feel it may take longer than it actually does.
If census numbers are low, however, there will be consequences for Alabama.
"Federal funding, it comes down as a direct result of the numbers," she said.
Additionally, Alabama's congressional representatives are determined by census numbers. Alabama has not had less than seven in decades, Britt said.
"We are in jeopardy of losing not jut one, but maybe two seats," she said.
This will all affect local businesses.
"When you're looking to bring in industry, and you're looking to bring in new businesses, retail, restaurants, etc, they look at your numbers, they look at how many people are here," Britt said.
Citizens can take the census through the end of September.
The Pandemic:
Like the rest of the world, small businesses in Opelika have been affected by the coronavirus pandemic.
In addition to having to close when everything shut down in March, many businesses lost employees, revenue and more.
Many are still concerned about shutting down again or what would happen if they were sued.
"The eighth supplemental emergency proclamation dealt specifically with liability protection," Arthur said. "… We're obviously concerned about the pandemic and its effect on your businesses and the liability that you may or may not face from frivolous lawsuits."
Britt said that businesses are concerned that they could do everything right and follow all guidelines and still be sued if a patron caught the coronavirus.
Arthur said the legislation would make this very difficult, however.
A member of the audience urged Britt and Arthur to support businesses staying open.
Many businesses have to be aware of employees who's children are at home. Two thirds of the children in Alabama have both parents in the workforce, Arthur said.
Additionally, only 63 percent of daycares have reopened.
The unemployment money from the state is something that has helped many citizens of Alabama but frustrated others, Britt explained. After the pandemic, citizens claiming unemployment could gather around $875 a week from the government.
"If you do the math on that, there were people that were making about $21.87 an hour on unemployment," Britt said. "There was a thought there that obviously that disincentivized people to go back to work."
The bills and packages that are being debated in government will trickle down to the local business level, the effects felt whether they are passed or not.
"There are so many ifs ands and buts in these packages that it really is kind of hard to decipher whether you qualify, what you qualify for, when you qualify, how you qualify," Arthur said.
The engagealabamabusiness.com website will be hosting a virtual guidance event on Wednesday and Thursday, however, to help businesses through the packages. Businesses can register on the website.
Each quarter, the Opelika Chamber of Commerce honors one local business with the 'Small Business of the Quarter' award. This year, Angel's Antiques, won the award. Bill and Conny Brewer, the owners, accepted, with their daughter Angel.