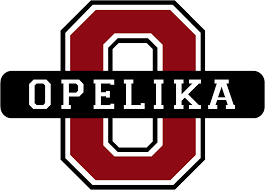 By D. Mark Mitchell
Opelika, 5-1 overall and 3-0 in region play, defeated Benjamin Russell 45-17 Friday night at Bulldog Stadium. Playing for the for the first time since the Central loss, the Bulldogs started fast, scoring 14 points in the first quarter.
Senior quarterback Brody Davis threw a 34-yard touchdown pass to Omar Holloway with 8:46 left in the opening quarter. Jamius Mitchell ran 12 yards for his first of two touchdowns. Baker Rowton added both PATs.
Opelika added 17 points in the second quarter, J.D. Tolbert scored on a 31-yard run, Marshall Meyers split the upright on a 40-yard field goal and Jamius Mitchell caught an 11-yard pass for a score. Rowton added both PATs.
Benjamin Russell scored three points in the first half after connecting on a field goal with five minutes left in the second quarter.
Opelika added two scores in the third quarter, with Jaylon Stinson returning a kickoff 75 yards and Nate Evans scored on an eight-yard run.
Opelika, undefeated in the region, has clinched a playoff birth with two regions games remaining, Friday against Calera and the next week at Stanhope Elmore.
The Bulldogs will host Calera Friday 7 p.m. at Bulldog Stadium. Calera enters the region contest with a 1-5 record, including an 0-3 region mark. They have scored 118 points through six games while allowing 210 points. The Eagles beat Pelham 27-20 in the opener before losing the next five games to Pell City 27-21, Wetumpka 35-7, Stanhope Elmore 42-15, Bibb County 40-21 and Selma 46-27.
Opelika won the first game in the series 30-10 last year. A Bulldog win sets up a region championship game in Millbrook next Friday in Millbrook against Stanhope Elmore. Regardless of Friday's outcome against Selma, the Mustangs can win the region title with a win over Opelika.
Opelika should continue to roll Friday night, winning easily over an outmanned Calera football team. Plenty of players should participate Friday, barring an upset.
Fans can listen to Opelika football on 97.7 Kicker FM, online kickerfm.com and on the iHeartRadio application on their smart phone.
VOLLEYBALL
Opelika volleyball team improved to 10-6 after beating Russell County and Beauregard. Three Lady Bulldog netters have won five in a row heading to the Oct. 8 match, against Benjamin Russell at the Mainstreet Gym, beginning at 4:30 p.m.
OHS CROSS COUNTRY
The Opelika cross country teams travelled to Moulton last Saturday for the "Jesse Owens Invitational" at Oakville Indians Mounds Park. The Jesse Owens meet allows teams to have a practice meet prior to the State Meet.
The Opelika girls were led by Breckin Gould who placed fourth in the silver division. Chas Brewer finished 24th in the boys race.
Paola Torres (72nd), Margaret Bice (129th) and Jenny Hoover (176th). Finishing Opelika boys included Michael Hart (159th), Winston Tufts (189th), Evan Goodman (233rd), Zalen Shaw, Jake Walters and Benjamin Estes finished the race.
ON THE MARK/ FOX SPORTS THE GAME
Local sports fans can listen to "On the Mark" on the radio, weekday mornings from 6 to 9 a.m., airing on 910 and 1310 AM. Jeff Sasser and I host the local sports show with guest host and interviews. Hear your favorite high school coach, former college coaches Pat Dye and Gene Stallings call-in weekly. The show originates from the Orthopaedic Clinic Studio at Opelika's iHeartRadio Station.
FRESHMAN
FOOTBALL
The OHS freshman football team defeated Wetumpka 40-19 Monday night at Bulldog Stadium. Kaden Cooper started the scoring for the Bulldogs, scoring on a nine-yard run. George Meyers made the extra-point attempt.
Jamouran Satterwhite scored a second TD on a 15-yard. Later, Meyers caught a pass and raced 40 yards for a TD.
Wetumpka scored their first points in the third quarter but Opelika added TDs on a 30-yard TD run by Cooper, and two more rushing scores for Satterwhite during the second half.
Opelika travels to Auburn next Monday for a freshman game at Duck-Samford Stadium, which starts at 5 p.m.
D. Mark Mitchell is sports director for iHeart Media, Alabama Dixie Boys State Director and vice president of the A-O Sports Council.