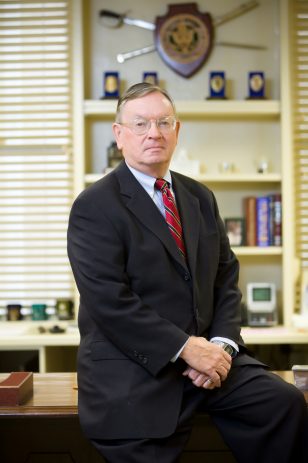 Special to the
Opelika Observer
Capell & Howard P.C. is pleased to announce that Brigadier Gen. Richard F. Allen (Retired) has been selected by the Board of Trustees of the Army War College Foundation as an outstanding Alumnus of the United States Army War College for his "incredible contributions to our nation following [his] military retirement."
"The U.S Army War College has about 800 graduates each year, and the Foundation selects only four for this recognition each year. It is an unexpected honor, and I thank my friend and fellow attorney, Major Gen. Bill Clark for making it happen with the nomination," Allen said.
Allen received his undergraduate degree in mathematics and chemistry from Florence State College (now the University of North Alabama) and was commissioned a 2nd Lieutenant in May 1963. After seven years on active duty, including tours in Vietnam and Germany, Allen left the active duty in 1970 to attend law school, while remaining a member of the U.S. Army Reserve.
After completing law school in 1973, Allen pursued a dual career as a lawyer and an officer in the U.S. Army Reserve. On active duty, his assignments included company command in Germany and Vietnam, and his reserve assignments included command of the 375th Field Depot in Montgomery and the 3rd Transportation Brigade in Anniston, a major subordinate command of the III U.S. Army Corps.
Allen's ammunition company in Vietnam was awarded the Meritorious Unit Commendation for outstanding performance before, during and after the 1968 Tet Offensive. He retired from military service with the rank of Brigadier General in 1993.
Allen's military awards and decorations include the Legion of Merit, Bronze Star Medal and the Meritorious Service Medal and the induction into the U.S. Army Ordnance Corps Hall of Fame in 2001.
While at law school, Allen was the managing editor of the Alabama Law Review, was inducted into Order of the Coif Legal Honor Society, Jason's Senior Honor Society and Omicron Delta Kappa Honor Society. He was selected by his classmates as the most outstanding graduating senior in 1973.
Allen clerked for Alabama Supreme Court Chief Justice Howell Heflin before joining Capell, Howard, Knabe & Cobbs P.A. in 1974, where his law practice centered on business and tax law.
In January 1979, Allen served as Chief Legislative Assistant for U.S. Sen. Howell Heflin in Washington, D.C., but he returned to Capell & Howard in August 1981. In 1985, Allen was elected Managing Partner for the firm, a position he held until January 1995, when Alabama Attorney General Jeff Sessions appointed him Chief Deputy Attorney General, a position he continued to hold under Attorneys General Bill Pryor and Troy King until he retired from State service in 2005.
Allen held the honorary position of civilian aide to the Secretary of the Army from Alabama from 1998 – 2001. In February 2005, Allen returned to Capell & Howard as "Of Counsel."
In February 2006, Gov. Bob Riley asked Allen to join his Cabinet as the Commissioner of the Alabama Department of Corrections, generally considered one of the most difficult agencies to oversee in State government.
In 2007, Allen's work in restructuring and revitalizing the Department was recognized when he was awarded the Auburn University Montgomery, Innovative Alabama Government Award.
When Luther Strange was elected attorney general in 2010, he asked Allen to return to the Attorney General's office as Chief Deputy Attorney General, where the General served for one year before returning to the firm "Of Counsel."
From 2013-2017, Allen served as the parliamentary law advisor to Lt. Gov. Kay Ivey.
The commandant led the ceremony Nov. 13 at the Army War College in Carlisle, Pennsylvania. The occasion also marked the celebration of the 117th anniversary of the founding of the U.S. Army War College.
For more information, visit www.cappellhoward.com. Their Opelika office is located at 3120 Frederick Road.