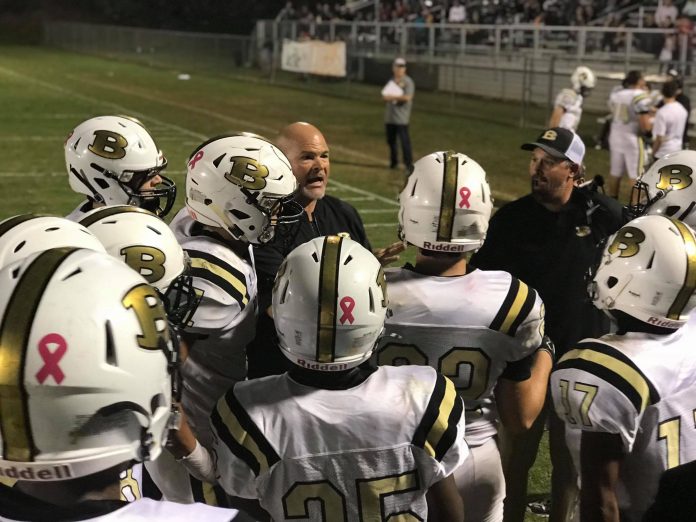 By Morgan Bryce
Associate Editor
Beulah returned to its winning ways with a hard-fought 32-27 road victory over Dadeville at Tiger Stadium Friday night.
The Bobcats drew first blood fewer than four minutes into the contest, with senior quarterback Lonzie Portis weaving outside defenders for a four-yard touchdown and 6-0 lead with 11:20 left in the first quarter.
After back-to-back defensive stands by the Beulah defense, the Beulah offense was primed and ready to add another score. Behind his formidable offensive line, first-string running back Chris Person gashed the Tiger defense on multiple carries before Caden Dowdell ripped off a 16-yard TD to extend their lead by two scores.
Following a dominant first quarter, Dadeville flipped the script, answering with two TDs of their own to tie the Bobcats 13-13 at halftime.
A tight third quarter set up a back-and-forth fourth quarter and anxious moments for the crowd gathered for Dadeville's homecoming festivities.
With fewer than three minutes left in the game and clinging to a 26-20 lead, Beulah's defense forced a three-and-out to give its a shot to ice the game. Portis took the first snap of the drive and ran 55 yards to paydirt and the game-winning score.
Dadeville countered with a quick score of their own, which came too late. Cutting the Beulah lead to six at 33-27, the Tigers failed to recover an onside kick attempt to seal both the loss and their chances of making the postseason.
Portis carried the offensive load for Beulah, accounting for 189 yards of total offense and four TDs. Dowdell and Person combined for 29 carries for 149 yards and another score.
Dowdell carried the Bobcat defense, racking up 11 tackles. Dylan Coleman, K.C. Moore and Blumer Blanton accounted for six, five and four tackles each, respectively.
Isaiah Glidewell maintained a healthy 43.5 yards-per-punt average and Austin Billingsley finished 2-of-4 on extra-point attempts.
With the win, the Bobcats improved to 6-2 overall, 4-2 in region play, and have punched their ticket into the playoffs. They will host their final region opponent Pike Road this Friday, who enter at 6-3 overall, 4-2 in region play. The outcome of this game will affect final playoff seeding in November.
Kickoff is set for 7 p.m. C.S.T. at Bobcat Stadium. The school is located at 4848 Lee Road 270 in Valley.