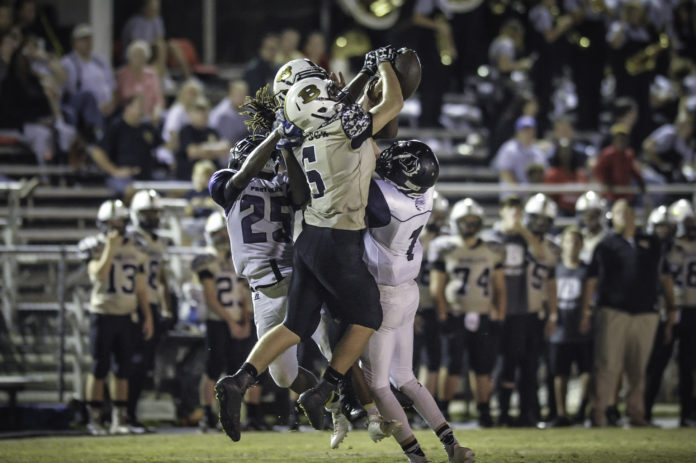 By Morgan Bryce and Zachary Pike
Opelika Observer
Entering the fourth quarter, Beulah trailed region foe Prattville Christian Academy 20-0. With little to no movement all night on offense, the Bobcats desperately sought a momentum-swinging play.
Their answer? A pick-six with 5:48 left in the game from senior receiver and defensive back Tez Turner.
"I watched the tight end the whole time, and when the quarterback threw it, it went right to me," Turner said of his interception.
Following a successful two-point conversion pass to Tae Moody, the Bobcats defense held the Panthers to a three-and-out on the ensuing drive, adding further fuel to their comeback hopes. On their next-to-last drive of the game, backup quarterback Jordan Saylor threw a 23-yard dart to tight end Justin Hancock, cutting the Bobcat deficit to six.
Another defensive stop gave the Bobcats the ball back with mere seconds left. A desperation heave from Saylor on the last play of the game was intercepted by Panther cornerback Michael McCarty, his third of the night.
The second-straight loss moves the Bobcats' record to 2-4 overall, and 1-3 in region play. In the post-game huddle, Beulah head football coach Cody Flournoy admonished his players that there are still things left to play for this season.
"It's not over, it just got harder. Now we got to win the last two region games, which is Pike and Comer," Flournoy said. "It's not over – our goal of getting to the playoffs is still out there, it just got a lot harder. "
Offensively, the Bobcats' run-oriented offense struggled to get yardage. Inside and outside runs were kept in check by the Panther defense, and those problems were enhanced after second-string running back Phillip Saylor tweaked his ankle in the second quarter and left the game. He did not return.
The Beulah defense turned in a solid showing, limiting PCA to 257 yards of total offense. Junior tailback/middle linebacker Caden Dowdell and linebacker Jackson Blanton, who each finished with 11 tackles. Hunter Bryant notched seven tackles, and impact junior defensive end Isaiah Glidewell contributed with six tackles and a forced fumble and recovery.
Beulah will make a two-hour trip to Highland Home next Friday night for a non-region match-up against the 3-3 Flying Squadron.
Following another hard-fought loss by his young squad, Flournoy said he expects his team to bounce back and renew its hunger for victory this week in practice.
"It's a long road trip and that's going to be tough, but I think our guys will respond. They don't like losing and just the way we lost tonight, I think they fought real hard," Flournoy said. "They'll come back."
Kickoff against Highland Home is set for 7 p.m. HHHS is located at 18434 in Highland Home, Ala.