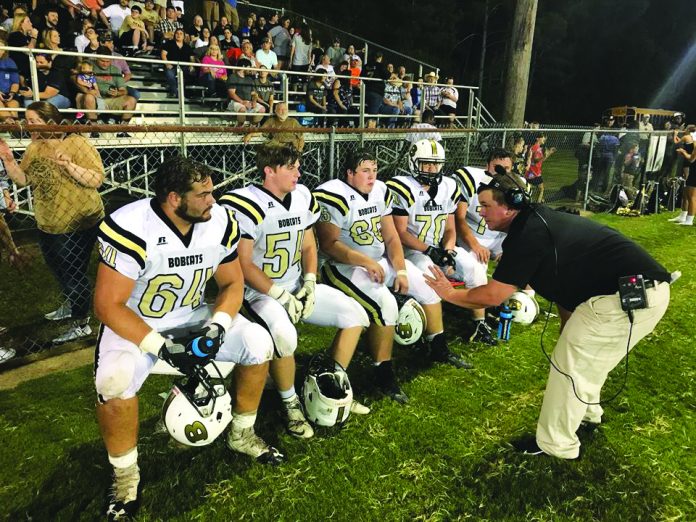 By Morgan Bryce
Associate Editor
A potent rushing attack and unrelenting defense propelled Beulah to a dominant 33-6 road victory at Loachapoka Friday night.
Racking up 395 yards on 46 rushing attempts, the Bobcats were led by new starting quarterback Lonzie Portis, who used his legs and speed to beat the Loachapoka defense.
"It was 6-6 at halftime, but we were getting 6-7 yards a pop every time we ran it. The only problem was is that we kept turning the ball over, four times to be exact," said Beulah Coach Cody Flournoy. "Going into the second half, we knew we wanted to take the life out of them, and us coaches all agreed, 'let's just run the ball.'"
Portis led all Beulah rushers with 128 yards on 11 carries, scoring three touchdowns. The Bobcats' trifecta of Caden Dowdell, Chris Person and T.J. Washington combined for 207 yards and two additional scores.
Dowdell and Justin Hancock caught Portis's two completions for a total of nine yards.
Defensively, Dowdell led all tacklers from his middle linebacker spot, garnering eight total tackles. Hancock, L.C. Moore and Person also contributed with 5, 5 and 6 tackles each, respectively.
"Our defense played well, despite some of the bad situations they were put in. Even with a stat as bad as four first-half turnovers, the defense played well enough to handle that kind of pressure," Flournoy said. "(Defensive Coordinator) Stan Pepper and his staff are doing a fine job on that side of the ball."
Still searching for a full-time kicker, the Bobcats struggled on extra points, going 1-for-3 in the game. Flournoy said Portis and sophomore offensive lineman Austin Billingsley will continue their battle for kicking duties throughout the fall.
With a 1-0 record heading into their Aug. 31 home tilt v. Ellwood Christian, Flournoy said he believes he has a more disciplined and unified team heading into the heart of his second season at Beulah.
"We're better all around right now than we were at this time last year, which is more of a compliment to our coaches than anything. We got a senior-heavy team, 13 to be exact, which is a big class for a 3A school like us," Flournoy said. "And that's 13 seniors who have played a lot of football. This is an experienced team that has been running the same scheme for more than a year now, which puts us in a favorable position moving forward.
The Bobcats host Ellwood Christian next Friday, with kickoff set for 7 p.m. This will be the first game for the 1A-classified Golden Eagles.
Bobcat Stadium is directly behind the high school, which is located at 4848 Lee Road 270 in Valley.