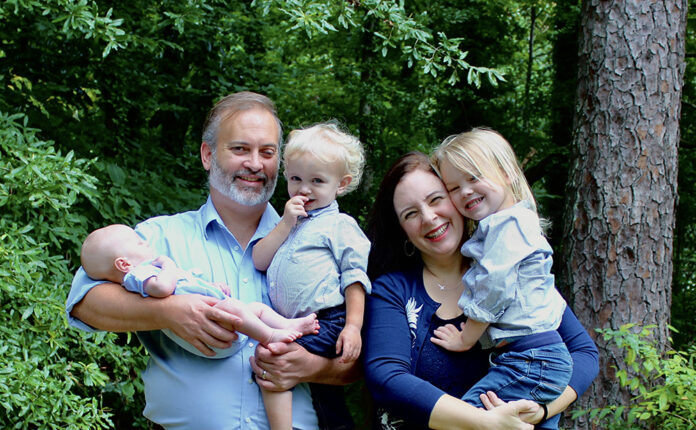 By Ann Cipperly
After living in Africa, Asia, the Caribbean and various places in the United States, Betsy Lynne Hall Ledoux returned to her hometown of Opelika last year with her husband, Nick, and their children. As Thanksgiving approaches, Betsy is grateful for God's grace in the journey, a season living in her hometown and serving as "Mama" to three little boys, who are the seventh generation on her side of the family born in Opelika.
"Growing up in Opelika felt a bit magical," Betsy remembered. "We grew up on a lake, so we would often drive home to deer in our front yard and go to sleep to the sound of frogs croaking and crickets chirping. I loved to walk in the woods with my daddy on the tree farm that had belonged to our family for years. When I walked the land of our farm as a little girl, I imagined my daddy walking on that same land when he was a little boy."
Betsy's grandparents, Mr. and Mrs. Robert Hall Sr., lived less than three miles from her house. She loved to go to her grandparents' home and catch fireflies in the backyard, bake cookies, shell butter beans from their garden or walk to the Monkey Park. Her grandma was one of her best friends.
The daughter of Dr. Robert and Vondalyn Hall Jr., Betsy enjoyed family traditions such as picnics on the living room floor, grand birthday parties with homemade cakes, Christmas Eve at Grandma and Grandaddy's house after church and Easter egg hunts in the front yard with hundreds of eggs.
"Mama created a home that was always open and full of life," Betsy said. "My sisters and I never hesitated to call Mama to let her know that we were on the way home with 20 other teenagers in tow. She would say, 'Wonderful! I'll start making cookies.' Anything Mama touched became beautiful. Daddy was my hero, role-model, one of my best friends and one of my favorite people that has ever lived.
"We ate dinner as a family every night, and my sisters and I always knew that we were loved. Our closest friends were like family, and Trinity United Methodist Church was a second home for us. We loved it! My sisters and I were blessed with an amazing childhood in Opelika and a sense of belonging to a community."
Thanksgiving has always been a special time for the family.
"Growing up, it was the holiday that we always spent with Mama's side of the family on Mema and Pepa's farm in North Alabama," Betsy said. "There were certain dishes that always tasted like Thanksgiving: Mema's cranberry orange salad, Mama's cornbread dressing, and Mema's pecan pies made with pecans from the trees in their backyard.
"We would sit around the dining room table and listen to stories of our ancestors for hours. The long weekend always included jumping on hay bales, walks in the cow pasture, hikes up Cousin Leroy's mountain, church and watching the Auburn/Alabama game. It was so much fun!"
When Betsy was 10 years old, she heard God's call to serve Him in Africa.
"I was in the fifth grade at chapel at Trinity Christian School when I first knew that God had called me to serve Him in Africa."
After graduating from Asbury College in Wilmore, Kentucky, she spent a year working and interning in Washington, DC. She returned to Auburn University for a master's degree in public administration. After graduation, she moved back to Washington, DC, where she served as a presidential management fellow and budget analyst for four years at the U.S. Department of Housing and Urban Development and the Federal Emergency Management Agency.
In 2008, Betsy moved to Mozambique, Africa and realized the dream that began for her at ten years old. For a decade, she served in various leadership roles in humanitarian aid and public health: the Deputy Country Director for Samaritan's Purse in Mozambique, again in Haiti as the International Disaster Response and Preparedness Manager at Samaritan's Purse headquarters and as a Health Office Division Chief for the United States Agency for International Development in Mozambique.
She worked on issues like HIV/AIDS, malaria, cholera, maternal child health, nutrition, tuberculosis, agriculture, clean water and sanitation, cyclone and earthquake responses and refugee crises.
Betsy met her husband Nick while responding to the devastating earthquake that struck Haiti in January 2010. Betsy and Nick served as the two Deputy Country Directors in Haiti for Samaritan's Purse during the earthquake and cholera response. "Nick and I worked hard together as a team," said Betsy. "We became best friends and eventually fell in love. We met each other's families for the first time over Thanksgiving 2010."
They were married in August 2012 at Trinity United Methodist Church in Opelika. Nine months later, they returned to Mozambique in leadership roles.
In 2018, when Betsy was pregnant with their second little boy, she decided to stay at home with the boys for a season. After their second son was born, they moved to Nepal where Nick served with the United States Agency for International Development to help build back better and stronger after the 2015 earthquake. Betsy explored life in Nepal with their little boys.
After completing their work in Nepal last year, they moved back to Opelika. "When we decided to return to the United States after almost a decade abroad, we knew Opelika was where we wanted to be."
Nick and Betsy have three little boys: Matthew Robert, 4 years old; Andrew Louis, 2 years old; and John Holyfield, 4 months old.
"Over the past eight years of marriage, our journey has allowed us to live and serve in the capital city of Mozambique, a town surrounded by safari parks in South Africa, a refugee camp in South Sudan, the Himalayan mountains of Nepal, both the mountains and beaches of North Carolina and my hometown of Opelika," Betsy said. "As we continue to seek to follow Jesus wherever He calls us, we remain forever grateful that in His grace, God has seen fit to give us romance in the midst of the adventure.
"Of all of our adventures, raising our little boys is our favorite adventure and greatest blessing. I have loved the amazing privilege of working on programs that save lives, reduce suffering and share hope around the world, but being 'Mama' to our little boys is by far my favorite job that I have ever had. They are a complete joy to my heart."
The Ledouxes recently started a business, The Upkeep Team, Inc., a home maintenance company currently focusing on exterior cleaning, including pressure washing, house washing, roof washing, exterior window cleaning and gutter cleaning. A portion of the revenue will be used to help provide clean water in Africa.
"I have been blessed with family members who are my heroes, friends that are as close as family and a love for the various lands that I have called home," Betsy said. "I love for my kitchen to reflect my heart, and for the food that I cook to be an opportunity to teach our boys about their family and the nations that have impacted our story.
"There are days that I miss my grandparents and daddy, who live in Heaven, more than words can say. On those days, I often cook tastes from Mama, Grandma or Mema's kitchens. Somehow pulling out their recipes and smelling the familiar scents from their kitchens make Heaven seem just a little bit closer.
"There are also days that I deeply miss Africa, Haiti and Nepal," she added. "These lands have become a part of our hearts. On those days, I cook the familiar tastes from nations we have loved, and suddenly the ocean seems just a little bit smaller. These familiar tastes from 'home' feel a bit like a warm hug. It feels like people that I deeply love are a little bit closer."
Betsy is enjoying taking her sons to places around Opelika that hold special memories.
"I take them to play at the Monkey Park, and they play and walk on the same land that I did when I was a little girl and their grandaddy and his daddy did before that. When we take them to eat at Zazu's, we always tell them that this restaurant used to be their great-grandaddy's store, Hall's Clothing.
"I love walking by the Lee County Courthouse and showing them where their great-grandparents got married in 1941," she added. "The boys love watching the trains downtown, and I love telling them the story of how their great-grandaddy jumped on a train on these very tracks to catch their great-grandmother and ask her to marry him that day. I love taking them to Trinity United Methodist Church and showing them the altar where Mommy and Daddy got married.
"Raising our boys in Opelika is like raising them in the midst of their history," Betsy said. "Because our family has been here for so long, most of the places that we go hold a special memory for us. Our boys know stories about their grandaddy and great grandparents, and the legacy that they left these boys of love, kindness, community service and most of all loving and serving Jesus.
"Because of the stories, the boys know their legacy and how much they were and are loved by their family. Seeing Opelika through my boys' eyes is like a blending of generations, history and the future at once."
Betsy's favorite part of living in Opelika is being close to family. They live four blocks from her sister and her family and a few minutes' drive from "Mama." After years of being a two-day flight from Opelika, she loves that their 2-year-old wakes up and asks to go to GaGa's house, and it can happen.
"While I have traveled and lived around the world, Opelika has always been more than just where we live or where our family has grown for generations," Betsy said. "Deep within me, Opelika has always been a part of me, and I have always been a part of Opelika."
Ann Cipperly can be reached at recipes@cipperly.com.
Mama's Cornbread Dressing
3 cups crumbled cornbread (see cornbread recipe below)
2¼ cups chicken broth
5 pieces of wheat bread
1½ cups milk
1 can cream of mushroom soup
2 eggs
½ cup crushed cornflakes
1 large onion, chopped
1 cup chopped celery
½ cup water
1 stick butter or margarine
Soak cornbread in chicken broth. Soak bread in milk and whip bread slices and milk with fork until slightly mushy. Combine soaked cornbread and soaked bread with soup, eggs, and crushed cornflakes. Stir until well blended.
Boil onion and celery in the water and butter until soft. Add to the cornbread mixture. Bake at 325 degrees for 1 hour in a greased pan in a metal pan. If you bake in Pyrex or glass, lower oven temperature to 300. This serves 10 to 12 people.
Mama's Cornbread
2 cups finely ground self-rising cornmeal
½ cup self-rising flour
½ tsp. baking soda
2 cups buttermilk
1 large egg
¼ cup Crisco All Vegetable Shortening
Preheat oven to 425 degrees. Mix all dry ingredients together and blend well. Add buttermilk and beaten egg. Stir until ingredients are wet and blended. (Over mixing will cause the bread to crumble too much.)
Place shortening in a seasoned cast iron 12 inch skillet and place in the oven until hot and the shortening is melted (approximately 5 minutes). Remove the skillet from the oven and pour the melted shortening into the cornbread mixture. Stir. Immediately pour the mixture into the hot skillet. The mixture should sizzle when it touches the skillet. Bake 20 to 25 minutes or until the top is browned.
You can also use half the mixture for a corn pone in a 10 inch cast iron skillet and use the other half of the mixture for flap jacks. To make flap jacks, drop large spoonfuls of cornbread batter on a grilled and cook like pancakes.
Mema's Cranberry Salad
1 lb. fresh cranberries
3 oranges, seeded and chopped
2 cups sugar
3 – 3 oz. pkg. cherry Jell-O
1 can crushed pineapple (20 oz.), undrained
Grind fresh cranberries and oranges together. Cover with sugar and let stand overnight in the refrigerator.
Mix Jell-O according to pkg. directions, using half of the water called for on the package. Add pineapple. Mix with cranberry mixture. Put in mold or oblong dish and let congeal in the refrigerator until firm.
Mema's Pecan Pie
1 cup sugar
1 cup light Karo syrup
3 eggs
1 stick melted butter
1 Tbsp. flour
1 tsp. vanilla
1 – 1½ cups chopped pecans
10 inch pie crust
Mix all ingredients except pecans together to form the pie mixture. Place pecans in a 10 inch unbaked pie crust. Pour pie mixture into the pie crust on top of the pecans.
Bake at 325 degrees for 55 minutes or until set. The pecans will rise to the top as it bakes. Can make ahead and freeze.
Papaw's Corn Pudding
This is a Thanksgiving must on Nick's side of the family.
3 cans whole kernel corn (drained)
3 cans creamed corn
3 Tbsp. cornstarch
3 eggs
1 cup milk
½ – ¾ cup sugar
Mix cornstarch, milk, eggs, and sugar in separate bowl. Then combine that mixture with the corn. Bake in a 9 x 13 casserole dish at 350 degrees for 45 to 55 minutes or until set.
Grandmommy Jerry's Sugar Cookies
Our family on Nick's side has made these cookies for at least four generations. We love to decorate them for Christmas starting on Thanksgiving weekend.
2 cups sugar
1 cup butter
2 tsp. milk
1 tsp. vanilla
2 eggs
1 tsp. salt
2 tsp. baking powder
3 ½ cups flour
Cream sugar and butter. Add eggs, milk, and vanilla and mix well. Mix dry ingredients separately. Then fold the dry ingredients into the wet ingredients a little bit at a time in a big bowl.
When fully mixed, shape dough into large balls, wrap in Saran Wrap, and chill until firm enough to roll with a rolling pin.
The ball of dough can be made ahead of time and frozen. If frozen, thaw in refrigerator on the day you will make the cookies.
Roll dough and use cookie cutters to cut into shapes. Bake at 350 for approximately 8 minutes or until golden. Set on rack to cool. Decorate with colored frosting and/or sprinkles.
Shrimp and Grits
This is the first meal Betsy made for Nick.
2 cups water
2 cups half and half
1½ cups whole milk
¾ to 1 cup grated sharp cheddar cheese
1 cup Quaker old fashioned grits
½ tsp. garlic salt
Freshly ground sea salt
Freshly ground pepper
1 lb. shrimp
2 Tbsp. butter
2 cloves sliced garlic
Topping Selections:
Cooked and crumbled bacon
Sauteed mushrooms with garlic
Chopped cherry tomatoes
Cooked andouille sausage cut into small pieces
Caramelized onions
Sauteed red, green, and yellow bell peppers
Freshly grated parmigiana Reggiano cheese
Fresh spinach sauteed with chopped garlic and freshly ground sea salt
Steamed asparagus chopped into small pieces
Chopped Scallions
Freshly ground sea salt
Freshly ground pepper
Combine 2 cups water, 2 cups half and half, and 1 cup milk in pot. Bring to a rapid boil. Slowly stir in grits and garlic salt. Reduce heat to medium low and cook uncovered, whisking frequently, until grits are creamy (approximately 20 minutes).
Remove from heat and stir in the finely grated sharp cheddar cheese and ½ cup whole milk. Add freshly ground salt and pepper to taste.
Peel, devein, and remove tails from shrimp. Sautee shrimp and sliced garlic in butter until the shrimp turns pink.
Spoon grits into bowl. Place 4 to 5 shrimp on top.
Set up as a buffet with the various toppings for the shrimp and grits. Allow guests to choose and add their own toppings to the bowl of shrimp and grits.
Serve with a light garden side salad.
Simple Brussel Sprouts
1 lb. fresh Brussel sprouts
3 Tbsp. extra virgin olive oil
½ tsp. freshly ground sea salt (add more or less to taste)
¼ tsp. freshly ground black pepper (add more or less to taste)
Cut ends off of Brussel sprouts, remove outer leaf, and chop each Brussel sprout in halves or quarters. Sautee chopped Brussel sprouts in extra virgin olive oil over medium heat until the Brussel sprouts become slightly tender and start to brown. Add freshly ground sea salt and freshly ground pepper to taste.
Cranberry Cheese Log Appetizer
16 oz. goat cheese
¼ cup craisins, chopped
1 cup salted cashews, finely chopped
Crackers (we like Ritz whole wheat crackers)
Mix goat cheese and chopped craisins. Roll into a ball or log. Place finely chopped cashews in a bowl. Roll cheese ball through cashews to cover entirely.
Serve with crackers, using a butter knife for spreading.
Haitian Rice and Beans (Diri ak Pwa)
Betsy and Nick ate this meal almost every day for over a year when they served in Haiti.
2 cups basmati rice
1 cup dry red kidney beans
8 cups water
3 Tbsp. extra virgin olive oil
1 ½ tsp. salt
¼ tsp. freshly ground black pepper
1 Tbsp. butter
1 large yellow onion, diced
2 cloves garlic, chopped
2 chicken bouillon cubes (can use vegetable bouillon cubes to make the dish vegetarian)
¼ tsp. ground thyme
¼ tsp. ground cloves
13½ oz. can coconut milk
Place 1 cup of beans and 1 cup of water in a soup bowl. Let beans soak overnight. The beans will absorb the water.
In a large pot, add 8 cups water, the beans that had soaked overnight, ½ tsp. salt, ¼ tsp. pepper, and 1 Tbsp. olive oil. Bring to a hard boil. Reduce the heat and cook uncovered on medium heat until the beans are tender but whole (approximately 60 to 90 minutes).
Once the beans are cooked, strain the water into a separate container for later use.
In another large pot, heat 2 Tbsp. olive oil to medium high heat. Add crumbled chicken bouillon cubes, thyme, and cloves and sauté until bouillon cubes are dissolved (approximately 30 seconds), stirring constantly. Add the diced onion and sauté until onion is soft. Add minced garlic and sauté for an additional 30 seconds. Add 3 ¼ cups of liquid from the beans. Use the liquid to deglaze the pan. Add 1 can of coconut milk and the basmati rice. Bring to a hard boil.
Add beans and 1 tsp. salt. Mix gently. Reduce heat to low, cover tightly, and simmer until the rice is tender and has absorbed all the liquid (approximately 25 minutes). Add 1 Tbsp. butter and fluff rice and beans as the butter melts.
Traditionally, a whole scotch bonnet pepper is added to the liquid when cooking the rice and removed before serving. However, because we have varying levels of spice preferences in our house, we leave the pepper out, and let people add hot sauce to their preferred levels.
Serve with sides of sliced avocados, fried plantains or plantain chips, and hot sauce (preferably a Caribbean hot sauce).
Mozambican Matapa
2 cups fresh spinach, finely chopped
2 medium yellow onion, finely chopped
2 cloves chopped garlic
2 vine-ripened tomatoes, chopped
2 cups water
½ tsp. salt
½ cup salted peanuts, crushed into a powder
1 – 13 ½ oz. can coconut milk
1 lb. peeled, deveined shrimp
2 Tbsp. butter
½ tsp. garlic salt
Add peanuts to blender or food processor. Pulse in blender until the peanuts become a fine powder. (Traditionally in Mozambique, the peanuts are ground by hand in a mortar and pestle.) Add coconut milk to peanut powder in blender a little bit at a time. Pulse each time you add a little bit of coconut milk. Keep adding the coconut milk and blending until you have added the full can. Pulse until the mixture is a smooth, creamy consistency. Set this mixture aside for later use.
Sauté finely chopped onion and tomato in olive oil until onion is soft. Add garlic and spinach. Sauté for 2 more minutes. Add 2 cups water and salt. Cook in the pan over medium heat for 30 minutes. (In Mozambique, matapa is traditionally made with cassava leaves. In the United States, we usually use spinach leaves since cassava leaves are difficult to find.)
Add peanut powder and coconut mixture to the pan of spinach, onion, tomato, and garlic. Mix well. Reduce the heat to medium low and simmer uncovered, stirring regularly for approximately 90 minutes.
Once the matapa is done, place melt butter in a separate pan. Place shrimp in the melted butter, sprinkle with the garlic salt, and sautéed shrimp until they are pink.
Serve matapa over basmati rice. Top rice and matapa with sauteed shrimp. Add freshly ground sea salt and freshly ground pepper to taste.