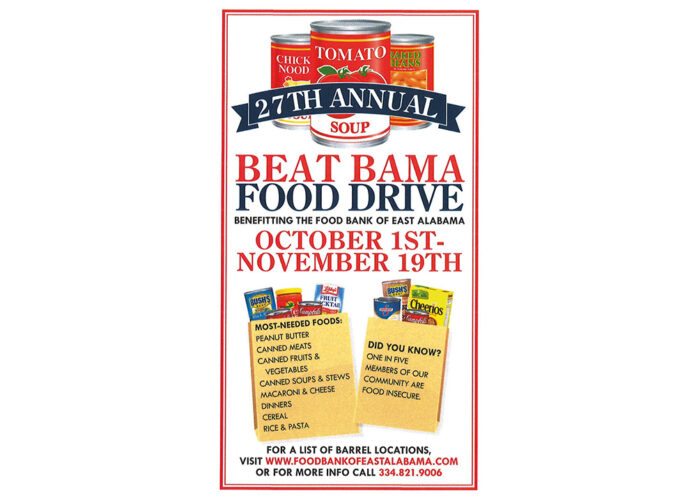 Contributed by The Food Bank of East
Alabama
Another "food fight" is underway as the annual Beat 'Bama Food Drive began on Oct. 1st. For the past 26 years, Auburn University and the University of Alabama have competed with each other prior to the football game to see who could raise the most food for their local food bank. It began as a relatively small-scale event and has grown to become one of the largest food drives in the state. Last year, Alabama took the win with 278,788 pounds of donated foods compared to 229,361 pounds for Auburn.
This year's competition runs from Oct. 1st through Nov. 19th and it promises to be fierce as Auburn fights to bring in the win for the Plains and Tuscaloosa attempts to hold on to it.
Donated food will be used to help the Food Bank's senior programs, soup kitchens, emergency food pantries, missions and rehabilitation centers that are served by the Food Bank of East Alabama and the West Alabama Food Bank.
You can help! The competition is primarily a student-organized activity, but is strongly supported by the local community, with food drives at many local businesses and public schools. Also a number of local grocery stores help to facilitate community donations by allowing the Food Bank to place barrels in the store lobby during the food drive.
Locations of collection barrels (updated regularly):
Winn-Dixie on S. College Street, Auburn
Kroger, Auburn
Food Bank of East Alabama, Auburn
Community Market, Opelika
Numerous locations on Auburn University campus
For a list of updated barrel locations, visit www.foodbankofeastalabama.com and click on "News & Events"
If you would like more information or would like to schedule an interview, please contact:
· Martha Henk, Executive Director of the Food Bank – 334-821-9006 or by email at mhenk@foodbankofeastalabama.com
· Taylor Pierce, President  of the 2020 Beat 'Bama Food Drive – 251-776-8860 or by email at tep0009@auburn.edu