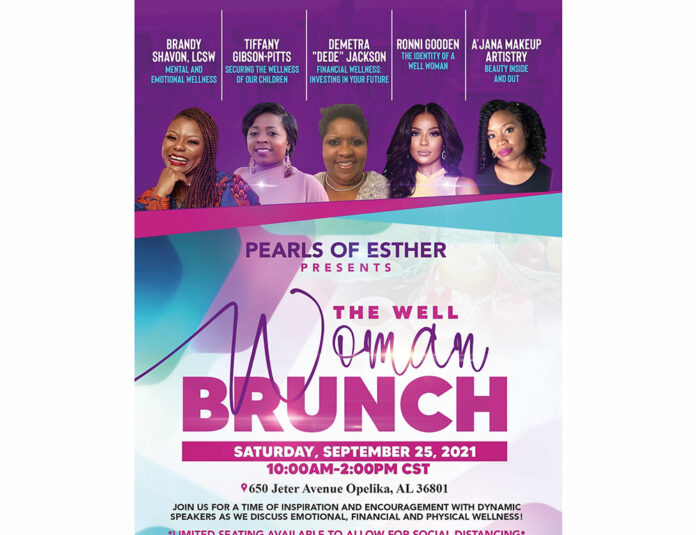 By Megan Mann 
For the Opelika Observer  
The Well Woman Brunch is an event being held in Opelika for women ages 18 and up who are looking to improve their lifestyles.
By hosting this event, The Pearls of Esther organization encourages women to "be well" and wants to open a space for women to feel motivated. Women can learn how to be happy and healthy in different aspects of life, during the event.
Brandy Stinson, the host for the event, is an Opelika native who wants to put a focus on Women's wellness.
The day will include workshops from women including Brandy Shavon, a licensed clinical social worker (LCSW) who will be speaking on mental and emotional wellness.
"The goal of the whole event is to equip women with the tools that they need to be whole and we're focusing on four areas: self-esteem, financial wellness, mental and emotional wellness," Stinson said.
Another speaker at the event will be Tiffany Gibson-Pitts, CEO of Girls STEPS Inc., a nonprofit based in Opelika. She has a specialist degree in school counseling and counseling supervision from Auburn University. The topic of her workshop will be focused on the wellness of younger women.
"We are looking at how as we become whole as women, how we can also pour into the next generation or for the ladies who may be present that have children or nieces or grandchildren, the importance of them being well so that they can influence their families and communities," Stinson said.
The Pearls of Esther encourages all women to come and join this event to feel empowered, uplifted and inspired to live their life to the fullest.
The event will take place on Saturday, Sept. 25 from 10 a.m. to 2 p.m. at Greater Peace Baptist church in Opelika. Tickets for the event are priced at $35 and include a meal and face mask. You can register for The Well Woman Brunch at www.pearlsofesther.com/new-products/thewellwoman