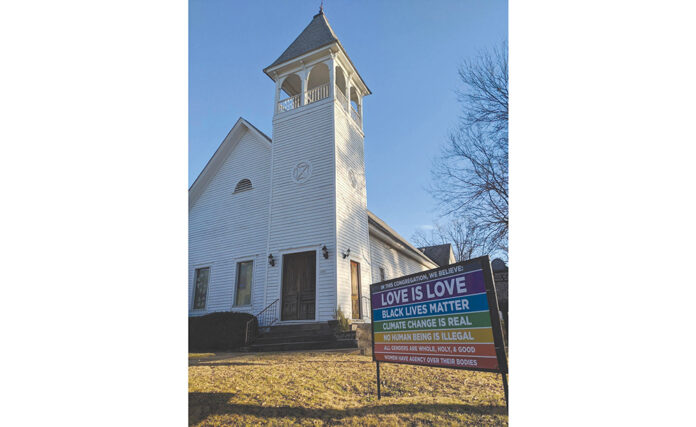 Contributed by Auburn Unitarian Universalist Fellowship
On June 20, members of Auburn Unitarian Universalist discovered that their social justice banner had been stolen for a second time. The sign, which included phrases about the fellowship's anti-racist, pro-choice, pro-science, and LGBTQIA+ affirming beliefs, was stolen less than a week after being rededicated on June 13.
The congregation put the sign up in January 2019 as a witness to the values of Unitarian Universalism. On Jan. 9, 2021, members of Auburn Unitarian Universalist Fellowship discovered the congregation's original social justice banner, which hung outside their sanctuary on Thach Avenue for about two years, was stolen.
"Let's call this what it is: an act of hate," said Rev. Chris Rothbauer, the congregation's lead minister. "Someone out there hates the values that our faith calls us to enough that they are willing to target us. This is harassment plain and simple, an attempt to convince us that we should be quiet when we are called to speak out in love."
The person waited until night and used a knife to cut out the grommets, allowing them to easily take the sign without being noticed by passers-by. The congregation checked their new security camera and the matter has been forwarded to the Auburn Police Department for further investigation.
"I refuse to be intimated," Rothbauer said. "The goal of this vandalism is to silence us, to make us fear speaking out for our values in the area. Auburn is our home as well, and we believe that the message of the banner is one that many more people than just our congregation hold dear to our hearts."
In place of the banner, members of the congregation hung an identical yard sign in place of the banner. They are committed to replacing stolen signs as often as necessary.
"It's sad to me that someone finds a message of love, inclusion and acceptance so offensive that they feel the need to target us," Rothbauer added. "In a world where hate so often rules the day, it's difficult to understand why someone finds the message of inherent worth and dignity of all people so threatening."
About Auburn Unitarian Universalist Fellowship: Auburn Unitarian Universalist Fellowship was founded in 1961 as a liberal religious congregation in Lee County, Alabama. Though Unitarian Universalism is an offshoot of Protestant Christianity, our members come from a variety of different religious backgrounds, identities, and life experiences, united by our desire to build a world where all people are valued for who they are. The fellowship and its minister and members have been leaders in local social justice issues, organizing climate change actions, in racial justice protests and initiatives and for the local LGBTQIA+ community. Auburn Unitarian Universalist Fellowship is a member of the Unitarian Universalist Association of Congregations, a liberal religious organization based in Boston, Massachusetts, representing over a thousand Unitarian Universalist congregations in all fifty states.