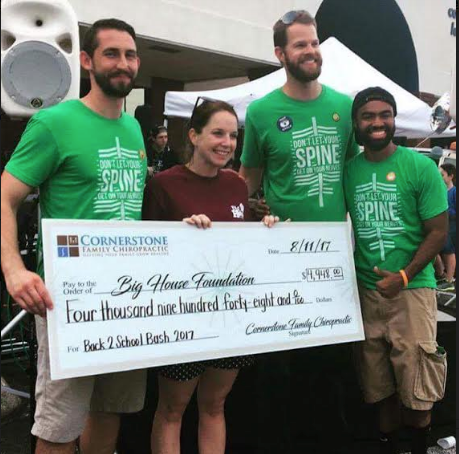 By Michelle Key
Editor
Cornerstone Family Chiropractic is preparing to host their 8th Annual "Back 2 School Bash" benefitting The BigHouse Foundation Aug. 17 from 4-7 p.m.
With nearly 100 sponsors, the event is expected to draw a crowd of more than 2000 people. There will be live music, games, food and give-aways.
The beginning
The first event was held in 2011 and supported the Chizik family's "YouTurn Foundation," which helped support several local ministries including Big House. That foundation dissolved when Coach Chizik went to coach at a different school and Cornerstone decided to make the Big House the beneficiary of the annual event because of their mission and heart for serving the community.
Dr. Rusty Herring, founder and owner of Cornerstone Family Chiropractic, stated that their mission is Building healthy families and uplifting the community.
"Our mission goes beyond the four walls of Cornerstone," Herring said. "We are changing the trajectory of health for families in our community and making a positive impact in the community. This event is a way to "uplift our community" by providing a fun family event to kick off the school year."
About Cornerstone
CFC provides specific care and attention to children and adults through state-of-the-art technology, premier office amenities, and attentive and involved staff members. Dr. Herring and everyone at Cornerstone truly have a heart to serve others by helping people get back to the things they enjoy most in life. our mission They strive to provide chiropractic care that is affordable for the whole family.
Their goal is for every person in the Auburn-Opelika area to express their health potential. At Cornerstone Family Chiropractic, they are there to help individuals and their families achieve better health and to equip the community with better health strategies.
About the BigHouse Foundation
The BigHouse Foundation was founded in 2009 as the dream of two college students to impact the world of foster care in a positive way. After being personally exposed to the needs these children and families have, they knew they could no longer sit back and do nothing. BigHouse now focuses on serving families in two ways, by providing resources and building relationships.
The Mission Statement
Our mission is to connect the needs of foster families with the generosity of the community through the love of Jesus Christ. We aim to impact the lives of children in foster care in a positive way through meeting their needs and serving their foster families. We are passionate about advocating for these families and educating the community on the needs of children in the foster care system.
In 2017, the event raised $4,948 for The BigHouse Foundation, and vent coordinator, Rachel Wicks said that 100 percent of the proceeds of this year's event will be donated as well.
Cornerstone Family Chiropractic is located at 323 Airport Road in Auburn.
For more information, call 334-246-2252.