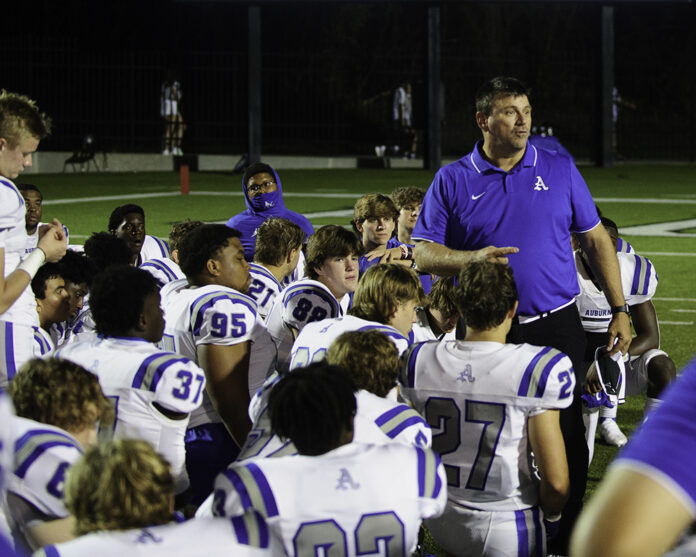 CONTRIBTUED BY AHSAA
AUBURN —
Auburn High School head football coach Keith Etheredge has been selected to serve as head coach for the Alabama All-Star football squad for the 36th annual Alabama-Mississippi All-Star Classic to be played Saturday, Dec. 10 in Mobile at the University of South Alabama's Hancock Whitney Stadium.
Brandon Dean, director of the Alabama High School Athletic Directors & Coaches Association (AHSADCA) made the announcement in late July. The AHSAA and AHSADCA, in conjunction with the Mississippi Association of Coaches (MAC), administer the all-star game each year.
"Coach Etheredge is one of our state's finest football coaches," Dean said. "We are excited to have him lead this year's talented group of players. His leadership and personality will make this a wonderful experience for our student-athletes. We are looking forward to seeing this team compete in Mobile this December."
Alabama won last year's game 20-0 at M.M. Roberts Stadium on the campus of the University of Southern Mississippi at Hattiesburg, Mississippi, upping its lead in the series to 24-11. The annual All-Star Football Classic, pitting the top high school senior players in each state, is returning to Mobile for the first time in more than a decade. It was played at Mobile's Ladd-Peebles Stadium from 1988-2010, and at Montgomery's Cramton Bowl from 2011-2014 and rotated between Cramton Bowl and M.M. Roberts Stadium each year since.
A new agreement reached last April will send the Alabama-Mississippi Classic to Hancock Whitney Stadium in 2022, 2024 and 2026. The 2022 game will kick off at 11 a.m. and will be televised live by the AHSAA TV Network and livestreamed over the NFHS Network with WOTM TV producing the broadcast. Vince Earley will serve as executive producer.
"I am so excited to be named the head coach for team Alabama in the Alabama-Mississippi All-Star Game," Etheredge said. "It is such an honor to represent the AHSAA, and the sport of football for our great state. I am looking forward to working with some of the most talented football players and coaches in our great state. I have coached in this game four times as an assistant coach and learned so much from the other coaches and players by just being a part of the game. This game has been one of the premier All-Star games in the country for many years, and I feel truly blessed to be given this opportunity."
Etheredge will be making his fifth appearance in the Alabama-Mississippi Classic and proudly points out that in the four previous appearances Alabama's All-Stars have gone 4-0.
He served as defensive coordinator in 2020 when Alabama won 19-7 with Steve Mask as head coach. He also was an assistant coach in 2016, a 25-14 Alabama win with Terry Curtis of UMS-Wright as head coach; in 2014 when Alabama won 36-30 with Jamey DuBose as head coach; and in 2009 when Alabama captured a 21-13 victory with Josh Niblett as head coach.
Etheredge led Auburn High School to a 10-3 record in 2021 — his first season at the Class 7A school. He has compiled an impressive 160-55 record in 17 years as a head coach — capturing five state titles and one state runner-up in the process. He led Leeds High School, his alma mater, to a 107-34 record over a 10-year period from 2006-2015, winning the Class 3A state championship in 2008 and 2010 and the Class 4A crown in 2014 and 2015. His 2013 team was state runner up in 2013.
He was head coach at Class 6A Pell City for two seasons (2016 and 2017), led Class 3A T.R. Miller for one year in 2018 — going 6-5 each season. He then took over Class 6A Oxford's program in 2019 and immediately led the Jackets to a 14-1 record and the Class 6A state title. He guided Oxford to an 11-2 record in 2020 and moved to Auburn last season.
His teams have compiled a 42-13 record and have reached the playoffs all 17 seasons he has served as a head coach.
The complete Alabama All-Star staff and players for the 2022 Classic will be announced when completed.
The annual AHSAA North-South All-Star Football Classic was moved to Hancock Whitney Stadium in 2020 and will be played one week later next December.