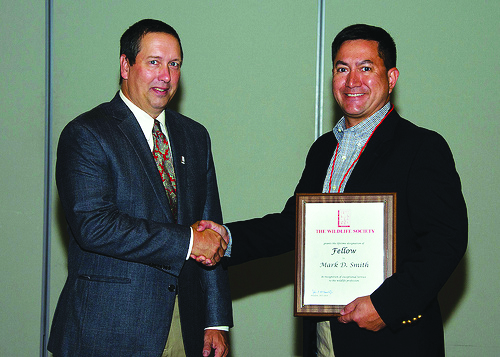 Special to the
Opelika Observer
Auburn University wildlife professor and extension specialist Mark D. Smith was recently appointed as a fellow by The Wildlife Society in recognition of his exceptional service to the wildlife profession.
Smith was one of only nine wildlife professionals selected as fellows in 2018 and is the only Auburn faculty member ever chosen for the lifetime designation by the society.
"Mark Smith's appointment as a fellow of The Wildlife Society not only establishes him as a lifetime ambassador for wildlife outreach but also shines a light on the significance of his work at Auburn," said School of Forestry and Wildlife Sciences Dean Janaki Alavalapati.
Smith is the W. Kelly Mosley Environmental Professor at the school and a forestry and wildlife specialist with the Alabama Cooperative Extension System. His specialty areas are wild pig damage management, game and non-game population and habitat management.
The Wildlife Society President John McDonald presented the award to Smith at the organization's annual conference in Cleveland.
"This great achievement is reflective of the transformative impact of Mark's teaching, research and extension service toward the sustainability of wildlife and their habitats," Alavapati said.
Founded in 1937, the 10,000-member organization is internationally known as a leader in the fields of wildlife science, management and conservation.