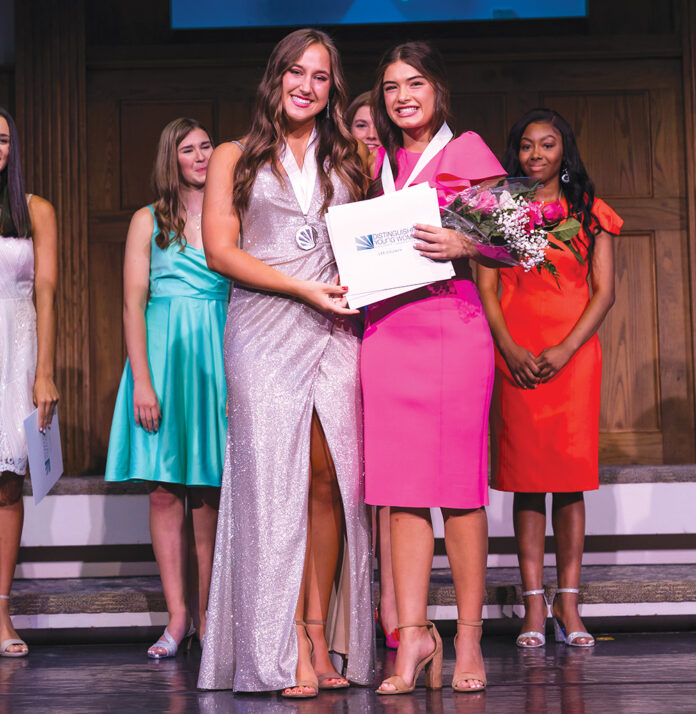 CONTRIBUTED BY
THE LCDYW
The 2022 Distinguished Young Woman of Lee
County Awards Program was held on Saturday, at Parkway Baptist Church in Auburn.
High school senior girls from across the county joined together to participate and compete for college scholarships as well as the opportunity to represent Lee County at the Alabama Distinguished
Young Woman Program in January of 2022.
The nine young women competing were evaluated by a panel of five judges in the following categories: Scholastics (25%), Interview (25%), Talent (20%), Fitness (15%) and Self-Expression (15%). Participants have been practicing and preparing at Nix Dance Studio with choreographer, Kasey Shepherd, for the group routines. Interview and talent workshops were held in over the last month as well.
All workshops and events focus on the "Be Your Best Self" program which includes: Be Healthy, Be Ambitious, Be Involved, Be Responsible, Be Studious.
The 2022 winner was Anslee Tatum, daughter of Crawford and Charmoin Tatum, from Auburn High School. First Runner-up was Caroline Erickson from Auburn High School and second runner-up was Erin Kim from Lee-Scott Academy.
Category Winners included were:
Be Your Best Self Essay Winner – Clara Ragan
Spirit Award Winner voted on by participants – Sophie Marino
Interview Winners – Anslee Tatum and Caroline Erickson
Scholastics Winners – Erin Kim and Clara Ragan
Talent Winners – Anslee Tatum and Caroline Erickson
Fitness Winners – Breckin Gould and Caroline Erickson
Self Expression Winners – Erin Kim and Anslee Tatum.
The Distinguished Young Women is a national scholarship program that inspires high school girls to develop their full, individual potential through a fun, transformative experience that culminates in a celebratory showcase of their accomplishments.