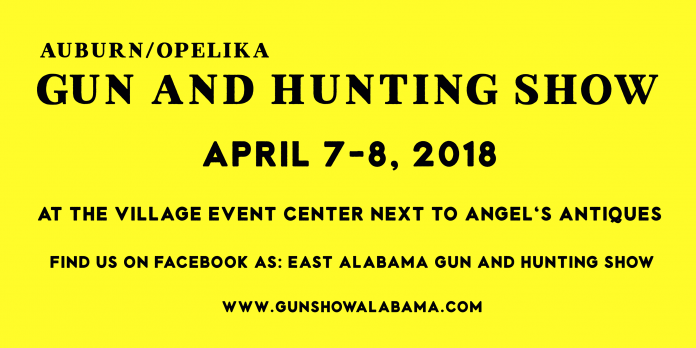 By Morgan Bryce
Associate Editor
The inaugural Auburn-Opelika Gun and Hunting Show will be held April 7 and 8 at the Village Event Center.
Presented by the East Alabama Gun and Hunting Show group, the event will feature appealing items for gun enthusiasts and hunters alike, according to Event Organizer Sawyer Jones.
"Gun shows are very prevalent in Alabama, but not in our area. This is a great place to have one because of how many gun enthusiasts are in our area," Jones said. "It will be a gun show, but we will have a lot of stuff for our hunters as well."
Two Opelika munition businesses, The Firing Pin and Southern Survival, will be present at the event, along with others from various surrounding counties.
Jones said this is the first show that business has staged, which has been well received locally.
"There has been a big outpouring of support from people that say they're very excited for the show. The gun and hunting community in this area is very underserved, and this event has sparked a lot of excitement from our patrons and vendors alike," Jones said.
Tickets are $10 and can be purchased at the door. For more information, visit the East Alabama Gun and Show Facebook page. Show hours for Saturday are 9 a.m. – 6 p.m. and Sunday from 10 a.m. – 4 p.m. The VEC is located at 804 Columbus Parkway.