BY HANNAH LESTER
HLESTER@OPELIKAOBSERVER.COM
Teachers hushed the room full of students. Jessica Bowlin rounded the corner and took a step back, not realizing the packed auditorium of people was there for her.
Tae Kang from Harbor Freight started talking and announced that Bowlin had won the Harbor Freight Tools for Schools Prize for Teaching Excellence!
And then — there was cheering. Teachers sent confetti flying at Bowlin and students were blowing noisemakers.
Kang announced that Bowlin, Auburn's building construction teacher, won $50,000 for Auburn High School.
"We can do so much with this $50,000 award," she said. "I'm just super appreciative of Harbor Freight, and my school, and my faculty and staff that I work with and all the students that I teach."
The purpose of the award is to honor skills-trade teachers, Kang said. Bowlin was one of 726 to submit an application and only one of 18 to be chosen.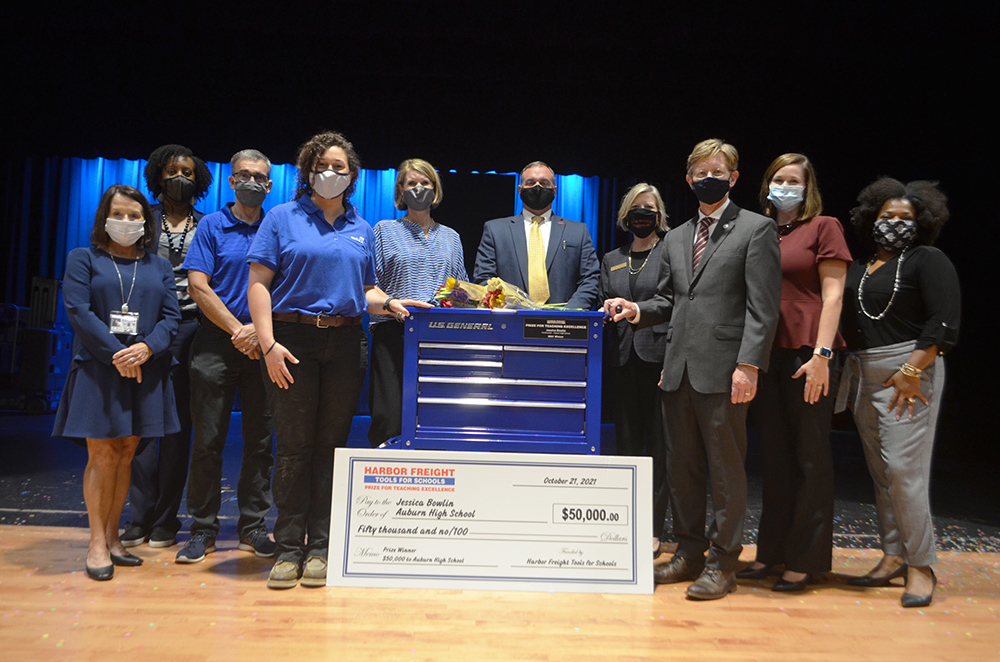 "As our country is looking to make major investments in infrastructure, while at the same time facing a major shortage of skills-trade workers, it is clear that high school skills-trade teachers will be front and center in this unique opportunity to train the next generation of skills-trade professionals," Kang said.
Bowlin has been at Auburn High School for five years and was a part of the effort to establish the Building Science program in the first place.
"Thank you for what you're doing for students, I thank you for what you're doing for Auburn High School and the Auburn community," said State Superintendent Eric Mackey. "… We appreciate you very much for building not just buildings, which are important, but building students."
Bowlin, who did not know she had won the award until it was announced on stage, said the experience was surreal.
"I'm just super grateful and thankful that I teach here at Auburn High School. I feel like I've been given the lottery of a job, just to be surrounded by the people I love and the people who support the program. Just immensely taken aback by it and just kind of in awe about the whole thing."