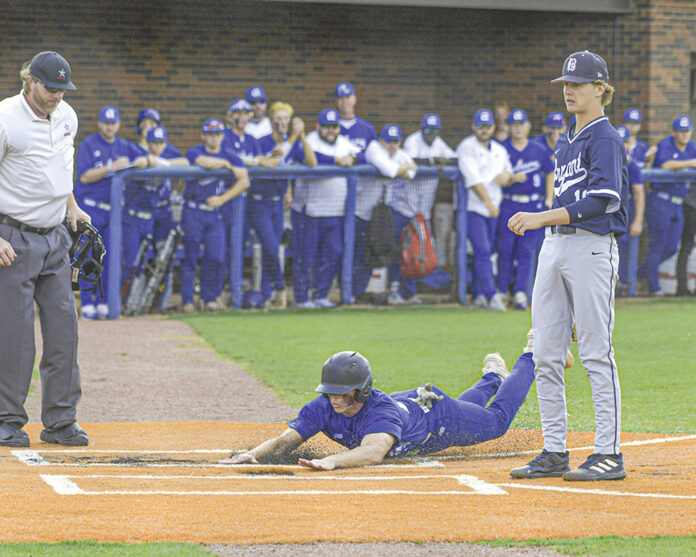 BY DANIEL LOCKE
FOR THE OBSERVER
AUBURN —
Coming off a season in which the Tigers went 30-8 (4-2 in 7A region 4), expectations are high for Auburn High School baseball in 2023. Having been at the helm of the Tigers' baseball program since 1992, head coach Matt Cimo said he is excited for another chance at a state title.
Opening day was this past Saturday and the Tigers opened the new year up with a 12-11 win over Providence Christian. They followed that up with a 10-6 win over Columbus on Monday.
Cimo commented on how exciting it is to lead a team into a new season.
"We've been preparing for a long time, since last May," Cimo said. "It's exciting for the kids, the parents and the community."
Coming off a big season makes for some high expectations for the Tigers, but Cimo is confident that his team is up to the challenge.
"We just take one day at a time and try to get better each and every day," Cimo said. "Hopefully we have some luck and things fall our way and we have another good year."
Caleb Maxwell, Cooper Hardee and Brenden Bryant are three seniors who make up the starting rotation for the Tigers.
"Hopefully they can carry a lot of the load for us," Cimo said. "We're going to have to mix and match with all the younger kids and see what else we have."
The bullpen is not set in stone yet as two of the previously mentioned starters could also toss some relief innings if needed.
"Cooper (Hardee) could be a closer at the end, Brenden (Bryant) could be," Cimo said. "We get about five weeks to figure that out."
Auburn will have a talented and experienced group in the infield. This group includes Jackson Mills, Seth Payne, Reed Woods, Peyton Ethridge, Jace Norton, Thomas Aaron and Henry Allen.
The Tigers outfield presents a combination of experience and talent with some newcomers. The group includes Walton Williams, Braden Fox, Cade Belyeu, Ean Nation, Michael Daniel and Connor Crosby.
The Tigers also have three solid options at catcher. These include Tanner Waldrop, Silas Mason and Ryne Sinclair.
Last year the Tigers finished second in their area and trying to win it this year will be a focus for the team.
"It always comes down to the area," Cimo said. "It should be fun, it comes down to April when we play Central, Smiths and Opelika so it should be exciting."
With a tough schedule and high expectations, Cimo is aiming to keep his team focused on what they can control.
"Just get better every day," Cimo said. "Hopefully we can do little things better every day and have a positive season.
"It should be a fun season," Cimo said. "We appreciate all the support we get from the community because it's awesome."