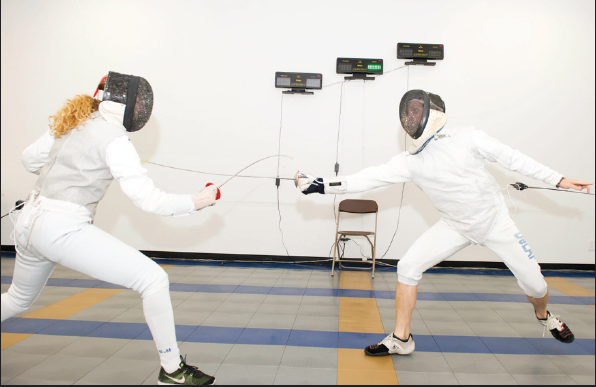 By Tyler Roush
For the Opelika
Observer
The Auburn Fencing Club is expanding its options for free classes.
Ryan Delap and Tatiana Gitchevich, both as coaches at the club, will be hosting a free youth fencing session on April 20 at 1 p.m. A separate, all-ages adult class will be held on April 23 at 8 p.m., the club's first free day for adult participants.
The youth class is restricted to children ages four to seven, with both services providing refreshments and snacks during "casual open fencing" sessions.
Delap, who is also the current president for the Alabama division of USA Fencing, said that the free sessions will start by introducing participants on how to properly move before learning how the game works. Following an introduction to fencing, participants will be free to compete against one another.
Though the club has hosted free youth classes before, Delap said that he expects the adult sessions to be just as rewarding.
"They're great," Delap said. "They're really fun."
Delap added that those who participate in the free adult session are welcome to join the club's regularly scheduled training sessions.
Youth classes are held on Tuesdays from 4 to 5 p.m., beginner, intermediate and advanced classes are held on Monday, Tuesday, Thursday and Friday from 6 to 8 p.m. while adult classes run on Tuesday and Thursday from 8 to 9:30 p.m.
The club is located at 229 S. 8th St. in downtown Opelika.
Free classes will be a good introduction to what the club's paid courses have to offer, Delap said.
"It'll be a fun way for, one, for people to have a little bit more education about what our sport is,"
Delap said. "Two, I think a lot of people will really enjoy it to the point where they'll join our adult group."
Like and follow the club's social media pages for updates.