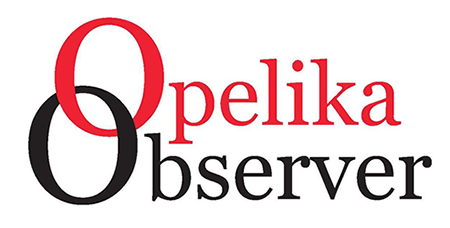 BY HANNAH LESTER
HLESTER@OPELIKAOBSERVER.COM
AUBURN —
Ward 4 Council Member Brett Smith served in his last Auburn City Council meeting Tuesday night.
Smith announced at the end of the meeting that he had been offered a job and would be leaving Auburn at the end of the month.
"I recently was offered a very lucrative job in central Florida and as a result, we'll be moving at the end of this month and [I will be] resigning from my seat," Smith said. "This will be my last meeting on council."
Smith said his family will visit and that he expects his own daughters may become residents one day, attending Auburn University.
"I will always have fond memories of this wonderful city," he said. "This city is a beacon, a shining beacon on a hill, that many other cities could look to be like and that's because of the leadership. And that leadership is not just the people sitting up here, that's Megan [Crouch], the city manager, that's the heads of departments and that's every employee that spends the day to make this place better and it shows.
"I'm very thankful for the people that put their faith in me. I have my faith in each of you to select my replacement and I certainly have the faith in the people to vote for the best selection come November."
When Smith moves, his seat will be vacated and at that point, the council will appoint someone to fill the remainder of his term.
"I know I speak for myself, I was honored to have served with you and wish you and your family the best and look forward to our visits in the future," said Auburn Mayor Ron Anders. "Thank you for your hard work representing Ward 4."
Anders asked Crouch what the process is now to fill his seat. Interested candidates must have lived in Ward 4 for at least 90 days. And that is in the new Ward 4 following the redistricting in the city.
The next election will be held on Aug. 23.
Interested candidates will need to contact Anders, who will then pass the information on to the council.
"It is my conviction, my belief and I'd like to recommend to the council that the person that the council ultimately appoints is not a person who will be seeking this seat through the election in August," Anders said. "It's my belief that if we were to appoint somebody who will be running for this seat, it gives them a two-month head start and could be viewed as being unfair to the other candidates who might be interested in running for Ward 4.
"So I would encourage the council to consider someone who is not going to be running that wants to just serve for the next few months and finish this term out."
The replacement for Ward 4 will serve from June 8 to Nov. 4, before the new council takes oath.
"It has been an honor is not the right word to say, but it has been an honor to serve with each of you on council," Smith said. "Each of you inspire me by your uniqueness and what you bring to the council. It's been an honor to serve the city. And it has been an even bigger honor to answer to the people of Ward 4."
OTHER BUSINESS:
– The council approved an alcohol beverage license for Yogiraaj, LLC, d/b/a Tiger Spirits for a lounge retail liquor Class II alcohol beverage license.
– The council approved a concurrence for Shinhwa Auto USA Corp. who will be creating a second Auburn facility.
– The council provided tax abatements to Rexnord Industries, LLC and Shinhwa Auto USA Corp.
– The council approved a contract with the Alabama Department of Transportation for a cost overrun funding agreement for the 'Center Turn Lane Addition' project on Shug Jordan Parkway.
– The council approved a contract with Watson-Cook Company for a tower crane use agreement at 129 North College St.
– The council approved a contract with C. Spire Business Corp. for two Palo Alto firewalls for three years of support and maintenance for over $28,100.
– The council approved a contract with SHI International Corp. for net motion wireless software renewal for over $67,500.
– The council approved a contract with Stivers Ford Lincoln for the purchase of a 2022 Ford F150 pickup truck for the Auburn Fire Department for over $38,600.
– The council approved a contract with W.W. Williams for emergency vehicle repair for the Water Resource Management Department for over $16,700.
– The council approved the 'back to school' tax holiday from July 15 to 17.
– The council approved annexations for Barrett-Simpson, Inc. for Rockledge Development, LLC for 18.72 acres on Society Hill Road and for Patrice Glaze Bryant for 3.13 acres on Lee Road 72.
– The council approved a conditional use approval for Mike Swope for UH Development, LLC for a performance residential development for multiple properties on Bryant Avenue, Bryant Circle, Old State Road and Gidden Street.