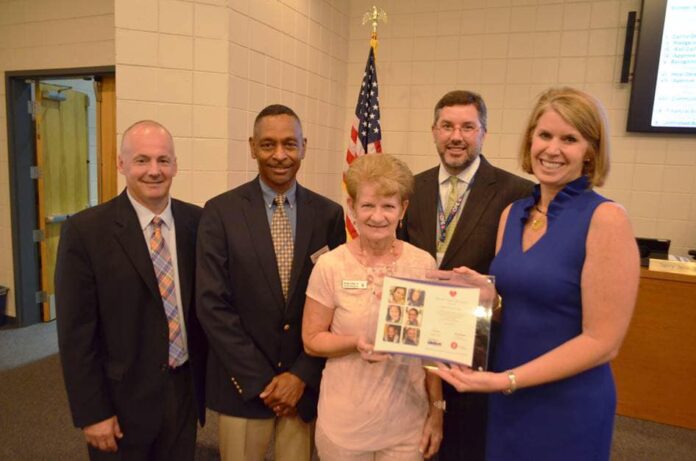 By Maddie Joiner
For the Opelika Observer
At Tuesday night's Auburn School Board meeting, all 13 Auburn City Schools were recognized as Project ADAM Heart Safe Schools.
According to a press release from Auburn City Schools, Project ADAM Heart Safe School designation is attained by schools upon successful implementation of a quality sudden cardiac arrest program of awareness, training and effective emergency response to promote a Heart Safe environment for students, visitors and staff as outlined within the Heart Safe School Checklist.
John Stone, Manager of Community Action at Children's of Alabama and Adam Kelley, manager of corporate communications and marketing, attended the meeting and presented a plaque to the Auburn School Board and Brenda Lindahl, the Auburn City Schools RN nurse administrator. Banners were also dropped off at each school to be put on display.
"We are very proud of this system," Stone said.
"Tonight, we just want to recognize Nurse Brenda, your leadership, the leadership of the 13 schools and say thank you."
Lindahl's initial goal was to have as many faculty as possible CPR/AED certified, but upon further research, noticed Auburn City Schools was close to qualifying as Project ADAM Heart Safe Schools.
A certain checklist is required to become a Project ADAM Heart Safe School and Auburn City Schools were missing one thing — AED drills.
So, Lindahl got in contact with all 13 principals and each school began its AED drills.
"What's come out of it is all the employees are like, 'Wow, that really got my heart going', and they saw the importance of doing it. So now it's on the agenda to do them yearly," said Lindahl.
During the drills, each school created emergency plans which came from templates provided by Project ADAM.
"Each school's safety committee fills in that template as to how they're going to deal with it individually on each campus," Lindahl said. "It's really not a hard project to do, it's just prioritizing and finding the time to do it."
Dr. Cristen Herring, the Auburn Superintendent, said, "We accept this [plaque] with much pride and we'll display it, and I hope never need to use it."
Other business:
– The board approved a bid from Walker Paving & Asphalt Maintenance Incorporated for the resealing of the pavement and restriping in the parking lot at AHS.
– The board approved a Broadcast Media Rights Agreement with Auburn Networks LLC to radio broadcast AHS athletic events for a period of three years.
– The board approved a three-year agreement with The Orthopedic Clinic of Opelika for athletic training and related services.
– The board approved a three-year employment contract for Karen G. Snyder, principal of Cary Woods Elementary School.
The next Auburn School Board meeting will take place July 13 at 6 p.m.