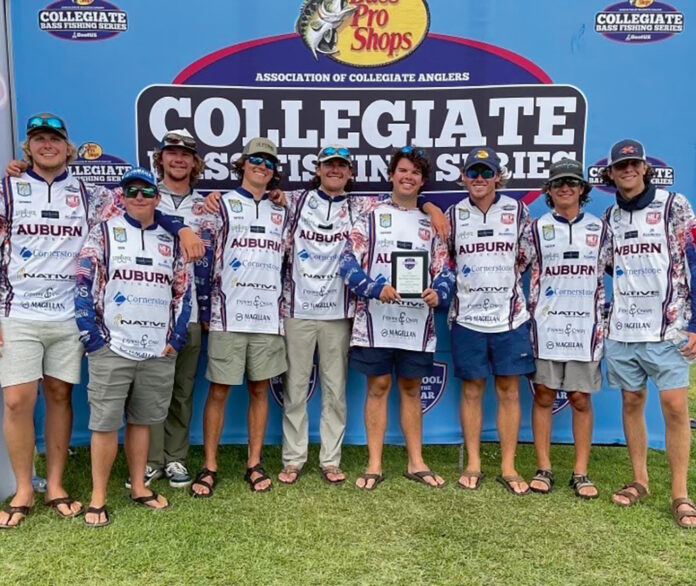 Contributed by
Auburn University
By Neil Reid
AUBURN –– Auburn University's bass fishing team capped a historic season with its all-time best finish at the BoatUS Collegiate Bass Fishing Championship presented by Bass Pro Shops by taking second place in the final season team standings after the two-day event concluded on May 27.
The Tigers landed two teams in the top 10 and four in the top 41 in the culminating event to finish the 2021-22 season with 18,080 points in the Bass Pro Shops School of the Year presented by Abu Garcia standings, just behind the University of Montevallo's 19,275. A total of 211 colleges and universities competed in the collegiate ranks at more than 60 bass fishing events during the season, and this year's runner-up finish bests the Tigers' fifth-place result from a year ago.
Recent graduate Logan Parks and Tucker Smith — who won the $1 million first-place prize at the Bass Pro Shops US Open National Bass Fishing Amateur Team Championships in November — finished second in the two-man tandem standings as well. Parks, who established the Logan Parks Bass Fishing Endowed Scholarship with part of his winnings, and Smith finished with 44.69 pounds of bass at Pickwick Lake in Florence, Alabama, just behind the team of Bryar Chambers and Client Blackwood of Wallace State University.
Auburn's Garrett Warren and Hayden Marbut finished ninth at nationals with a final weight of 33.56, making the Tigers the only team with two tandems in the top 10 at the two-day event. Auburn's teams of Carson Maddux and Rob Cruvellier (34th) and Connor Jacob and Sam Smith (41st) also had solid performances at the season-ending event, leaving Auburn as one of two schools with four teams among the top 41 finishers. Sam Hanggi and Sam Hoesley also qualified for nationals and finished 63rd in the final standings.
Parks, who with Smith was named the Carhartt Bassmaster College Series Team of the Year, was thrilled to finish his Auburn career with a strong showing.
"It was an incredible experience fishing my last collegiate bass national championship," said Parks, a supply chain management graduate. "I would have loved to bring home the win, but to end my five years fishing the Collegiate Bass Trail with a second place at the natty is pretty special, too. We gave it our all and left it all out on the water on Day 2. Tucker and I had an incredible day and one that we won't soon forget.
"It was one of the most fun days I have ever had on the water. I am thankful for my time at Auburn and all of these incredible experiences the Auburn Bass Team has brought me. I am excited to see what this team accomplishes over the next few years."
Smith, who just completed his sophomore year on the Plains, echoed his teammate's sentiments.
"The Collegiate Bass National Championship was a fun one for sure," Smith said. "We ended up in second place, right behind two of our good buddies. It was one of the most exciting tournaments I have ever had, so that makes me not as upset we didn't pull off the win.
"All I know is that Logan and I had a blast and caught them, but just didn't catch them quite good enough. Make sure to tune into the College Collegiate Bass Show to watch us crush them — we got it all on camera."
The BoatUS Collegiate Bass Fishing Championship presented by Bass Pro Shops will be televised on the Outdoor Action TV app later this summer, and episodes featuring the championship will be available on Outdoor Action TV in mid-to-late July.
Anyone interested in donating to the Logan Parks Bass Fishing Endowed Scholarship may do so via: https://alumniq.auburn.edu/giving/to/loganparks.
Auburn University is a nationally ranked land grant institution recognized for its commitment to world-class scholarship, interdisciplinary research with an elite, top-tier Carnegie R1 classification, life-changing outreach with Carnegie's Community Engagement designation and an undergraduate education experience second to none. Auburn is home to more than 30,000 students, and its faculty and research partners collaborate to develop and deliver meaningful scholarship, science and technology-based advancements that meet pressing regional, national and global needs. Auburn's commitment to active student engagement, professional success and public/private partnership drives a growing reputation for outreach and extension that delivers broad economic, health and societal impact.