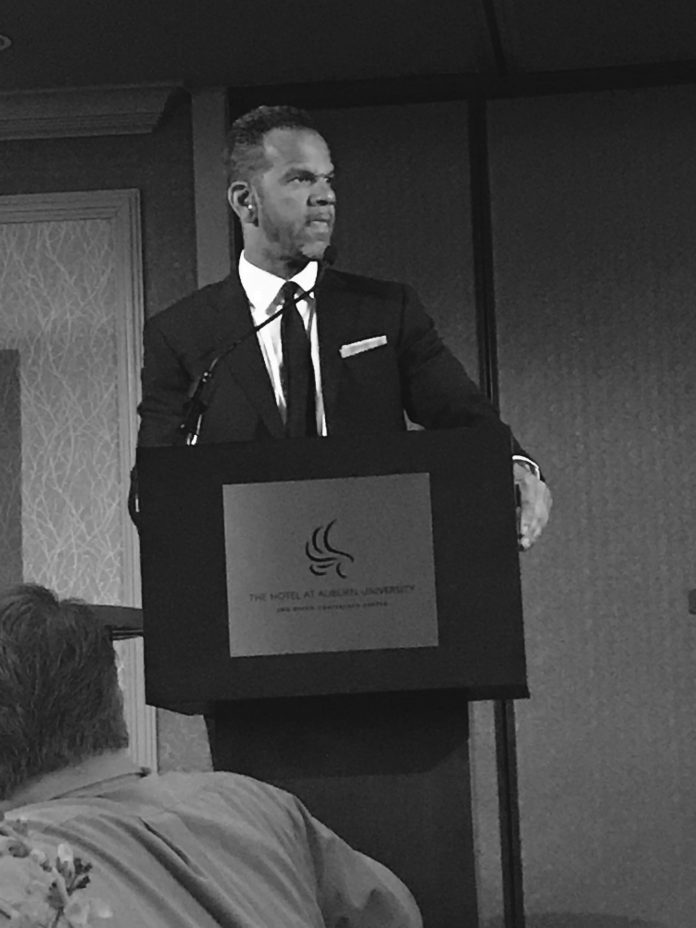 13th annual Mayor's Ball held Friday
By Michelle Key
Editor
Mayors Gary Fuller and Bill Ham hosted the 13th Annual Mayors Ball last Thursday night at the Hotel at Auburn University in Auburn.
The annual event raises money for local branches of the Boys and Girls Club .
Activities during the event included a cocktail hour, a three-course meal, performances by two members of the Boys and Girls Club, a live auction conducted by Opelika's Randy Price and an inspirational message from keynote speaker, NFL Hall of Famer and former BGC member Andre Reed.
He began his speech with "the Lord said, 'As you serve, you are blessed,' and that's what we are here for; to serve, to serve others." Reed went on to share how his experience with his local Boys and Girls Club in Allentown, Pennsylvania, taught him values and helped him gain confidence and find his way in life.
"Every time I see a Boys and Girls Club kid, I see myself. No matter what his color is, where he's from that's me," Reed said.
Growing up in a troubled home with an often violent, alcoholic father was a struggle, according to Reed.
"Life in my house was pretty bad, but the Boys and Girls Club was my safe haven, my shield. I felt like Captain America when I walked in there," Reed explained.
According to Reed, the volunteers at the Boys and Girls Club were responsible for saving his life. He stated that going through the events of his childhood, were all experiences that made him who he is today. Reed said he went to the club daily while he was growing up.
"Going through those blue doors I was taught the word respect, the word perseverance, the word confidence. It's about just one thing; about caring professionals, teaching life lessons in moments that matter," Reed said.
The ball began in 2006 as a joint effort between the Boys and Girls Club of Greater Lee County CEO Wanda Lewis, Ham and Fuller. The trio came together to plan an event to raise monies for the BGC.
"It was an opportunity for Opelika and Auburn to do something together," Fuller said. "I thought it was a great idea then, and I still think it is a great idea. It's a great way to raise money to fund the Boys and Girls Club. The kids today need the club more today than ever. It's a joy to me to be involved in it."
Ham explained that he sees the event as one dedicated to kids, and seeing the people that come out to the event to support the kids. "It's about doing the right things for the right reason by helping these kids have a better foundation," Ham said.
The theme for this year's event was "Jeans and Jackets" and many, like Fuller, were sporting blue jeans with tuxedo jackets and bow ties.
Mayor Fuller explained that after the first few years, it was suggested that in an effort to attract more people, that they change the dress code from black tie to something "more relaxed" and the ideas of blue jeans and jackets was born.