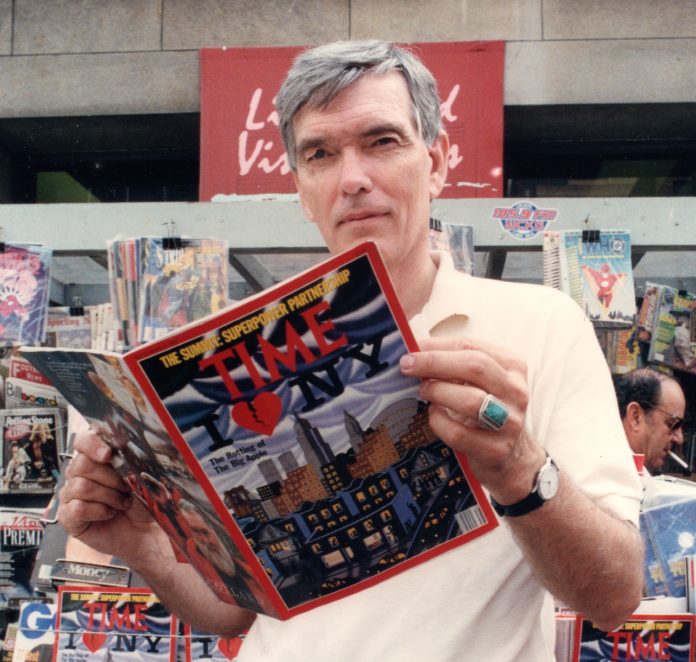 By Ann Cipperly
Opelika Observer
Highly awarded brothers Roger and Greg Brown grew up in Opelika, taking art classes in school and painting storefront windows in downtown Opelika for the Halloween painting contest, winning first and second place every year. While Greg pursued a variety of art as he taught in three Alabama colleges, Roger's passion for painting led to two covers on "Time" magazines and his art housed in major galleries across the globe.
A sampling of art from the brothers is currently on exhibit at the Jule Collins Smith Museum of Fine Art in Auburn through Nov. 3.
Roger was born in Hamilton in north Alabama, and moved with his family to Opelika when he was about five years old. His father, James Brown, owned a grocery store that moved to several locations over the years in downtown Opelika.
The Brown family lived on the south side of town. Both Roger and Greg attended the Miriam S. Brown School where they took art classes from Sam Mason.
Greg remembers when they were growing up, Roger would create buildings, shops and train depots from shoeboxes in the backyard. He would paint doors and windows with silhouettes of people. Once everything was built, Roger and Greg would crash toy airplanes into the buildings.
"You can establish a link between Roger's work as a child and an adult," Greg said, who has taught art appreciation. "He would stage crashes with trains, cars and airplanes, and he did the same thing when he was older in his paintings. I think when you are an artist you try to have fun with your work and go back to childhood memories that manifest themselves in your artwork."
Growing up, Roger was influenced by his great-grandmother Mammy, who raised his mother after her father died in a car wreck. Roger dedicated a painting to Mammy called "Autobiography of Alabama."
One side is the painting of Alabama as a state, and the flipside is Mammy's door, telling his story growing up.
While Roger wanted to be an artist throughout school, he also wanted to please his family. With the religious influence of his great-grandmother and the Church of Christ in Opelika, he decided to become a minister. He attended the David Lipscomb Christian School in Nashville in 1960, and took art classes on the side.
"He soon learned that being in the ministry was not for him," Greg said.
After he came back from Nashville, he studied graphic art in Chicago and received a degree in commercial art. While working as a commercial artist, he was encouraged to attend the School of the Art Institute of Chicago where he received a master's degree.
"Roger was at the institute when there were many good teachers and talented students," Greg said, who also has a master's degree from the Art Institute. "Roger was part of about ten artists called the Chicago Imagists, whose shows were very successful. The artists became well known nationally and internationally. Chicago artists had their own brand that was earthier than the New York artists. It was out of that soil that the images grew."
Roger became a well-known, rising star with his art collection at galleries across the country. As he was featured in national magazines, his fame extended to international galleries.
"Roger was internationally known for his distinctive painting style," Greg added, "and shrewd social commentaries on politics, religion, and art. He was doing a lot of cityscapes that was connected to current events."
When his health began to deteriorate, Roger began to think of his legacy. He had become close friends with the teachers at the School of the Art Institute of Chicago (SAIC) who had been instrumental in his success.
Roger owned three houses across the country. At his home in Chicago, the first floor was an art studio, and the upstairs was his living quarters. He traveled a great deal and collected art from all over the world and built a huge collection.
Roger decided to leave the Chicago collection with more than 1,000 objects to SAIC. The Roger Brown Study Collection is in his historic house museum and special collection of the School. His gift included two homes and their collections, and a large selection of his paintings.
Lisa Stone, the curator, worked with Roger for about a year before he passed away in 1997. It is one of the top artist's homes in the country.
Roger also donated his house in New Buffalo, Michigan to SAIC in 1995. It is surrounded by nature, providing a retreat for faculty and staff year round.
"Roger Brown was recognized nationally and internationally for his significant contributions to the history of Chicago art and to Twentieth Century American art," Stone said, "through his distinctive, original artistic vision and his works in many mediums. He was known for responding adroitly to the fabric of 20th century life, through works that addressed a range of subjects and issues. Brown's legacy has enriched the school's resources and offerings in immeasurable ways."
Roger's legacy lives on to influence other artists who study his work in his Chicago home.
Before retiring in spring 2015, Greg was an adjunct professor at Troy University in Montgomery, where he taught art appreciation/visual art since 2004. He has a BFA degree in visual design from Auburn University, and an MFA degree in painting and drawing from the School of the Art Institute of Chicago.
His career also includes teaching at Auburn University at Montgomery and at Alabama State University in Montgomery as adjunct professor.
Greg has been involved with several organizations and art galleries over the years, including West Hubbard Gallery in Chicago, Phyllis Needlman Gallery in Chicago, Artifex Rex Group in Montgomery and the Montgomery Art Guild. He has received numerous awards and honors for his art.
The Auburn museum exhibition includes four color pencil drawings that he completed during 1988 in Opelika, about a year before moving to Montgomery.
"They were done after a long five-year period of doing no artwork at all," he said. "I had come back to work in my father's supermarket business, which did not allow any time to produce artwork.
"Finally the creative urge got the best of me," Greg added, "and I produced these four color pencil drawings. I spent many hours laboring over them, and I consider them to be among my best works. I feel that I pretty much perfected my color pencil technique with these four drawings."
His artwork in the exhibition features six categories: oil paintings, charcoal and pastel drawings, papier mache works, linocut prints, color pencil drawings and Hypertufa masks and wall hangings.
Greg has also written a book "Fields of Clover" about his grandfather and the ancestors that came before him. The artist and his wife, Benedicte, reside in Montgomery.
Creative Cadences: Works by Roger and Greg Brown exhibition can be viewed at the Jule Collins Smith Museum of Fine Art through Nov. 3. The museum is closed on Mondays.