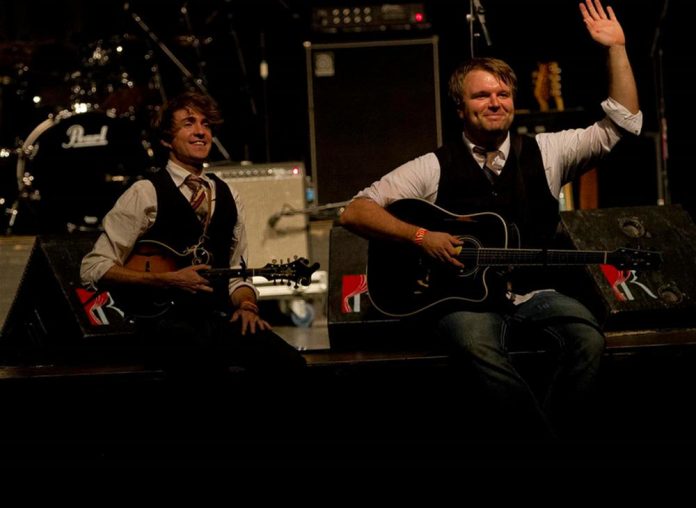 Special to the
Opelika Observer
Fresh off acclaimed appearances at The Sundilla Concert Series and the Opelika Songwriters Festival, Arizona duo Ryanhood return to town Dec. 19 for "A Winter's Evening with Ryanhood" at Pebble Hill. Ryanhood got their first break more than a decade ago as street-performers at Boston's Quincy Market. It was there that Ryan Green and Cameron Hood were spotted by a college booking agent and thrust into the college touring scene, where Campus Activities Magazine would soon name them "one of the most requested acts by college buyers all across the country."
The two first met in high school, where they were separated not just by a grade (Hood being a year older) but by a respectful rivalry between their two rock bands. Hood and Green would face off annually in the Battle Of The Bands, and although Hood's band would ultimately win two out of the three competitions, Green managed to impress him and the rest of the school with his abilities on the guitar, which would ultimately earn him a scholarship to Boston's prestigious Berklee College of Music. Cameron enrolled as an art student at the University of Arizona, and they started what they would call "a long-distance musical relationship," mailing each other minidiscs of new song ideas and getting together during academic breaks to rehearse and perform.
Within weeks of graduating college, Hood took a leap of faith and moved to Boston to join Ryan. Determined to make a living as musicians, Ryanhood became full-time street performers at Boston's historic Quincy Market where they developed a rapport with audiences that has become a hallmark of their shows. They soon took this high-energy, highly-interactive street-performers approach to the college market, where they quickly became one of the most popular bands on the circuit, playing upwards of 130 college dates a year.
They would go on to tour with Jason Mraz, record an album with Grammy-winning producer Ross Hogarth, share stages with the likes of Train, and even get tweeted about by Ellen DeGeneres. Ryanhood has collectively performed more than 800 shows in 45 U.S. states, where their cross-generational sound has been equally at home in colleges, coffee-houses, concert halls, churches and living rooms. And now, 15 years after their street start, Ryanhood's star is still on the rise as they were named "Best Group/Duo" in the 2014 International Acoustic Music Awards (IAMAs).
Admission will be $20 at the door, but $15 advance tickets are available at Spicer's Music, Ross House Coffee and online at www.sundillamusic.com.
The venue is located at 101 S. Debardeleben St.