By Will Fairless
Associate Editor
The Victorian Front Porch Tour is one Opelika Christmas tradition that will not be affected by COVID-19. The tour will go on exactly as scheduled, as its format is already conducive to adhering to social distancing guidelines.
"There was the briefest of moments when they said, 'Should we do the Victorian Front Porch Tour," said Rosanna McGinnis, director at the Lewis Cooper Jr. Memorial Library and in charge of the porch tour. "I said, 'Of course we should. You're already outside, you already come with your family. We said this is the one thing we can do no matter what."
It is McGinnis' first year in charge of the tour (she replaced Roger Bell, who retired), and she said she wanted to be in this position because she loves Christmas and the tour was part of her introduction to Opelika in 2016.
"I am definitely surrounding myself with people who love Christmas as much as I do," she said.
More of a challenge than COVID-19 and one of the many tasks McGinnis realized contributes to the final product she and so many others love, is maintaining the Santa "mannequins" displayed along the tour route.
"They're papier mache, so there's maintenance that goes into making sure they look fresh," McGinnis said.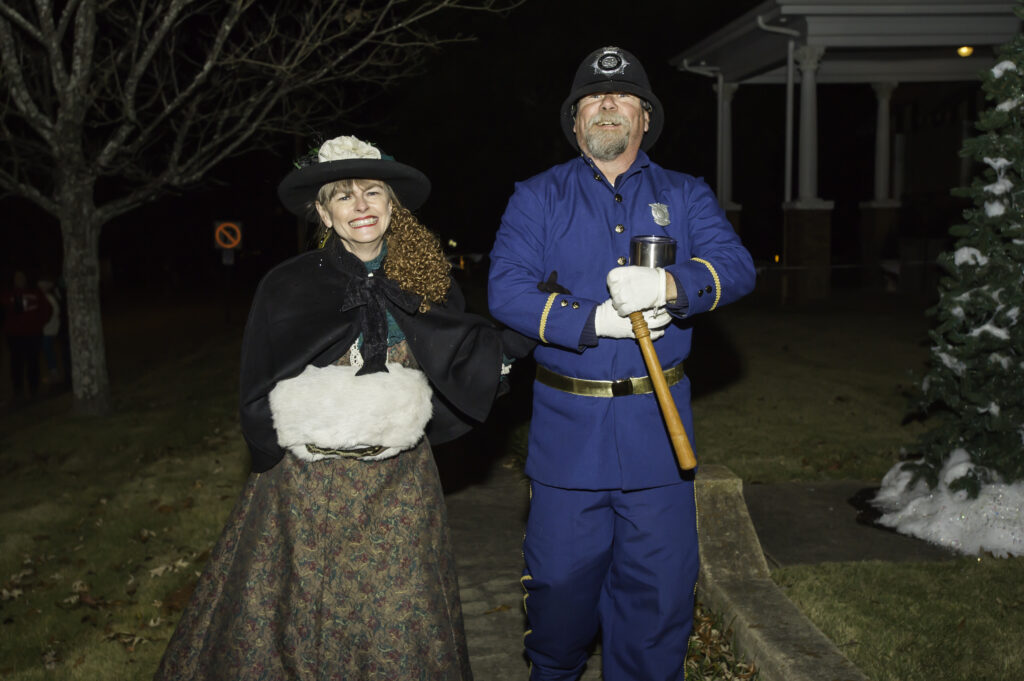 Another challenge has been securing entertainment for the five days of the tour (Dec. 9-13).
The Victorian Front Porch Tour began in 1993 with just a few homes participating; this year, 60 homes on North Eighth and Ninth streets will be decorated with life-size Santas, angels, toys, carousel horses and other Christmas-themed figures, according to the city's website.
The tour begins at Heritage House on North 8th Street and 2nd Avenue. The 2020 schedule of events is as follows:
Dec. 9: Driving tour 5 to 9 p.m.
Dec. 10: Driving tour 5 to 9 p.m. and bike tour 6 to 9 p.m.
Dec. 11: Driving tour 5 to 9 p.m.
Dec. 12: Walking tour 6 to 9:30 p.m. Streets are closed to non-foot traffic
Dec. 13: Driving tour 5 to 9 p.m.
McGinnis said that the future of the Victorian Front Porch Tour looks bright.
"I always want to make it bigger," she said. "I want to see more people in costumes. We actually have access to many hundreds of costumes that people can borrow and dress up and walk around for the tour. I have a lot of plans."
For more information about the tour, visit www.opelika-al.gov/804/Victorian-Front-Porch-Tour.