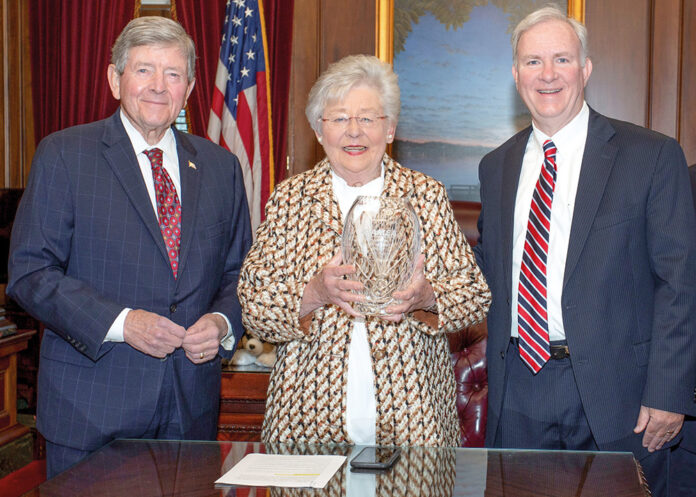 Contributed by the Alabama Municipal Electric Authority
The Alabama Municipal Electric Authority (AMEA) awarded Gov. Kay Ivey the Excellence in Leadership Award for her unwavering commitment and dedication to the state of Alabama.
"Governor Ivey has served and continues to serve our state with honor and integrity," said Fred Clark, AMEA president & CEO. "Today, we honor her tremendous accomplishments and successes as she continues to lead our great state with steadfastness, perseverance and determination."
From Rebuild Alabama, to the state's tremendous economic development accomplishments showcasing our strong workforce, to achieving the state's lowest unemployment rate, to the challenges of the COVID pandemic, Gov. Ivey continues to be a trailblazer for our state.
"We thank Governor Ivey for her tireless efforts as she and her team navigate one of the most challenging years in our state's history," Clark said. "We are extremely proud of Gov. Ivey and feel she is most deserving of the AMEA Excellence in Leadership Award."
AMEA, a joint action agency formed in 1981 and located in Montgomery, is the wholesale power provider for 11 public power utilities in Alabama, which serve some 350,000 customers.