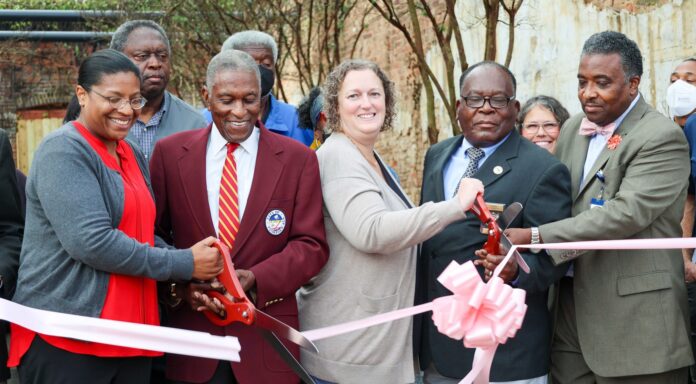 CONTRIBUTED BY ACES/
BY DUSTIN DUNCAN
TUSKEGEE —
Rosa Parks, a civil rights icon, once said, "Memories of our lives, of our works and our deeds will continue in others."
The memory of Parks and the legacy she left behind now lives on in downtown Tuskegee. Recently, The Rosa Park was officially opened as the newest pocket park in downtown Tuskegee on Westside Street. The park is named in honor of Parks, who was born in Tuskegee. She is best known for refusing to give up her seat on a Montgomery bus in 1955. This event led to the Montgomery Bus Boycott, a pivotal event in the American civil rights movement.
YEARS IN THE MAKING
Janice Hall, the Alabama Cooperative Extension System (ACES) coordinator for Macon County, said the pocket park project has been in the making for more than three years. The former shell of an old building now has professional landscaping with trees, planters, benches and a stage for events. Additional improvements to the park will include murals depicting Rosa Parks and other scenes by local artist Caroline Carson.
Alabama Extension at Auburn University's ALProHealth program funded most of the improvements at the site through a grant from the Centers for Disease Control and Prevention (CDC).
ALProHealth is an obesity prevention and reduction program funded through the CDC. The program works to increase community health in 13 Alabama counties with an adult obesity prevalence of 40% or greater.
Through the grant, Macon County formed a community leader coalition including Hall, Tuskegee City Council members, Macon County commissioners and leaders from Tuskegee University.
"The park is a major asset to the city of Tuskegee because it is located in an ideal space to promote health and wellness to the citizens of Macon County," Hall said. "People can walk in downtown Tuskegee and relax at the pocket park."
NOT TAKING NO FOR AN ANSWER
Olga Bolden-Tiller, dean of the Tuskegee University College of Agriculture, Environment and Nutrition Sciences, said the pocket park is a result of several entities working together and not taking no for an answer.
"This was a very valiant community effort," Bolden-Tiller said. "These folks (coalition members) have met every month to talk about this project and also went to many city council meetings and many other meetings to make sure this project came to fruition."
Ruth Brock, ALProHealth program manager, said the work of the community coalition was the key ingredient for making sure the pocket park became a reality.
"We are excited for people get out and moving around in downtown Tuskegee," she said.
Tuskegee Mayor Lawrence Haygood also commented on the collaborative aspect of the project.
"This is about rebuilding our community," Haygood said. "Our community is being rebuilt by our citizens stepping forward, making the sacrifice and not giving up. This is a small change, but it is a big step forward."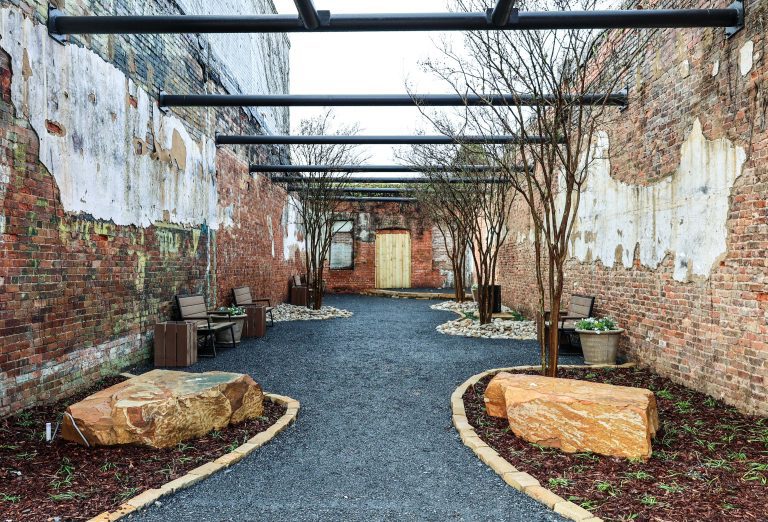 PROMOTING HEALTHY LIVING
Bolden-Tiller said the coalition wanted to do something that could beautify downtown Tuskegee but also promote healthy living. She said the pocket park gives people a reason to get outside and walk downtown to experience the pocket park.
"We really wanted to enhance the experience people have when they come to downtown Tuskegee," Bolden-Tiller said.
Hall said the pocket park is one of several projects in the plans to improve downtown Tuskegee and Macon County.
"It is our vision that people will find it therapeutic to offer their musical talents by utilizing the stage area to play while people just sit for a while," Hall said. "It is our hope that this park will be the first of many placemaking ideas in downtown Tuskegee, as well as Macon County."
Bolden-Tiller said the land was originally owned by the Etzioni family. They offered use of the land once they learned it would be renovated to add value to the area.
MORE INFORMATION
For more information about ALProHealth, contact Brock at rlw0031@aces.edu. For more information about Macon County Extension, contact Hall at (334)727-0340 or email her at howarje@aces.edu.
ABOUT THE ALABAMA COOPERATIVE EXTENSION SYSTEM
The Alabama Cooperative Extension System takes the expertise of Auburn University and Alabama A&M University to the people. Our educators in all 67 counties are community partners — bringing practical ways to better our homes, farms, people and the world around us. Our research extends knowledge and improves lives.