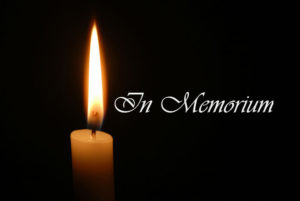 Alma Josephine Hall
Alma Josephine Hall was born Feb. 22, 1929 in Tallassee, Ala. to Thomas Jefferson Taylor and Florence Alma Taylor. Jesus took her hand and led her to her eternal home on April 7, 2020 at her home in Opelika while surrounded by her family. She was 91 years old.
She was married to the love of her life, Preston T. Hall, for more than 62 years. They spent their life together sharing their love for God, going to church, raising their family, reading the Bible, singing together, and spending time with family and friends. She also loved to bake and cook and her table was always full. For years, Alma was a member of the First Emmanuel Holiness Church, and then in her later years, she was a longtime member of First Holiness Church of Tallassee. She was loved and adored by all who knew and met her. Her beautiful smile, giving and caring ways, and her gentle touch were only a few of her noticeable traits. Her love for God, her family (including church family), and her friends was unlike any other. Her faithfulness to God led her to have a long, wonderful, happy life for more than 91 years. She was the greatest Christian, wife, mother, sister, grandmother, great and great-great grandmother. Her warm hugs and loving kisses will truly be missed. She will always be loved and never forgotten. She fulfilled her promise to God and will rejoice for all eternity. Until we see you again…
She was preceded in death by her parents mentioned above, brother Calvin Taylor; son, Ronnie Gurganious; daughter-in-law, Nelda Gurganious, and son-in-law David Treadwell.
She is survived by her husband of 62 years, Preston T. Hall; her daughters, Faye Riddle (Kenny), Sherrie Dixon (Eugene), and Diane Lumpkin (Larry); grandchildren, Christy Leak (Jason), Holly Long (Wes), Tonya Bowen, James (Jessica) and Christopher Gurganious, Jason (Tracy) and Jonathan (Tarra) Dixon, Allen (Krissy) and Angela Treadwell (Fiancee George), and Tommy Sellers (Marsha), as well as a host of great grandchildren; 2 great-great grandchildren, nieces, and a nephew.
Special thanks to COMPASSUS HOSPICE for giving her quality of life and more meaningful time spent with her family. She truly loved each of you. A graveside service was held at Garden Hills Cemetery on April 9, 2020. Because of COVID-19 guidelines a celebration of life will be held at a later date.
Frederick-Dean Funeral Home directed.