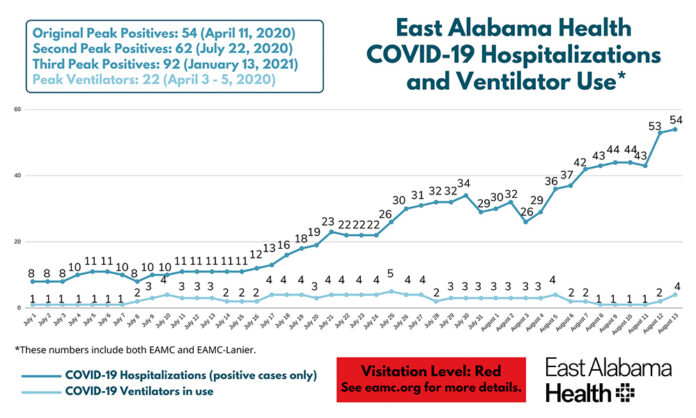 By Hannah Lester
hlester@
opelikaobserver.com
Gov. Kay Ivey announced on Aug. 12 that due to the rising COVID-19 cases in Alabama, the state will once again enter a state of emergency.
"As of August 12, 2021, 95 percent of beds in intensive care units in Alabama hospitals were occupied, resulting in the lowest ICU-bed availability since the beginning of the COVID-19 pandemic," the release from Ivey said.
However, this state of emergency is not accompanied by a mask-mandate, business restrictions or closures.
"This state of emergency is strategically targeted at removing bureaucracy and cutting red tape wherever we can to allow our doctors, nurses and hospital staff to treat patients that come through their doors," Ivey said. "Let me be crystal clear: Alabama remains open for business.
"Alabamians do not need government telling us what to do or how to do it. Unlike last year when we were hoping for a miracle, our greatest weapon against COVID-19 today is the vaccine, so, if you can, roll up your sleeve and get the shot."
This state of emergency will help the government and healthcare providers provide care easier.
For instance, this will allow hospitals to expand capacity, add protections and give frontline workers more authority. Additionally, hospitals will be able to receive necessary supplies easier.
"I am really proud that over the last month, Alabama has seen more than a 100% increase — the highest in the country — in COVID-19 vaccines being administered," Ivey said. "We owe those who have gotten the vaccine a tremendous debt of gratitude. No doubt, this will soon move us in the right direction, but at the current time, we also need to offer our frontline heroes — who are unfortunately treating a new wave of patients in Alabama's hospitals — a helping hand as they put it all on the line to take care of our people."
In Lee County, at East Alabama Medical Center, as of Friday, there were 54 COVID-19 hospitalizations.
Lee County has also seen more than a 2 percent increase in vaccination.
However, EAMC is also asking for help. The EAMC Foundation is asking that if an individual or business would like to provide meals for hospital sand frontline staff, a COVID-19 relief fund has been established here: https://eamcfoundation8686.thankyou4caring.org/covid-19-relief.
Additionally, checks can be mailed to the EAMC Foundation with 'COVID-19 Fund' in the for section.
Checks can be mailed to:
EAMC
Attn: Dennis Thrasher
2000 Pepperell Parkway
Opelika, Alabama, 36801