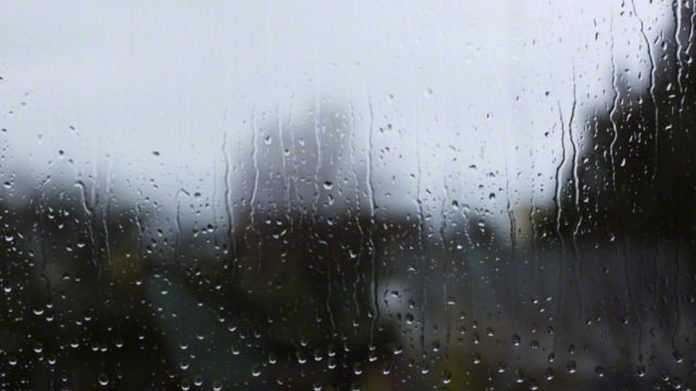 By Sean Dietrich
The bottom has fallen out of the sky. My wife and her mother are standing by the front door, watching cats and dogs fall from heaven.
The Weather Channel is on TV. The map shows radar splotches over South Alabama and the Panhandle.
My wife has a bouquet in one hand, a purse in the other. She's wearing her nice shoes.
My mother-in-law is beside her. She's wearing what any dignified Belleville Avenue woman would, when leaving the house:
Pearls, ruby lipstick, white sling-back heels, Youth Dew, and her hair is fixed in place with Bullseye Shellac.
"Looks like we'll have to wait out this storm," says my wife.
There is disappointment in her voice.
Today is the five-year anniversary of her father's death. She is supposed to be leaving to visit his grave, only the weather isn't playing nice.
She leans against the front door, eyes closed.
I don't know if she remembers, but this front doorstep is exactly where my wife got word of her father's passing.
When she heard the news, she dropped the phone. She fell to her knees and cried with an open mouth without making noise.
I held her. She went limp. She moaned in a pitch low enough to vibrate my spine.
"Please, no!" was all she could say.
Five years.
The day of our wedding her father was in the parking lot, waiting for me. He stood on the curb watching an orange sky.
I wasn't well-represented that day. Inside the chapel, I had three members in attendance. My mother, uncle, and sister. I've never felt so happy and alone at the same time.
He patted my shoulder and he pulled me into himself.
"You're about to be my son," he said. "Let's go make it official."
Then, he slipped a hundred-dollar bill in my hand and winked.
"What's this for?" I asked.
"Just 'cause," he said.
He took me fishing. He was good with inappropriate jokes. Sometimes, he gave me coolers of fresh shrimp, five-gallon buckets of tomatoes, and bags of okra for no reason.
Brother Jim.
Once, on my birthday, after supper, he cornered me in the hallway. He tucked a hundred-dollar bill into my pocket.
"What's that for?" I asked.
"Just 'cause."
His funeral was a big one. I stood with my wife in a receiving line and watched her shake hands.
In my life, I have been party to two funeral receiving lines.
One was for a man who once called me son. The other was for Brother Jim.
He laid in his casket wearing a half-smile. His skin looked chalky—not at all like I remembered. His ratty Alabama cap was beside him.
My wife kissed his face before they shut the lid.
I squeezed her. She gripped my back so hard she left marks.
And right now, she sits on the porch steps, watching a million barrels of rain. There is thunder. Lightning. The sky is black.
"Guess I'm not going anywhere," she says.
I put my arm around her and tuck a few dollar bills into her hand.
"What's this for?" she asked.
Just because, Jamie.
Sean Dietrich is a columnist, and novelist, known for his commentary on life in the American South. His work has appeared in Southern Living, The Tallahassee Democrat, South Magazine, Yellowhammer News, the Bitter Southerner, the Mobile Press-Register and he has authored seven books.