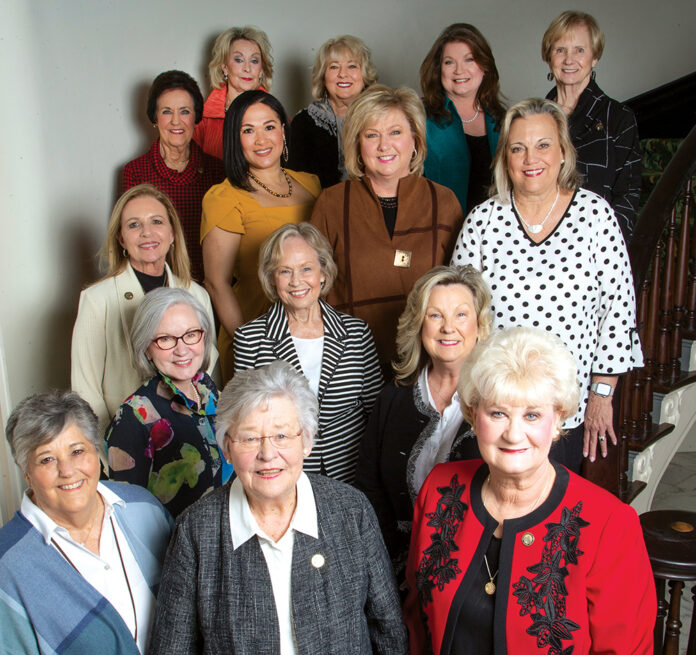 By Ann Cipperly
When Alabama celebrated the 200th anniversary of its statehood in 2019, the Alabama Legislative Club decided to celebrate the birthday by creating its fourth cookbook, "Around the Spiral Staircase" volume two. Mary Pettus is president of the club and chairman of the cookbook, and Oline Price of Opelika is co-chairman.
Along with recipes, the cookbook features history of the state's counties and family stories. A selection of recipes from the first volume is also included.
The first volume of "Around the Spiral Staircase," was printed in 1976 in honor of the nation's bicentennial and included recipes, household hints, home remedies and lore from each Alabama county. Noteworthy recipes were Dr. George Washington Carver's Peanut Bread and Mrs. Steele's turnip greens and corn pone. Pound cakes were popular, with 11 recipes.
President of the club at the time, Mrs. Eddie Hubert Gilmore, stated the idea for the first cookbook began at a meeting under shade trees at Jasmine Hill. The idea was "enthusiastically adopted."
Club members went to work to collect family recipes. Mrs. Gilmore wrote, "It's unlikely that anyone is going to make lye like Linda McCulley's family did or catch and cook an ole possum like Jo Mims instructed, but you might want to give your children the experience of churning. Anna Jean Perry's instruction on how to gather butter would be invaluable. If you are distressed over the high cost of coffee, look in Bullock County for peanut coffee."
The club's second cookbook, "A Capitol Celebration" was printed in 1997 to celebrate the 25th anniversary of the Legislative Club, with proceeds going to purchase a collection of art by Alabama artists to hang in the Alabama State House.
In 2004, the cookbook was reprinted as "Capitol Cooking."
The fourth cookbook, "Around the Spiral Staircase," features new quick and easy recipes along with some of the favorites from the first volume. "We took a few old recipes to mirror the first volume," said Mary Pettus, whose husband, Phillip Pettus, is a legislator for District 1. They live in Greenhill.
The chairman recalls that as they started working on the cookbook that COVID-19 hit, causing the legislative session to end. Afterwards, work on the cookbook was mostly done by email. "It was rough emailing and trying to put things together," she said. "We had to check the proofs, and then rush to get it to the printers before they closed down.
"We think the cookbook turned out great," Pettus added. "We are so proud of this cookbook. It has some really good easy recipes. The cookbook is the size we wanted, and it folds back to be easy to read. It was fun for us to do this cookbook and share our recipes with the public. It has many interesting recipes and old family recipes.
"We couldn't have done this without Jay Lamar. She was an inspiration and helped in process in the cookbook. Jay planned for a big kickoff of the cookbook but that got cancelled." Lamar was the executive director of the Alabama Bicentennial Commission.
Cookbook Co-Chairman Price, wife of legislator Randy Price, also expressed her appreciation for Lamar as she worked with the club to assist in editing and getting it published.
"It was a lot of fun working on the cookbook and working with the other legislative wives," Price said. "It was a cooperative effort of all the wives. It was a good group effort after what we have been through with Covid.
"As the wife of a freshmen legislator" she added, "it has given me a chance to know the other wives, about the areas that their husbands represent and about the state. I appreciate this opportunity, and it has been a real pleasure."
"The cookbook was a wonderful project for the bicentennial," said Lamar. "Our treasured recipes are part of our personal history, and different parts of the state have different favorites. The book is really a snapshot of our regions through great recipes!
"The members of the club had a vision for what they wanted the book to be," Lamar added. "They were incredibly organized and dedicated, and it came together beautifully."
This spring after vaccines, the legislative wives held a picnic and had a chance to purchase the cookbooks. Currently, the Legislative Club members have been selling the cookbooks to their family and friends.
In the cookbook, the club wanted to honor members who have continued to attend meetings after their husbands have retired from the legislature. Along with recipes, their work was acknowledged over the years with photos.
Four women are honored in the cookbook. Marilyn Waggoner, who has been a member of the club since the beginning; Carol Hill and Faye Dial, whose husbands have retired from the legislature but are still active in the club, and Ivey, the 54th Governor of the State of Alabama.
A 1967 graduate of Auburn University, Ivey shared a recipe from her mother. In 2010, when Ivey was elected lieutenant governor, she became the first Republican woman to hold office in the history of Alabama.
Founded in 1971, the Alabama Legislative Club has changed its name three times. At first it was the Alabama Legislative Wives Club, and it was the first of its kind in the country. The name later changed to the Alabama Legislative Wives and Husbands Club. Then, in 1996 it became the Alabama Legislative Club.
When the Legislative Club meets in January, members will vote on a charity to donate the proceeds from cookbook sales.
In both volumes, the cover of the cookbooks features the cantilevered spiral staircases in the Alabama State Capitol, which were designed and built by former slave, Horace King. The famed bridge builder was a partner with his former master, John Godwin, and became one of the most successful engineers and architects in the South.
Freed by an Alabama Legislative emancipation bill in 1846, King was highly regarded in his business and personal life. Although he protested, King was elected to represent Russell County in the State Legislature in 1867. He was reelected without campaigning, serving until 1872.
King introduced several bills in the legislature. One bill provided for the relief of laborers and mechanics. Another required convicts sentenced to hard labor to work on public highways.
Following is a sampling of recipes from both cookbooks. Those in east Alabama who would like a copy of the new cookbook can contact Price at olineprice@gmail.com, and anyone around the state can contact Pettus at mlpettus@aol.com to purchase a cookbook.
Cipperly can be reached at recipes@cipperly.com.
Big Mama's Famous Tomato Sandwiches
Carol Hill
This recipe was created by my mother, Evelyn Hathcock, over 70 years ago.
Volume Two
Several Alabama homegrown tomatoes and onions
Mayonnaise, yellow mustard and salt and pepper
Fresh long, square loaves of white sandwich bread
A small pineapple can that you have saved
Peel and slice your tomatoes. Layer them in a Tupperware container with tots of fresh sliced rings of onions (white or yellow). Close tightly and refrigerate overnight!
A few hours before ready to serve, lay the tomatoes out on paper towels to remove excess water. Discard the onions!
Count your tomato slices and determine how much mayonnaise you need to spread generously on your bread slices for the number of sandwiches you will be making (you can usually get 12 or 13 sandwiches per loaf of bread).
Put a small amount of mustard in your mayonnaise so that it is a pale yellow (probably about 1 tsp. per cup of mayonnaise).
Take your pineapple can and cut each slice of bread in a round. Spread the mayonnaise mixture generously on the bread rounds.
Add a tomato slice and salt and pepper to taste. Top with a second bread round with sauce.
Place finished sandwiches on a big tray or Tupperware container. Cover with a slightly damp paper towel before sealing tightly with plastic wrap.
Refrigerate until ready to serve (best on same day they are made).
Frozen Biscuits
Mrs. Frank Campbell
Volumes One and Two
5 cups unsifted flour
4 tsp. baking powder
1 cup shortening
2 Tbsp. warm water
1/4 cup sugar
2 tsp. salt
1 pkg. yeast
2 cups buttermilk
Sift together dry ingredients, cut in shortening, dissolve yeast in warm water and add to the buttermilk.
Add buttermilk to the dry ingredients and mix well. Turn out on lightly floured board, roll out and cut.
Freeze on baking sheet. Store in freezer bags.
Take out of freezer 30 minutes before baking, dip in melted butter and bake at 400 degrees for 10 to 15 minutes.
Mary's Pasta Salad
Mary Pettus
Volume Two
1 box spiral pasta
1 jar pepperoncini, drained
1 can corn, drained
1 can whole black olives, drained
1 bag (small) frozen English peas, thawed
1 red onion, chopped
1 English cucumber, chopped
1 bag (small) shredded carrots
1 container grape tomatoes
1 pkg. chunked pepper jack cheese
1 pkg. chunked sharp Cheddar cheese
1 jar green olives, drained
1 container feta cheese
1 each green, yellow, red and orange pepper, chopped
Boil pasta till tender, rinse in cold water and place in gallon Ziploc bag in refrigerator.
Mix vegetables and cheeses in extra-large container.
Mix pasta and vegetable mixture together. Add 1 bottle large Italian dressing. Mix well.
Oline's Swiss Steak Supreme
Oline Price
This also works well with cubed venison.
Volume Two
3-5 lbs. round steak, cubed
2 Tbsp. oil
1 cup flour
Salt and pepper
1 onion, sliced
1 green pepper, seeded and chopped
1 large can mushrooms, drained
1 cup boiling water
1 cup tomato juice
Mix flour, salt and pepper.
Rub well into steak and brown on both sides in oil.
Place in Dutch oven and add onion, green peppers, mushrooms, hot water and tomato juice.
Cook in oven at 300 degrees for two hours.
Ma's Famous Butter Roll Dessert with Milk Sauce
Jennifer Whitt
Volume Two
Butter Rolls
2 cups self-rising flour
1 stick butter, softened
1/2 cup shortening
1/2 cup milk
1/4 cup sugar
1 tsp. cinnamon
Shortcut method: use store- bought crescent roll dough instead of making your own.
Milk Sauce
1 tsp. vanilla
2 cups milk
2/3 cups sugar
Preheat oven to 350 degrees.
Cut the shortening into the flour. Stir in milk.
On a floured surface, form dough into a ball, then roll it out into a rectangle. Spread the butter over the dough and then sprinkle cinnamon and 1/4 cup of the sugar over the surface of the dough.
Roll the dough lengthwise and press lightly at the seam. Cut into 1-inch slices.
Place into a lightly greased round pie dish.
Combine the milk sauce ingredients. Heat over medium heat, stirring constantly, until mixture becomes bubbly.
Pour milk sauce over the rolls in the pie pan.
Bake for 30 to 35 minutes until rolls are lightly browned on top.
Plate the rolls then spoon sauce from the pan over the top.
Blackeye Peas
Mrs. Hugh D. Merrill
Volume One
2 strips bacon
1 cup chopped onion
1 cup chopped green peppers
1 cup chopped celery
1 #2 can tomatoes
1 Tbsp. sugar
1 large bay leaf
1/8 tsp. basil
salt and pepper to taste
1 pkg. frozen blackeye peas
Fry bacon until crisp. Remove. Fry onions, green peppers, and celery in bacon fat until tender. Add remaining ingredients, except peas, to onion mixture. Stir well and simmer for 5 minutes. Add peas to mixture without defrosting. Cook slowly about 30 minutes until liquid is cooked away.
Grandma's Fig Cake
Miss Grace Etheredge
Volume One
1 cup buttermilk
3 eggs
2 cups flour
1 tsp. salt
1 tsp. vanilla
1 tsp. cinnamon
1 tsp. allspice
1 cup chopped pecans
1 cup cooking oil
1½ cups sugar
1 tsp. soda
1 cup fig preserves, drained and chopped
Combine liquids, sift dry ingredients together and add to liquids, mix well. Add nuts and figs and stir thoroughly. Pour into greased and floured tube pan and bake at 300 degrees for 1 hour. Let set a few minutes to cool and remove from pan.
Turn top side up after removing, and cover with sauce or English caramel frosting.
Sauce
½ cup buttermilk
1 cup sugar
½ tsp. soda
¼ stick oleo
Cook mixture to soft ball stage. Beat until slightly cool. Pour over cake.
Chess Pie
Mrs. C. C. Torbert, Jr.
Volume One
1¼ cups sugar
6 Tbsp. butter
6 egg yolks
3 Tbsp. cream
1 tsp. vanilla
Cream sugar and butter. Add egg yolks, beaten to a lemon color. Stir in the cream and vanilla. Pour into an unbaked 9-inch pie shell and bake at 350 degrees for 10 minutes, then at 275 degrees for about 45 minutes. Make this pie by hand, not in an electric mixer.
Ham 'N' Egg Pie
Mrs. Joel M. Folmar
Volume One
1 to 2 cups diced cooked ham
6 hard cooked eggs
1 cup ham broth
1 cup milk
2 Tbsp. margarine
2 Tbsp. flour
Remove ham from bone and dice. Set aside. Cook bone in water for about an hour to make broth. Prepare a sauce using 2 tablespoons melted margarine, 2 tablespoons flour and mix until smooth. Add the broth and milk, stir and cook until thick and bubbly. Meanwhile in a baking dish layer the ham and sliced hard cooked eggs. Cover with the sauce.
Top this mixture with a crust made from 2 cups Bisquick and ½ cup cold water or your favorite biscuit recipe. Slit top of pie to allow steam to escape while baking at 350 degrees for about 20 minutes or until golden brown.
Tomatoes Florentine
Mrs. Frank G. Crowe
Volume One
20 to 24 cocktail tomatoes (1½-in. diameter)
5 Tbsp. butter
1 bay leaf
juice of 1 small garlic clove
1 pkg. frozen chopped spinach, cooked & drained
salt
1½ tsp. lemon juice
¼ tsp. nutmeg
2 drops Tabasco sauce
2 Tbsp. grated parmesan cheese
Cut slice off bottoms of tomatoes so they will sit upright. Scoop out pulp and juice. Turn tomatoes upside down and drain. Melt butter in skillet. Add bay leaf and garlic juice, simmer a few minutes. Discard bay leaf.
Stir in spinach, lemon juice, nutmeg, Tabasco sauce, and salt to taste. Place tomatoes in shallow pan, sprinkle cavities lightly with salt. Stuff with spinach mixture. Sprinkle tops with cheese.
Melt remaining butter, spoon over cheese. Bake at 350 degrees for 20 minutes. Yield: 20 to 24 hors d'oeuvre servings.