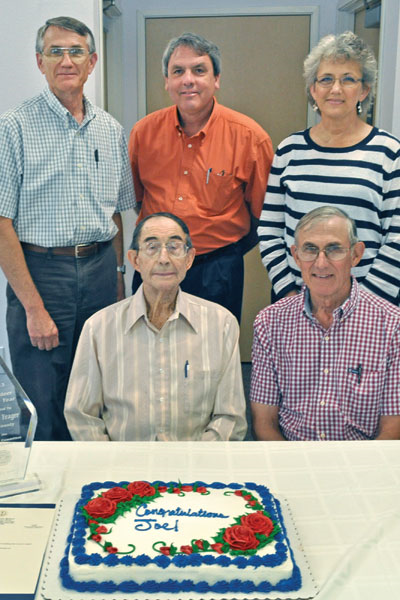 Dr. Joe Yeager has been named as the 2013 Volunteer of the Year by the Farm-City Committee of Alabama. His family joined him at a luncheon Tuesday in Auburn hosted by members of the Lee County Farm-City Committee. From left seated are Joe and his son Jeb Yeager. From left standing are son Tom Yeager, son-in-law Louis Kennedy and daughter Paula Kennedy.
(Photo Special to the Opelika Observer)
By Fred Woods
Editor
Dr. Joseph H. Yeager, retired associate agriculture dean and agricultural economics department head at Auburn University, was recently recognized as Farm-City Volunteer of the Year for the state of Alabama. Surrounded by his three children (Tom and Jeb Yeager and Paula Kennedy), fellow Lee County Farm-City Committee members and other well-wishers, Yeager, age 93, received the award, presented by Paul Pinyan, Executive Director of the Alabama Farmers Federation at a luncheon at Monarch Estates. Yeager was also presented a legislative proclamation recognizing his honor from state Sen. Tom Whatley.
Except for two brief periods, once for Army service in World War II and again for graduate studies at Purdue University, Yeager was associated with Auburn University from the time he came to Auburn as a student in 1939 until he retired in 1991, an amazing 52 years. He has been associated with agriculture all his life, growing up on a small farm in Cullman County and still serving on the Lee County Farm-City Committee today.
When he came to Alabama Polytechnic Institute/Auburn University in 1939, the road from Alexander City to Auburn had not yet been paved and The Bottle had only recently burned. When he began teaching in 1951, the Yeager family lived outside Auburn on rural Highway 29 South – today, the continuous restaurants, hotels, stores and strip malls that are South College Street.
He is also the longest serving member of the Lee County Farm-City Committee, joining in the 1960s, where he is a constant inspiration to the younger (read: all the other) committee members, with his energy and enthusiasm.
Farm-City Week is a national program, with state and county committees, designed to develop a better understanding between farmers and consumers of the importance of agriculture. It is a year-long undertaking culminating in a nation-wide farm-city week each November, the week before Thanksgiving.