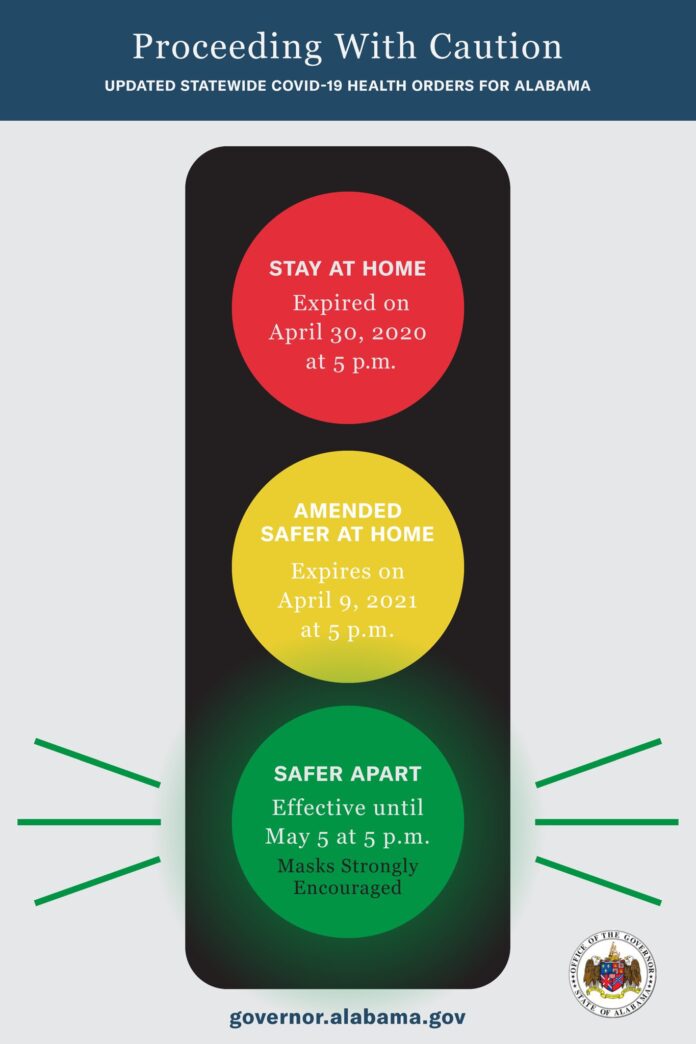 By Hannah Lester
hlester@opelikaobserver.com
Alabama Gov. Kay Ivey held a press conference Wednesday morning and announced that Alabama has entered a 'Safer Apart' state health order.
Ivey previously announced on March 4 that she would not extend the mask mandate when it expires this Friday.
'Safer Apart' is the third stage of health orders, following a 'Stay At Home' and 'Safer At Home,' which will expire on May 5.
Alabama's reported COVID-19 cases was 328 on Monday, which was a 92% drop from the highest numbers, Ivey reported.
"Ya'll this is definitely good news and we are definitely moving in the right direction," she said. "And again I want to thank the people of Alabama for being so supportive and giving tremendous help to help us get where we are."
The restrictions still in place include limits on visitors in nursing homes and hospitals, State Health Officer Scott Harris said.

Ivey encouraged Alabamians to continue wearing masks out of personal responsibility.
"We know that wearing masks has been one of our greatest tools in combating the spread of the virus," she said.
Ivey and Harris also discussed vaccine distribution in the state. As of April 6, eligibility for vaccines opened to include every adult over 16 years of age.
The vaccine is free, Harris said, even if an insurance company is asking for information.
"Even though providers might bill your insurance for an administration fee, they might ask you for insurance information, there are no costs to anyone who receives the shot," he said. "You will not be charged. All shots are provided free of charge, you will not have to pay for them. So, please don't let that be a barrier for you. Please try to get a shot if you are able to do that."