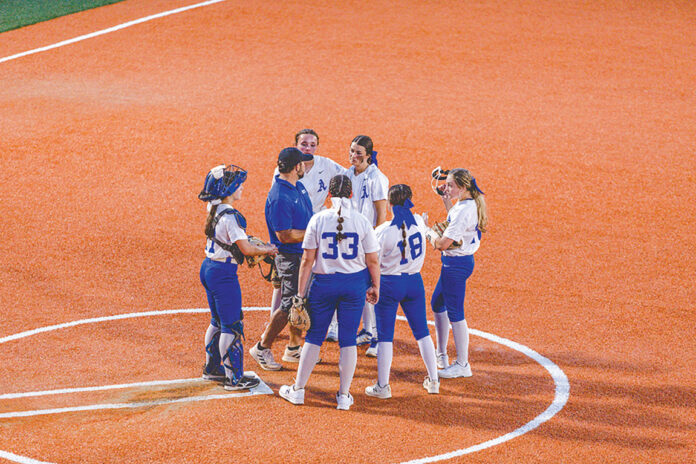 Central Phenix City High School and Auburn High School played in the 7A Area 4 softball playoffs, hosted by Central High School in Phenix City, on May 3, 2022.
BY NOAH GRIFFITH
FOR THE OBSERVER
AUBURN —
Auburn High softball got off to a 6-0-1 start to the season and outscored opponents 60-10 in that stretch.
However, the dominant start came after a "difficult" losing season in 2022. According to head coach Matt Hendricks, there's been no major switch in production or team makeup. With an evenly distributed team consisting of seven seniors, seven juniors and six sophomores, the turnaround has been the result of a change in mentality.
"[Last year], there were disagreements between what we expected as a coaching staff and what some of the players thought should be happening," Hendricks said. "I think we've remedied that at this point; everybody pretty much seems to be on the same page. I learned that, last year, you can't take anything for granted."
Hendricks has a different philosophy from most coaches. He wants to do away with goals, expectations and outside noise.
Instead, the coach wants his team to focus on what's in front of them. The team is going back to the basics and stressing the execution of details to give themselves the upper hand. That is what is in the team's control versus expectations that are not.
"I don't believe in goals, never have," Hendricks said with a chuckle. "Goals, to me, are completely and totally pointless from the standpoint of you can't control them. At the end of the day, they're abstract — they're not true fact. What you're doing in a certain situation does matter: How much effort did you put into the play? How mentally focused were you? How intentional are you? When you control those things, you typically achieve what you want to achieve.
"How you did it is more important than what you actually did. The outcome can change, but the intent and effort has to stay the same. So, we focus a lot more on those things."
With that attitude, becoming detail-oriented has begun to transform a losing program to one that gives its best each time out.
With senior Allie Roberts and sophomore Abigail Helms leading the way on the mound, the Tigers are focusing on bunting, situational hitting and working ahead in counts to propel them to wins — things that might not be prevalent on the stat sheet that lead to better results.
So far, it is working to perfection. Through seven games, Auburn earned 30 walks as opposed to 26 strikeouts. Hendricks' goal is for the walk-to-strikeout ratio to be one-to-one — or better.
"That's something I've never had a team accomplish as a coach but something I've really wanted to be able to do," Hendricks said. "It makes teams have to get you out versus you chasing a bad pitch or creating an easy out. We try to avoid hitting popups — we want everything on the ground. This group has really embraced it."
Looking ahead to its first area game with Smiths Station on March 22, Hendricks acknowledged Auburn is playing in a tough region that consists of Opelika, Smiths Station and reigning state champion Central. But Hendricks isn't a fan of expectations, and he won't worry about how those teams stack up until he sees them on the field.
With that being said, he said he likes what he sees in his team's hot start.
"I feel like the floor on this team is really high," Hendricks said. "The ceiling … it's not something we worry about."