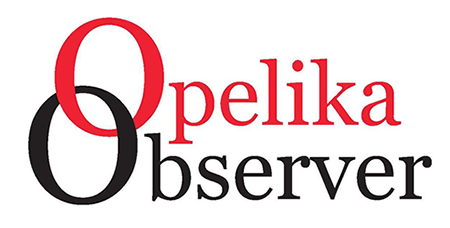 By Hannah Lester
hlester@opelikaobserver.com
District 2 Commissioner Sarah Brown proposed a new litter campaign during the county commission meeting Monday night.
The campaign follows outreach that was spearheaded by District 5 Commissioner Richard LaGrand in Loachapoka to restrict littering.
Brown had no official paperwork but wanted to get the ball rolling with other commissioners for a county-wide litter campaign.
"I really wanted to open the conversation up to the commission and possibly get your blessing on moving forward with some different options," Brown said.
She said that after discussing ideas with County Engineer Justin Hardee, she thinks the commission should consider promoting the Adopt-a-Mile program.
"Encouraging businesses and persons to actually adopt miles," Brown said. "I was even thinking we, as a commission, could adopt miles personally."
District 4 Commissioner Robert Ham said that he would be more than willing to adopt a mile.
"Thank you for bringing this to our attention again," he said. "When I first got elected 10 years ago, one of the things people kept telling us was, 'What are you going to do about the trash?'"
Walker County uses cameras to monitor littering, Ham said, and he suggested the county look into options like that.
"I'll be glad to take a mile too," said District 1 Commissioner Doug Cannon. "… We're elected, so people are going to look up to us and what we do."
COVID-19 Funding:
Lee County received over $4.3 million in CARES ACT funding that it uses to reimburse organizations within the county.
Auburn City Schools, Opelika City Schools and the County system all had requests during Monday night's meeting.
The Lee County School system requested $47,332 from the county to pay for online data storage and devices.
The school system currently only has 21% of students learning remotely.
"Though current funding mechanisms are adequately addressing device and connectivity needs, there is an emerging need to increase capacity for data management and storage," read a letter from Lee County Superintendent James McCoy to County Administrator Roger Rendleman.
Opelika City Schools requested almost $184,000 for virtualized servers, which would provide memory/CPU/Network connectivity, read a letter from Superintendent Mark Neighbors to Rendleman.
"[The servers] increase the throughput and ability to respond to increased demands from external learners and for office workers that must access the network remotely," Neighbors said. "There are also increased demands for additional storage of data being gathered and stored from remote locations."
Auburn City Schools requested the largest amount, $524,590, which is to help cover the costs of providing blended and online learning through a vendor partnership for high school students.
The amount ACS requested is only about half of what it needed, but the other half is provided to the school system by the Governor's Emergency Education Relief Fund.
Currently, 27% of ACS students are learning remotely, 2% are participating in a blended program and 71% are in-person.
"Although we have and will continue to request reimburse for response expenditures, we will not spend the total amount designated and recommend partnering with the schools systems in their requests," read a memorandum from Rendleman to the commission.
The school systems must agree to pay the county back should the requests be denied for CARES ACT funding, the memorandum read.
Other Business:
The commission voted to supply chainsaws to volunteer fire departments.
The commission voted to approve a voter file maintenance program mailing, which will be paid for by the secretary of state's office.
The Highway Department requested, and received, the authority to apply for funding from the Rebuild Alabama Act to resurface part of Lee Road 380.
The commission voted to reduce the speed limit on Lee Road 253 from 35 mph to 25 mph.
The commission voted to approve the Highway Department to perform digging for a potential site for a recreation park in Loachapoka.
The commission approved a retail beer and retail table wine application for Salem Get N Go.
The commission approved a retail liquor license application for Moody's.
The commission voted to approve a hazard mitigation plan resolution for Lee County EMA.