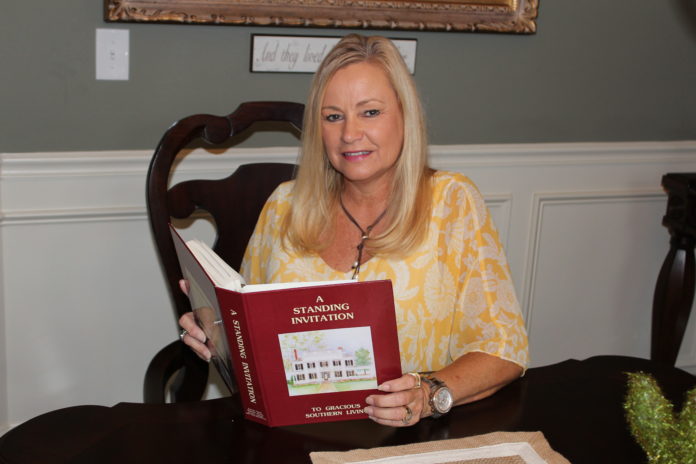 By Ann Cipperly
After Ginger Perkins and her husband, Jerry, moved to Opelika in 2012, she has become involved in local organizations and is the incoming president for the Twentieth Century Study Club and United Methodist Women at First United Methodist Church in Opelika. With her busy schedule, she enjoys preparing meals using recipes from her mother, family members and friends printed in her former church's cookbook, "A Standing Invitation to Gracious Southern Living."
Ginger and Jerry both grew up in Dawson, Ga., and attended the same school. They met when she was in the 8th grade, and he was in the 11th. Ginger is one of six children with five brothers.
They also grew up in the same church, Dawson First United Methodist, where they were married, and recently celebrated their 35th wedding anniversary.
Her mother and grandmother both cooked, as well as her father. Ginger grew up on a dairy farm where her father also had a vegetable garden. Her grandparents in Americus had a larger garden with abundant fresh vegetables.
The first thing Ginger remembers cooking was eggs that her father helped her prepare. She later enjoyed baking desserts. Her mother would help her experiment with desserts using dairy products for contests the 4-H Club held.
Life was busy at the dairy farm. She helped feed the cows twice a day. Since the farm was on both sides of the road, her father needed her to assist in gathering the cows at dusk.
After high school, Jerry graduated from Georgia Southwestern State University in Americus. He taught in high school and coached sports in Americus. After nine years, he began selling insurance like his father. He now works in insurance investments with J Perkins Insurance.
Ginger studied computer programming. She went to work at the Americus Times Recorder newspaper when they installed a new computer system and then became the advertising manager. She left the paper to assist Jerry with his business.
The Perkins have one daughter, Lindy. After graduating from the University of Georgia, Lindy worked with a magazine in Kansas and then moved back home. In 2008, she went to work at Gold's Gym in Auburn where she met her husband, Anthony White, who graduated from Auburn on a wrestling scholarship.
Lindy and Anthony also live in Opelika and have two sons, Cale, 4; and Cooper, 3. Once Lindy was expecting their first child, Ginger and Jerry decided to move to Opelika.
Lindy is the office manager for Auburn Dental Spa, while Anthony is employed with a home building company. Lindy also has her own business, Tanology of Auburn.
Since moving to Opelika Ginger has become active in her study club as well as being involved at the First United Methodist Church.
The Perkins both participate in an after school program in the children's ministry at church. On Wednesdays, they pick up four children from school to tutor and help with homework. Then they have supper together at church. After the children attend a program and choir, Ginger and Jerry take them home.
Ginger's mother has been involved in the Methodist Church in Dawson, and her mother helped assemble their cookbook, "A Standing Invitation To Gracious Southern Living." The cookbook has recipes from Ginger's mother, other family members and friends.
While Ginger enjoys cookbooks, this one is her go-to for recipes. Miss Merl's Vegetable Soup is one of her mother's recipes she made when Ginger was growing up. It goes together quickly and makes a big pot with ground chuck, potatoes, tomatoes, carrots, okra and corn. During the summer months, her mother would use fresh vegetables from the garden.
She is sharing several recipes with ground beef. Since Jerry hunts, she will sometimes prepare the dishes with venison instead.
Ground beef or venison can be used in the Easy Lasagna, which has to be prepared ahead since it bakes with uncooked noodles. Ginger uses regular noodles that absorb the liquid overnight. After baking, it comes out perfect.
The Chicken Tetrazzini is her favorite dish to prepare to take to friends when sick or a neighbor has a new baby. You can use a boiled chicken or a roasted chicken from the grocery store.
Millie's Oriental Chicken is Jerry's mother's recipe. It is one of his favorites that he prepares.
Ginger uses fresh vegetables from Jerry's small garden for some of the recipes, including the Eggplant Casserole and Stuffed Peppers. She uses cucumbers from the garden for making dill pickles.
The Perkins are enjoying living in Opelika and having their daughter and grandchildren close by. "We love it here," says Ginger. "We were so impressed when we visited Opelika after Lindy moved here. I love what they have done downtown. We love the people and our church."
Ann Cipperly can be contacted at recipes@cipperly.com.
Recipes:
Miss Merl's Vegetable Soup
Ginger's Mother, Mrs. Jule Brown (Mervin)
1 1/2 lb. ground chuck.
1 large onion, peeled and chopped
4 medium potatoes, peeled and diced
2 (15 oz.) cans tomato sauce
2 (15 oz. cans okra, tomatoes and corn mixture
2 carrots, scraped and sliced
4 cups water
Salt and pepper to taste
Brown ground chuck in a 1aige Dutch oven or stockpot. Add all other ingredients and simmer 1 hour or more.
This makes a thick stew-like soup. More water or tomato juice may be added for a thinner soup. Good to serve with corn sticks. Serves 10-12.
Can prepare ahead. Freezes well.
Chicken Tetrazzini
Mrs. Andy Miller (Selena)
This is a great dish to prepare ahead for guests.
1 small whole chicken, boiled
1/2 stick butter
1/4 cup flour
1 cup chicken broth
1/2 pint whipping cream
1 cup grated cheese
1 cup mushrooms, sliced
4 to 5 oz. spaghetti (1/2 of 8 oz. pkg.)
Parmesan cheese
Boil chicken until done, and cut into bite size pieces. Melt butter; add flour and chicken broth, stirring constantly, to make a sauce. Add cream, cheese, mushrooms and chicken to sauce and simmer.
Cook and drain spaghetti. Place in a large, buttered baking dish. Spread sauce mixture on top of spaghetti. Top with Parmesan cheese. Bake at 350 for 30 minutes. Can prepare ahead and freezes well.
Millie's Oriental Chicken
Jerry's Mother, Mrs. Luther Perkins (Bernice)
2 1/2 lb. chicken, cooked, deboned and cut in pieces
2 Tbsp. liquid garlic
1/2 cup soy sauce
1 (13 3/4 oz.) can beef bouillon
1 (16 oz.) package frozen Oriental vegetables
1 (4.5 oz. can sliced mushrooms (use juice)
Hot cooked rice
Using a non-stick frying pan, brown chicken on all sides with garlic juice for about 10 minutes. Add soy sauce and bouillon. Cook covered for about 35 minutes. Add vegetables and mushrooms and cook 5-7 minutes more. Serve over rice.
Serves 4. Can be prepared ahead and freezes well.
Mexican Casserole
Mrs. Bill Morris (Margie)
2 lb. ground beef
1 large onion, chopped
1 (15 oz.) can enchilada sauce
2 (4 oz.) cans green chilies
2 (10 3/4 oz.) cans cream of mushroom soup
1/2 soup can water
10 flour tortillas, quartered
1 (12 oz.) pkg. grated Cheddar cheese
Brown meat and onions. Add enchilada sauce and simmer 20 minutes. In a separate pan, heat peppers and soups.
Grease baking dish and line with tortillas (quartered). Add in layers: meat, soup and water mixed and cheese; start over with tortillas and end with cheese. Cover and allow to set 30 minutes.
Bake uncovered 45 minutes at 350. Can top with sour cream. Makes 10 to 12 servings. Freezes well.
Easy Lasagna
Ms. Mavis Lark
MUST be made the night before. DO NOT COOK NOODLES.
1 1/2 lb. ground chuck
1 pkg. spaghetti sauce dry seasoning
1 (6 oz.) can tomato paste
1 (28 oz.) can tomato sauce
1 pkg. lasagna noodles, uncooked
1 lb. ricotta cheese or small curd cottage cheese
1 lb. mozzarella cheese, grated
1 cup Parmesan cheese
Brown meat; add dry seasoning, tomato paste and tomato sauce. Heat until bubbly. A little water may need to be added if sauce is too thick.
Layer in a 9 x 13-inch pan: sauce, uncooked noodles, ricotta cheese and grated mozzarella. Repeat layers. Top layer should be sauce. Top with Parmesan cheese. Cover and refrigerate overnight. Bake at 350° for 30 minutes.
Note: The noodles absorb the liquid overnight. They come out perfect and the lasagna cuts perfectly.
Stuffed Peppers
Mrs. Luther Durr (Jewell)
4 green or other color bell peppers
1/2 cup tomato sauce or catsup
2 Tbsp. Worcestershire
1/2 tsp. salt
¼ tsp. pepper
2 Tbsp. sugar
1 1/2 lb. ground beef
1 egg
2/3 cup bread or cracker crumbs
1 tsp. seasoned salt
1 tsp. dried parsley flakes
1 medium onion, finely chopped
Cut out the tops from peppers and remove seeds. Boil until barely limp and set aside.
Mix tomato sauce, Worcestershire, salt, pepper and sugar. Set aside. Combine ground beef, egg, breadcrumbs, seasoned salt, parsley flakes, onion and 1/3 of the sauce mix.
Stuff peppers with hamburger mix. Place in a baking dish and bake, covered, at 350 for 45 minutes. Pour the remaining sauce over the peppers and bake uncovered for 15 minutes more. Ladle sauce over peppers before serving. Can prepare ahead. Serves 4.
Eggplant Casserole
Mrs. Cranford Turner (Frances)
1 medium size eggplant
1 small onion, chopped
3 Tbsp. butter
1 tsp. sugar
1 (13/4 oz.) can cream of mushroom soup
Salt to taste
1 egg, slightly beaten
1 cup grated sharp cheese (divided)
1/4 cup pimiento
1 cup slivered almonds
1/3 cup cracker crumbs
Peel and slice eggplant. Cook until tender in boiling water. Drain and mash. Sauté onion in butter until tender. Combine eggplant, onion, sugar, mushroom soup, salt and egg. Add 1/2 of the grated cheese.
Place in a well greased 2-quart casserole and top with pimiento, slivered almonds, remaining cheese and cracker crumbs.
Bake at 350 for 30 minutes or until cheese is golden and bubbly. Makes 6-8 servings. Can prepare ahead.
Ground Beef Casserole
Mrs. Harold Jackson (Louise)
2 cups uncooked macaroni (spiral)
1 1/2 lb. ground beef (extra lean)
3/4 cup chopped onion
3/4 cup chopped green pepper
3/4 tsp. seasoned salt (or salt and pepper)
1 (10 3/4 oz.) can creamy onion or mushroom soup
1 (20 oz.) can tomatoes
3/4 cup grated cheese
Cook macaroni according to package directions and drain. Brown meat, onion and pepper together. Combine all ingredients. Bake 30 minutes at 350, covered. Remove cover and bake 5 minutes more.
If desired, can put French fried onion rings on top the last 5 minutes of baking. Makes 8 servings. Can prepare ahead.
Hash Brown Potato Casserole
Mrs. Harold McLendon (Vivian)
1 (32 oz.) pkg. hash brown potatoes, frozen
1/2 cup margarine, melted
1 (10 3/4 oz. can cream of mushroom soup, diluted with can of water
12 oz. American cheese, grated
1 (8 oz.) carton sour cream
1 tsp. salt
1/2 small onion, chopped
Topping:
2 cups crushed Ritz crackers
1/2 cup melted margarine
Thaw potatoes and place in a buttered 9×13-inch baking dish. Mix next 6 ingredients and pour over potatoes. After baking 35 minutes at 350, top with cracker crumbs and drizzle melted margarine over all. Bake 10 more minutes. Serves 10-12. Can prepare ahead.
Squash Casserole
Mrs. Rhames Thomas (Sara)
2 lb. squash, sliced
2 medium onions, chopped
Salt and pepper to taste
1 (10 3/4 oz.) can cream of chicken soup
1 (8 oz.) carton sour cream
1 (8 oz.) can water chestnuts, sliced, optional
1 (8 oz.) pkg. herb dressing mix
1 stick butter
1 (2 oz.) jar pimiento or grated carrot, optional
Cook squash and onions together until done. Add salt and pepper to taste. Drain and let cool.
Mix chicken soup, sour cream and water chestnuts, pimiento or carrots, if desired. Melt stick of butter with herb dressing. Layer squash, soup mixture and herb mix in a casserole. Bake 30 to 40 minutes at 350. You can omit herb mixture and use 1 roll of crushed Ritz crackers as topping. Serves 12. Can be prepared ahead.
Sweet Potato Soufflé
Mrs. Bobby Locke (Barbara)
3-4 medium sweet potatoes
2 Tbsp. lemon juice
1/2-3/4 cup sugar
3 Tbsp. butter
3 eggs
Dash cinnamon and nutmeg
1/2 cup raisins
Marshmallows
Boil potatoes until tender. Peel and mash. Place in bowl and beat in lemon juice, sugar, butter, eggs, cinnamon and nutmeg. Stir in raisins. Bake 15 minutes at 350. Place marshmallows on top and brown slightly. Serves 6 to 8. Can be prepared ahead.
Pineapple Au Gratin
Mrs. Cecil Boyd (Evelyn)
Good served with baked ham.
2/3 cup sugar
3 Tbsp. flour
1 (20 oz.) can crushed pineapple or tidbits, drained (save 2 Tbsp. juice)
1 cup grated mild cheddar cheese
Crushed Ritz crackers
1/4 cup butter
2 Tbsp. pineapple juice
Combine sugar and flour. Add drained crushed pineapple and cheddar cheese.
Top with crushed Ritz crackers. Melt butter and drizzle over casserole. Drizzle 2 tablespoons pineapple juice over casserole. Bake at 350 for 30 minutes. Serves 4. Can be prepared ahead.
Corn Casserole
Mrs. E. B. Miller (Peggy)
1 (15 ounce) can cream style corn
1 stick (8 tablespoons) butter, melted
3 eggs, slightly beaten
1 cup cooked rice
3 tablespoons chopped onion
3 tablespoons chopped green bell pepper
1 cup shredded sharp Cheddar cheese
Salt and pepper to taste
Grease a 1 1/2 quart casserole with butter. Mix all ingredients together and place in casserole. Bake 350 for about 40 minutes.
Note: Excellent made with fresh corn.
Broccoli Casserole II
Mrs. Hubert Moseley, Jr. (Ann)
3 (10 oz.) pkg. frozen broccoli (spears only), cooked as directed
1 (10 3/4 oz.) can cream of chicken soup
1 cup sour cream
Dash salt
Dash lemon juice
Butter
Parmesan cheese
Arrange broccoli in buttered casserole dish and cool. Mix soup, sour cream, salt and lemon juice. Pour mixture over broccoli. Dot with butter. Sprinkle with Parmesan cheese and bake 30-35 minutes or until bubbly. Serves 6 to 8. Can be prepared ahead.
Brown Rice Casserole
Mrs. Richard Barry (Elaine)
1 stick margarine, melted
1 small onion, diced
1 cup raw rice
1 (10 3/4 oz.) can beef consommé
1 soup can water
1 (2 1/2 oz.) can sliced mushrooms
1/2 (8 oz.) can sliced water chestnuts
Melt 1 stick margarine. Cut up 1 small onion in margarine; do not cook. Mix margarine, onion, rice, beef consommé, water, mushrooms and water chestnuts. Pour in casserole dish. Bake covered for 1 hour at 350 or until liquid is absorbed. Serves 6 to 8. Can prepare ahead.
Note: Can use French onion soup and omit the can of water and onions, or chicken broth for a different taste.