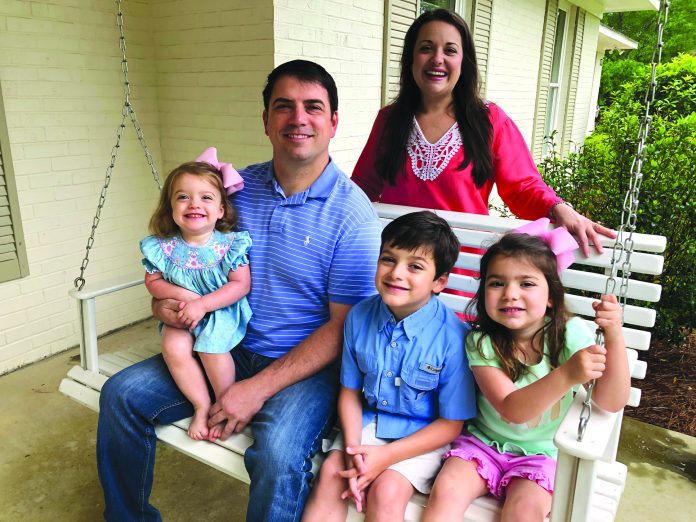 By Ann Cipperly
When Aaron Warren was in high school, he thought about one day having a family, but he never pictured it as being as wonderful as it is with his wife Natalie and their three children, Judson (6), Ann Bradley (4) and Caroline (2). "God has provided in ways that I couldn't imagine," Aaron said. "We have been blessed to have these children, and we don't take that for granted." The Warrens trusted God when one of their children became seriously ill.
Aaron's father, the late David Warren, was a United Methodist minister, and the family moved every three to five years. Aaron was born in Montgomery and lived in north Alabama before moving to Pensacola, where he attended elementary school.
The family moved back to Montgomery and then to Chipley, Florida, where he attended most of his high school years. He graduated high school in Jackson, a small town above Mobile.
Aaron attended Alabama Southern before coming to Auburn University to receive a bachelor's degree and master's degree in civil engineering. He joined the National Guard and served for nearly 10 years.
Aaron was working for Southern Company in Statesboro, Georgia, making electricity with nuclear power when his parents moved to Opelika for his father to become the senior pastor at Trinity United Church. Natalie was working with the youth at the church. 
One weekend when Aaron was coming to visit his parents in Opelika, his mother, Dian Warren, told her son she wanted him to meet Natalie who attended the church. "I was not excited about that," he remembered.
His mother's instincts were good. Aaron and Natalie began dating and became engaged three months later.
After they were married, Natalie joined Aaron in Statesboro, Georgia, where they lived for about six months and then transferred to Dothan for two years before moving back to Opelika.
"I was a happy engineer until Dad passed away," Aaron said. "He made decisions with his life insurance to take care of my mom. I thought about the impact those decisions make on a family. I resigned from Southern Company to help people with the decisions that I didn't realize were important until we lived through them. I went to work with State Farm in Columbus, Georgia."
While he works in Columbus, they live in Opelika just a couple of houses down from Natalie's parents, Debra and Mike Bennett.
Aaron and Natalie have been married for almost eight years. "Every day we are so thankful the Lord opened up that door for us to meet and have these children," Aaron said.
"I was fortunate enough to grow up in a strong family, and they gave me a good example. From a young age, I wanted to be a father. I thought about things I would do with my children when I became a dad.
"Even at a young age, I thought if I wanted to do those things, then I needed to provide for them a certain way. When I was in school studying, I thought if I made good grades then maybe that would allow me to have a good job, so I can do things for them. I did little things along the way to prepare for when I was married and had children," Aaron added.
Aaron's father became a pastor at age 18 and served in the United Methodist Church for more than 40 years. His grandfather and his father's three brothers were also United Methodist ministers.
"One of the most valuable lessons my father taught me was the value of time and spending time with people," Aaron said. "I learned from my father that the time you spend investing in relationships is something that means a lot to people. He would drop what he was doing or in the middle of night drive four or five hours to spend a few minutes with someone in a hospital."
Aaron was not called to be a minister but felt he could serve God in other ways. He relies on God to give him strength to be a good husband and father.
When Judson was five years old, he became seriously ill. He was at EAMC when his doctor, along with the doctors at Children's Hospital, arranged an ambulance to transport Judson and Natalie to Birmingham. Aaron went home to gather clothing and items they would need and then drove to Birmingham.
"As I was driving, God reminded me of the story of Abraham and Isaac," Aaron recalled. "I wondered how Abraham was willing to give God his son. I wasn't taking Judson to the top of the mountain, but I knew I had to trust just like Abraham and prepare myself to potentially come home without him.
"After I thought about it, God gave me peace that no matter what, it was going to be alright. I didn't know the outcome, but God provided an unexplainable peace. In hindsight, I know God used that ride to prepare me to lead Natalie over the next several weeks and support her during this trial."
After Judson arrived at Children's Hospital, his lab work continued to point to hemolytic uremic syndrome (HUS), a syndrome caused by E. coli.
HUS causes damage to blood vessels. Judson's body was in acute kidney failure. He was sedated, put on a ventilator and started on continuous dialysis. They hoped he would be on life support for no more than 24 to 36 hours. The next night, Judson's body went into shock. He was getting worse. He was developing Acute Respiratory Distress Syndrome as well.
After many procedures, tests, waiting and praying, God performed a miracle in Judson. His vessels stopped being damaged and began healing, and his organs regained function. Judson slowly but surely regained his strength.
Through this trial Christ strengthened Natalie and Aaron's faith. "God is our good Father, and when we go through these trials He is with us," Aaron said. "We trusted God and He allowed us to bring Judson home.
"God gives us what we need every day," he added. "Even today with all
the uncertainty, whether it is a pandemic or civil unrest, you can have peace in God's strength.
"I don't know what is going to happen tomorrow, but I know who holds the future. I can rest in that. As the leader of our household that is the one thing that gets me by day to day and moment by moment."
Aaron's advice to young fathers is that no matter what you are going through today, pray that God will give you what you need that one day. "I feel like whatever life throws at us, you can rest in His strength and can be a good leader of your family, be the man, the father, your family needs."
Natalie, who enjoys being an at-home mother, said she enjoys watching Aaron as a father when he spends time with their children doing a project with them or taking them to be part of his hobby.
"He is so intentional about teaching them. If they have a question, he stops and takes the time to tell them why we are going do something a certain way. He has been known to drive to all the way to north Alabama to pick up a puppy for one of our children's birthdays," Natalie said.
"Aaron saved treasures from his childhood and gave them to Judson. He spends time with the kids fishing and takes Judson for breakfast and to the barber shop. He also takes me on date nights and plans get away trips for just the two of us."
On Saturday mornings, Aaron cooks French toast for the kids. Natalie is sharing the French toast recipe along with several recipes that are Aaron's favorite dishes. "He is easy to please," she said. "He makes cooking a pleasure."
"Whether it is Natalie or our children," Aaron said, "I have been happier putting them first than searching for anything that I selfishly want for myself. I told Natalie it doesn't matter if we are dipping our toes in the kids' baby pool or traveling the world, it doesn't matter what we are doing, as long as we are together."
Ann Cipperly can be reached at recipes@cipperly.com 
RECIPES:
Aaron's French Toast
The Warren kids love to eat "Daddy's French Toast" on Saturday mornings with bacon and fresh fruit.
3to 4 eggs, beaten with a fork until light yellow and fluffy
5 to 6 pieces of white bread
2 Tbsp. butter
Ground cinnamon
Heat butter in large skillet on low heat. Dip slices of bread into egg until both sides are coated well. Place bread in skillet and sprinkle with cinnamon before flipping. Cook until French toast is golden brown on each side.
Serve with maple syrup or sprinkled with powdered sugar.
Chicken Pesto Roll Ups 
When served with roasted new potatoes and roasted asparagus, this chicken dish makes a fancy but simple dinner that Aaron always enjoys!
4 chicken breasts
1 tsp. garlic salt
1/4 tsp. black pepper
1/2 cup pesto (from a jar or homemade)
8 oz. mozzarella cheese, shredded (reserve 2 oz. for topping)
2 medium tomatoes, thinly sliced
1 cup cherry tomatoes, optional
1 Tbsp. olive oil
1 Tbsp. salted butter
Preheat oven to 425 degrees. Cut chicken breast in half lengthwise so you have 8 thin chicken cutlets. Pound each cutlet in a quart sized Ziploc bag or between 2 sheets of plastic wrap into 1/8 inch thick cutlets. Season both sides of chicken with garlic salt and black pepper.
Spoon and spread 1 Tbsp. pesto in the center of each cutlet, top with 2 thin tomato slices and sprinkle  2 to 3 Tbsp. mozzarella cheese on top.  Roll the chicken up tightly and seal ends with a toothpick.
Preheat large oven-safe skillet over medium/high heat with 1 Tbsp. oil and 1 Tbsp. butter. Add chicken roll-ups and sear on both sides until golden (4 minutes per side or 8 minutes total on the stove).
Sprinkle remaining cheese on top and 1 cup cherry tomatoes.
Place skillet on center rack in oven and bake at 425 degrees for 13 to 15 minutes. 
To serve, remove toothpicks then plate chicken pesto roll-ups, spooning pan juices and roasted tomatoes over the top.
Garlicky Baked Shrimp
Aaron often requests this shrimp dish served with couscous and roasted asparagus topped with Parmesan cheese.
1 ½ lbs. raw shrimp, peeled and de-veined
6 cloves garlic, peeled and minced
3 Tbsp. white wine
Kosher salt and freshly-ground black pepper
¼ cup (4 Tbsp.) melted butter
½ cup panko breadcrumbs
Preheat oven to 425 degrees.
In a medium mixing bowl, add shrimp, garlic and white wine and toss to combine. Transfer the shrimp mixture to a 9 x 13-inch baking dish and spread shrimp out in an even layer. Season with salt and pepper.
Rinse out the mixing bowl, then add melted butter and panko, breadcrumbs, and use a fork to stir everything together until it is evenly combined. With your fingers, sprinkle mixture evenly in the baking dish over the shrimp.
Transfer dish to oven and bake for about 7 minutes, or until shrimp are just turning pink.  Switch the oven over to  "high" broiler setting. Then broil the shrimp for 2 to 3 more minutes or until they are totally pink and cooked through, and the panko starts to toast and turn slightly golden. Watch closely, the panko can burn quickly when broiled. 
Hot and Sweet Meatballs
We like these meatballs served over rice with steamed broccoli for a quick and easy weekday meal.
32 oz. pre-cooked, frozen Italian meatballs
1 ½ cups barbecue sauce
3/4 cup hot and sweet mustard
3/4 cup chicken broth
Place all ingredients in crockpot and cook on high for 4 hours or low for 6 to 8 hours.
Oven roasted Asparagus
This easy asparagus dish goes well with just about any meal and is one of our well-loved sides.
2 lbs. fresh asparagus
Olive oil or avocado oil
Kosher salt
Ground black pepper
Parmesan cheese, shredded (optional)
Preheat oven to 400 degrees.
Break off the tough ends of the asparagus. Place asparagus on a parchment paper lined baking sheet, drizzle with oil, then toss to coat asparagus completely.
Spread asparagus in a single layer and sprinkle liberally with salt and pepper. Roast asparagus for 25 minutes, until tender but still crisp. Top with shredded Parmesan cheese  for extra flavor 2 to 3 minutes before removing from oven.  
Creamed Spinach
This recipe reminds Aaron of a favorite side dish we enjoy at Loves Seafood in Savannah, Georgia, alongside their delicious "all you can eat" fried shrimp.
1 Tbsp. olive oil
4 Tbsp. unsalted butter
1 onion, minced
3 cloves garlic, minced
2 tsp. Kosher salt
1 tsp. freshly ground black pepper
1/2 tsp. freshly grated nutmeg
1/4 cup all-purpose flour
3 1/2 cups half-and-half
2 1/4 lbs. fresh leaf spinach
1 cup mozzarella cheese, shredded
4 oz. cream cheese
1/2 cup grated Parmesan cheese
Add the spinach to skillet with 1 Tbsp. olive oil and cook just until wilted, about 1 minute.
Chop the spinach bundles into a 3/4 inch width and set aside.
In the skillet, melt butter with garlic and onions.
Cook on medium low heat for 8 to 10 minutes or until onions are translucent.
Add in kosher salt, black pepper and nutmeg.
Add flour and mix with a wooden spoon over low heat and cook for 2 to 3 minutes.
Add half and half and cook until boiling.
Add in the mozzarella cheese and cream cheese.
Cook for 6-8 minutes or until the mixture has thickened.
Add in the spinach and the Parmesan cheese and stir to combine.
Oreo Balls
These rich and delicious treats are one of Aaron's favorite desserts!
8 oz. cream cheese, softened
1 pkg. Oreo cookies
2 (10 oz.) pkgs. Ghirardelli white chocolate melting wafers
Combine cream cheese and Oreo cookies in a food processor and blend until cookies are crushed and blended with cream cheese. Scoop out small round balls of cookie mixture into a parchment paper lined cookie sheet. Freeze for 10-15 minutes.
Melt chocolate according to directions on bag.
Pull Oreo balls out of freezer in batches. Leaving remaining in the freeze to stay cold. Dip Oreo balls, one at a time, in melted chocolate with a fork and let excess chocolate drip off before placing on the parchment paper to harden. Store Oreo balls in refrigerator until ready to serve.
Strawberry Pretzel Salad
This side dish or dessert is perfect for a backyard barbecue, and it is frequently requested when Aaron helps to make the menu.
1st Layer:
1 2/3 cup broken pretzels
¾ cup butter, softened
3 Tbsp. sugar
Mix these three ingredients with mixer. Pat into the bottom of a 9 X 13 pan and bake 10 minutes in a 400 degree oven. Let cool completely!
2nd Layer:
8 oz. cream cheese, softened
1 cup sugar
9 oz. Cool Whip, thawed
In a mixer cream together cream cheese and sugar until well blended and no clumps are left. Then fold in the cool whip. Spread white fluffy mixture over the cooked, cooled pretzels. Make sure to spread the mixture evenly and out the sides of the casserole dish to prevent the third layer from leaking down to the pretzels and making them soggy.
3rd Layer:
1 large pkg. strawberry Jell-O mix
2 cups boiling water
1 pint frozen sliced strawberries
Mix Jell-O and water until Jell-O dissolves; add strawberries and chill for a few minutes. Before Jell-O sets, pour this mixture over the cream cheese/Cool Whip mixture. Then refrigerate until the Jell-O is firm or you are ready to serve.
Peach Dump Cobbler
Aaron often asks for this cobbler for celebrating his birthday in lieu of a traditional birthday cake.
2 (16 oz.) cans peaches in heavy syrup
1 (18.25 oz.) pkg. yellow cake mix
1 stick salted butter
½ tsp. ground cinnamon, or to taste
1/2 cup chopped pecans or walnuts (optional)
Preheat oven to 375 degrees.
Empty peaches into the bottom of one 9 x 13 inch pan. You can cut peaches to bitesize pieces but do not drain away syrup. Cover with  dry cake mix. Add pecans or walnuts if desired on top of cake mix. Cut butter into small slices and place on top of cake mix. Try to spread out butter slices evenly over cake mix. Sprinkle top with cinnamon.
Bake for 45 minutes. Serve warm with vanilla ice cream.
Ooey Gooey Butter Cake
This ooey gooey butter cake recipe is one of Paula Deen's best and is a big hit at the Warren house!!
Cake:
1 pkg. yellow cake mix
1 egg
1 stick melted butter
Filling:
8-oz. pkg. cream cheese, softened
2 eggs
1 tsp. vanilla
1 stick melted butter
16-oz. box powdered sugar
Preheat oven to 350 degrees.
Combine cake mix, egg, and one stick butter and mix well with an electric mixer. Press mixture into the bottom of a lightly greased 9 x 13 baking pan.
In a large bowl, beat cream cheese until smooth. Add eggs, the other stick of butter and vanilla and beat together.
Next, add powdered sugar and mix well. Spread over cake batter and bake for 40 to 50 minutes. Make sure not to over bake as the center should be a little gooey.